Air Ambulance Services Market Insights
Air Ambulance Services Market is projected to be worth USD 9.70 Billion by 2028, registering a CAGR of 8.4 % CAGR during the forecast period (2022-2028), The market was valued at USD 5.09 Billion in 2021. The rotary-wing segment is anticipated to grab a larger market share as it is economic with a quick response time. A Hospital segment is probable to generate high revenue in the forecast period due to increasing medical facility and insurance policies. Further, in the regional segment, North America is estimated to grow at the fastest CAGR of 9.2% over the forecast period.
Air Ambulance Services Market:
Injured, ill, or people with a medical emergency can be transported using an air ambulance, which is a vehicle like a plane or a helicopter service with qualified medical personnel. These services have the necessary medical supplies, devices, and machinery. To help doctors, the air ambulance is staffed with certified medical professionals, critical care nurses, and paramedics.
Air Ambulance Services Market Dynamics
Driver:
Increasing rates of stroke, trauma, and heart diseases are estimated to propel the need for air medical services. Further, time-dependent medical or surgical interventions are primary drivers of the market.
Restraints:
The high cost associated with Air medical facilities is estimated to hamper the growth of the market. Further, reimbursement challenges are probable to act as a major barrier to the growth of the Air Ambulance service market.
Opportunity:       
Technological advancements in the medical field such as real-time patient health, and patient transport with Air medical facilities increase patient life expectancy. This factor is estimated to boost the demand for the Air ambulance services market.
COVID-19 Analysis of Air Ambulance Services Market
The detrimental effects of COVID-19's global expansion on numerous countries have shocked governments around the world, prompting them to act decisively to stop COVID-19. The first strain of Coronavirus was identified in Wuhan, China in December 2019 which affected the entire world. On a rise in infection across various nations, around 212 countries were infected by the pandemic. Most companies in numerous nations have been severely impacted by the global crisis COVID-19 pandemic. Import-export limitations that caused delays and disturbances at foreign borders harmed the raw material industry. Post-Covid, Air ambulance service companies have experienced growth in helicopter emergencies, medical services for hospitals, health insurance, and assistance companies. This factor boosted the demand for Air Ambulance services and is further estimated to grow in the forecast period.
Air Ambulance Services Market Report Coverage
 
Report Attributes
Report Details
Study Timeline
2016-2028
Market Size in 2028 (USD Billion)
9.70
CAGR (2022-2028)
8.4%
By Type
Rotary-wing, Fixed-wing
By Service Operator
Hospital-Based, Independent, Government
By Service Type
Domestic, International
By geography
North America: U.S., Canada, Mexico

Europe: Germany, France, U.K., Russia, Italy, Spain, BENELUX, Rest of Europe

Asia Pacific: China, Japan, India, South Korea, Australia, ASEAN, Rest of Asia Pacific

Latin America: Brazil, Argentina, Chile, Rest of Latin America

The Middle East and Africa: GCC, Turkey, Israel, Rest of MEA
Air Ambulance Services Market Segment Analysis
By Type
In the type segment is divided into rotary-wing and fixed-wing aircraft. The rotary-wing segment is dominating air ambulance services market, with a 69.8 % revenue share in 2021. Quick response times and cost effectiveness are two benefits of helicopter air ambulance services that are increasing demand. Hospitals primarily use the rotary-wing air ambulance services to carry the medical staff to the patient's location and accompany them to hospital. Additionally, it is probable that the fixed-wing sector will support the expansion of the air ambulance market.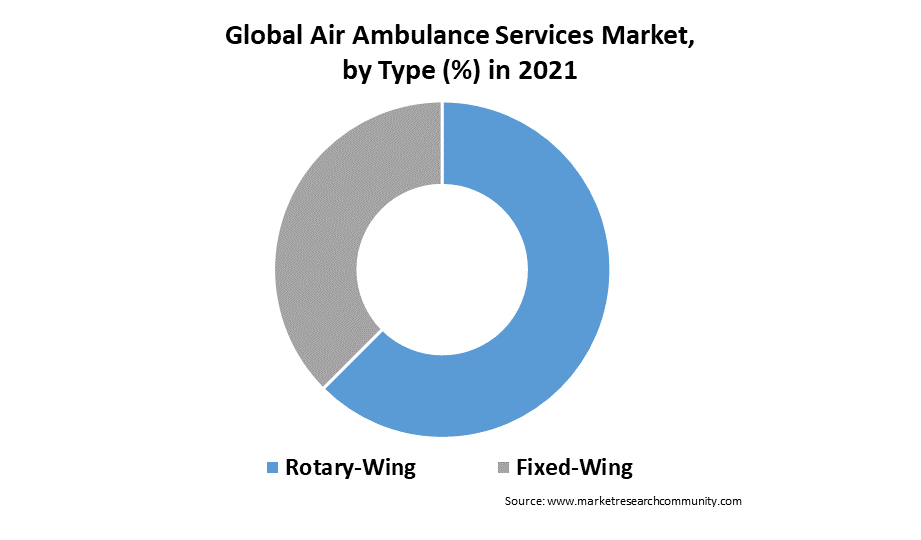 By Service Operator
The Service Operator segment includes hospital-based, independent, and government. The hospital-based category dominated the air ambulance services market with a revenue share of 71.3% in 2021. The hospital often supplies a medical team and collaborates with an aviation service provider to offer aircraft, pilots, and mechanics in a hospital-based service model. The hospital pays the aviation service provider for the service model they deliver, and they possess a Federal Aviation Administration (FAA) certificate. Hence, a surge in medical facilities offered by hospitals is estimated to boost the Hospital-based segment in the Air ambulance service.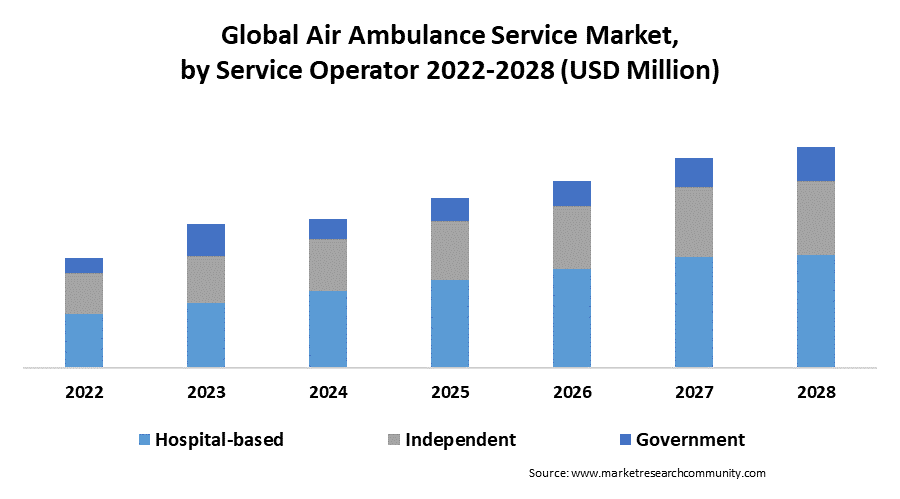 By Region
In 2021, North America held the largest revenue share of 58.2% and dominated the market for air ambulance services. The majority of air ambulance service providers are located in North America, and access to the infrastructure needed for air medical delivery is easy to access. Additionally, the favorable reimbursement practices boost the expansion of North America. In addition, during the forecast period, a highly developed healthcare infrastructure, high purchase power, and consumer disposable income are anticipated to fuel the market for air ambulance services.
Air Ambulance Services Market Competitive Landscape
The competitive landscape of the market has been analyzed in the report, along with the detailed profiles of the major players operating in the industry. Major companies are focusing on market expansion strategies such as Service Operator launches, mergers & acquisitions, and expansion of manufacturing facilities to boost market presence.
Key players
Acadian Companies
REVA Inc.
Gulf Helicopters
Aeromedevac
Air Methods
ALPHASTAR
Babcock Scandinavian Air Ambulance
European Air Ambulance
Express Aviation Services
PHI Inc
Table of Content
To check our Table of Contents, please mail us at: [email protected]
Research Methodology
The Market Research Community offers numerous solutions and its full addition in the research methods to be skilled at each step. We use wide-ranging resources to produce the best outcome for our customers. The achievement of a research development is completely reliant on the research methods implemented by the company. We always faithful to our clients to find opportunities by examining the global market and offering economic insights.

Market Research Community are proud of our widespread coverage that encompasses the understanding of numerous major industry domains. Company offers consistency in our research report, we also offers on the part of the analysis of forecast across a range of coverage geographies and coverage. The research teams carry out primary and secondary research to carry out and design the data collection methods.