Anti-Fingerprint Coating Market Overview:
The Anti-Fingerprint Coating Market was valued at USD 793.68 Million in 2021, registering a CAGR of 6.8% during the forecast period (2022-2030), and the market is projected to be worth USD 1,373.80 Million by 2030.
Anti-fingerprint technology has revolutionized all during these years owing to the introduction of highly durable consumer electronics and industrial goods. For instance, increasing market demand for smart products such as smartphones, automotive accessories, smart home devices, and others are influencing the demand for highly engineered products. Manufacturers such as Corning and Asahi Glass are constantly investing to make their glass products better in order to enhance consumer experiences. Owing to factors such as enhancing the durability of end-user products and boosting the consumer experience, anti-fingerprint technology is playing an important role. Additionally, changing market requirements and a shift from topical coating to anti-fingerprint coating are paving a new path towards new innovation of new products. For instance, products ranging from smartphones to Human Machine Interfaces in automotive are having a higher demand for best-suited touch screens that can create higher consumer satisfaction. Thus, anti-fingerprint coating-based plastic and glass components are found to be widely consumed by industries such as consumer electronics, automotive, and others. Moreover, the key application of the anti-fingerprint coating is to remove sebum and water contents covering the screen of HMI's, mobile phones, tablets, and other consumer electronic devices is accounted to be boosting its demand in the global market.
Market Dynamics:
Driver:
The touch-based systems in automobiles include door locks, Human Machine Interface (HMI), touchscreen infotainment systems, and others. These systems require users to touch the displays in order to operate the vehicle systems efficiently. The surge in trend towards installation of the installation of touch-based systems for enhancing the user experience is one of the key factors fueling the adoption of anti-fingerprint coatings in automotive industry. Anti-fingerprint coatings are applied on both glass and plastic based displays in automobiles in order to minimize the appearance of fingerprint oils on both non-touch and touch-based displays. Anti-fingerprint coatings are mostly used for application in automobiles as the surfaces are mostly subject to touch and are thus stained with undesirable fingerprints, skin oils, cosmetics, and sweat.
Further, technological advancements in the field of IoT has enabled automobile manufacturers to equip vehicles with Human-Machine Interface (HMI). The HMI can be defined as a dashboard that enables the users to communicate with their vehicles via touchpads. Surge in installation of HMI in vehicles to improve the driver safety by allowing users to hear real-time traffic conditions is considered to be another factor that is boosting the demand for anti-fingerprint coating globally. Additionally, implementation of advanced driver assistance systems in vehicles in order to provide drivers with safety warnings along with braking and steering support requires installation of HMIs in vehicles. The ADAS requires HMIs for displaying navigation maps and improving the passenger's safety by providing advanced features that assist during vehicle driving. Thus, governments worldwide are taking initiatives to mandate automobile manufacturers to equip vehicles with ADAS systems. For instance, in July 2021, the European government made ADAS mandatory for all vehicles from 2022. Thus, rise in deployment of ADAS in the vehicles is one of the key factors boosting the adoption of HMIs, in turn driving the growth of global anti-fingerprint coating market. Also, factors including rapid pace of industrialization, upgraded technology, increasing disposable income, availability of a wide range of models, and others are accelerating the demand and production from the automotive sector. According to the International Organization of Motor Vehicle Manufacturers, the total automotive production across the world amounted to 80.2 billion units in 2021, depicting an increase of 3% in comparison to 77.7 billion units in 2020.
Restraint:
Below-the-line advertising and promotional activities by the anti-fingerprint coating manufacturers is resulting in lack of awareness regarding anti-fingerprint coatings among consumers is considered to be one of the major hurdles for market growth in both developed and developing countries such as U.S, Germany, India, Myanmar, Indonesia, and African countries. Additionally, the unawareness regarding benefits of oleophobic anti-fingerprint coatings among the consumers is anticipated to be another factor restraining the market growth. Further, the anti-fingerprint coatings are considered to be expensive, which in turn is negatively impacting the adoption of anti-fingerprint coatings globally. For instance, 3 ml of Crystal Armor Fusso Cell Phone Fingerprint Oleophobic Coating Kit costs approximately USD 35.59. Similarly, the price of 50 g of OLEOPEL Oleophobic Coating Kit for application on smartphone, smart watch, and camera lenes is considered be USD 73.70. Moreover, the availability of low-cost smart phones in the developing countries does not require the consumers to buy expensive anti-fingerprint coatings for mobile phone screens, as they can easily switch from one phone to another in case of damage to the phone screen.
Anti-Fingerprint Coating Report Coverage:
Report Attributes
Report Details
Study Timeline
2016-2030
Market Size in 2030 (USD Million)
1,373.80 million
CAGR (2022-2030)
6.8%
By Type
Hydrophobic Coating, Oleophobic Coating, and Oleophilic Coating
By Technology
Sol Gel, Vacuum Deposition, and Others
By Application
Consumer Goods, Building and Construction, Automotive, Solar Panels, Stainless Steel, and Other
By Geography
North America– (U.S., Canada, Mexico)

Europe- (Germany, France, U.K., Russia, Italy, Spain, BENELUX, Rest of Europe)

Asia Pacific- (China, Japan, India, South Korea, Australia, ASEAN, Rest of Asia Pacific)

Latin America- (Brazil, Argentina, Chile, Rest of Latin America)

Middle East and Africa- (GCC, Turkey, South Africa, and the Rest of MEA)

Key Players
DAIKIN INDUSTRIES, Essilor International, Nagase & Co., Ltd., AGC Inc., PPG Industries, Nippon Paint, Fraunhofer IFAM, Kriya Materials, Cytonix, NBD Nanotechnologies, Abrisa Technologies, NANOKOTE PTY, and Aculon Inc.
Market Segmentation:
By Type
The Type segment is divided into Hydrophobic Coating, Oleophobic Coating, and Oleophilic Coating.
The Oleophobic Coating segment is anticipated to contribute the largest revenue share of over USD 416.05 million in the year 2025 during the forecast period. Oleophobic coatings are mainly used in glass and ceramic surfaces in order to create an oil-resistant, anti-fingerprint surface that is resistant to dust, oils, dirt, and other particles, which in turn, creates a surface that is easy to clean and maintain. Moreover, fluoropolymer-based solids and non-polar polymers are often utilized as oleophobic coating displays. Oleophobic coatings are commonly applied by using vacuum vapor deposition, which makes them thin with high light transmissibility. Additionally, oleophobic coatings help in reducing fingerprint smudges and other particles, thereby generating a layer of protection between a user's fingers and the substrate. These coatings also offer anti-glare properties. These characteristics of oleophobic coatings make them ideal for use in capacitive touch screens, display devices, handheld devices, and other similar applications.
Additionally, the Oleophilic Coating segment is expected to grow at a CAGR of over 6.8% during the forecast period. Oleophilic coating is a new and emerging approach to anti-fingerprint treatment and solution. Oleophilic coatings work on the mechanism of hiding the fingerprints from a substrate rather than preventing it.  The mechanism is also known as an invisible fingerprint (IF). The oleophilic properties enable oils from the fingerprint to spread across a surface instead of remaining in one place, which in turn, forms a sub-nanometric film that allows light to pass continuously at most angles. This process further creates an optical illusion of the fingerprints not being present on the surface at all. Oleophilic coatings are optically transparent and offer high durability and resistance against long-term wear. Moreover, oleophilic coatings offer longer-lasting fingerprint-hiding solutions and antimicrobial efficacy, which makes them ideal for use on various surfaces in the electronics, household, and automotive sectors.
Global Anti-Fingerprint Coating Market, by Type (%), 2021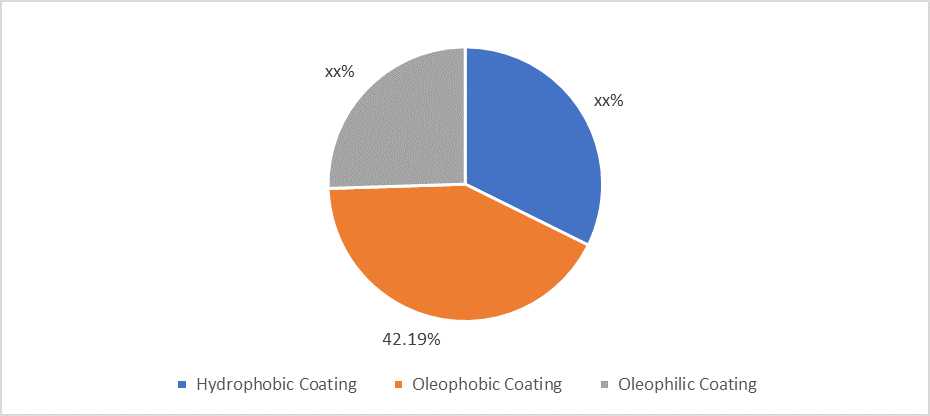 By Application
The Application segment is divided into Consumer Goods, Building and Construction, Automotive, Solar Panels, Stainless Steel, and Other.
The Consumer Goods segment is expected to account for the largest share of approximately 28.35% in 2021. Anti-fingerprint coatings are mainly utilized in the consumer goods sector in multiple products including wearables, television, smartphones, laptops, tablets, and others. The use of anti-fingerprint coatings in consumer goods helps to significantly increase the hiding power of fingerprints as well as ensures ease of cleaning of numerous substrates such as plastic, metals, glass, and more. Additionally, anti-fingerprint coatings are optically clear and ultra-thin, and it also enhances the durability of consumer goods. According to recent insights from Growth from Knowledge (GRK), the growth rate of the consumer electronics sector which includes smartphones, tablets, laptops, television, and more in countries such as India, China, and U.S. increased up to 8.1%, 5.7%, and 1.4% respectively in 2022. Factors such as the surging penetration of smartphones, laptops, television, and other consumer devices with the incorporation of advanced features along with the rise in disposable income are the key aspects driving the growth of the consumer goods sector. Thus, the surging growth of the consumer goods sector will further drive the adoption of anti-fingerprint coatings during the production of smartphones, tablets, television, and other consumer devices, owing to its ability to hide fingerprints, and enhance product durability. This, in turn, will boost the growth of the market during the forecast period.
Global Anti-Fingerprint Coating Market, by Application 2022-2030 (USD Million)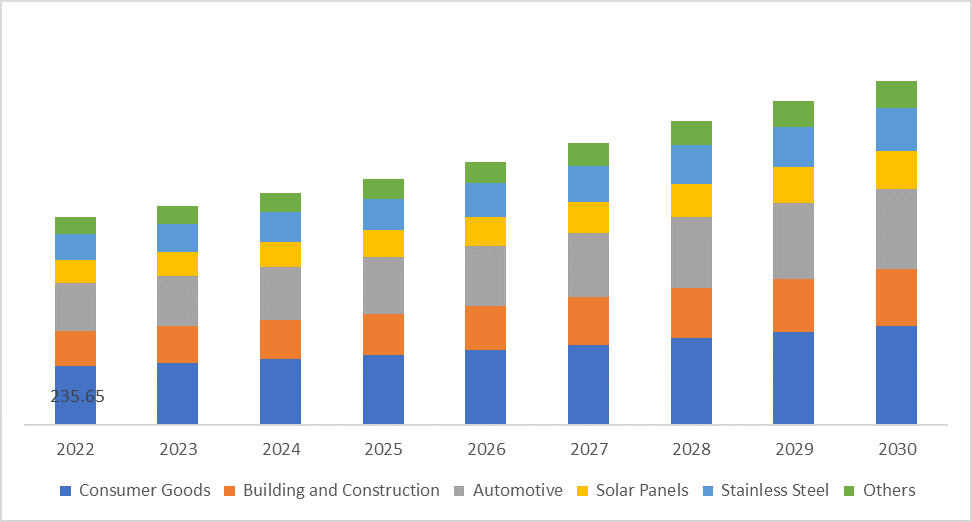 By Region:
The regional segment includes North America, Europe, Asia Pacific, the Middle East and Africa, and Latin America. In 2021, North America region is considered to contribute the largest revenue share of USD 279.43 million. The North America region is accounted to hold major market shares all through the years owing to the presence of major market players for chemicals, automotive, paint and coatings, and others. Countries such as Mexico are also attaining to have promising sales figures during the past five years. According to Instituto Nacional de Estadistica y Geografia (INEGI), Mexico alone had a production volume of approximately 2.9 million units of vehicles in the year 2021. Furthermore, the U.S. alone had a production of 9.2 million units of vehicles in the year 2021 (Source: Statista). Accordingly, it can be analysed that the overall production for vehicles is high in the region and is accounted to garner sales for automotive components. Moreover, automotive components such as sensors, HMIs, automotive displays, screen cameras, and others containing anti-fingerprint coating are generating significant revenue in the region.
The Asia Pacific region is anticipated to witness substantial growth during the forecast period with a CAGR of 7.2%. Asia-Pacific is considered the fastest-growing region owing to a rising consumer base and improvement in expenditure capital. In addition, the rising consumer spending ability in the region is one of the key reasons for the growth of multiple businesses in the region. The growing demand for consumer electronics and growing automotive sector tend to boost the sales of various anti-fingerprinted coated products and devices. Moreover, rising sales for automobiles and a gradual increase in the demand for electric vehicles is proved to be a convenient measure for attaining the demand for anti-fingerprint coating materials. Moreover, with rising focus on industrialization by the governments of China and India is boosting the growth of ant-fingerprint coating market. Sectors such as building and construction, automotive, and others are showcasing an upwards growth trend within the region which is directly going to raise the demand for ant-fingerprint coating materials. In addition, increasing government initiatives towards digitalization among Countries such as India and China are anticipated to boost the demand for ant-fingerprint coating market. For instance, a rising demand for digitalization that will allow the government to keep a digital record of an individual will require fingerprint devices. Furthermore, an increasing demand for fingerprint devices will increase demand for anti-fingerprint coating materials.
Anti-Fingerprint Coating Market Competitive Landscape:
The competitive landscape of the market has been analyzed in the report, along with the detailed profiles of the major players operating in the industry. Further, the surge in Research and Development (R&D), product innovation, various business strategies, and application launches have accelerated the growth of the Global Anti-Fingerprint Coating Market. Key players in the market include-
DAIKIN INDUSTRIES
Essilor International
Nagase & Co., Ltd.
AGC Inc.
PPG Industries
Nippon Paint
Fraunhofer IFAM
Kriya Materials
Cytonix
NBD Nanotechnologies
Abrisa Technologies
NANOKOTE PTY
Aculon Inc.
Table of Content
To check our Table of Contents, please mail us at: [email protected]
Research Methodology
The Market Research Community offers numerous solutions and its full addition in the research methods to be skilled at each step. We use wide-ranging resources to produce the best outcome for our customers. The achievement of a research development is completely reliant on the research methods implemented by the company. We always faithful to our clients to find opportunities by examining the global market and offering economic insights.

Market Research Community are proud of our widespread coverage that encompasses the understanding of numerous major industry domains. Company offers consistency in our research report, we also offers on the part of the analysis of forecast across a range of coverage geographies and coverage. The research teams carry out primary and secondary research to carry out and design the data collection methods.