Biochips Market Overview
Biochips Market was valued at USD 7.20 Billion in 2021, registering a CAGR of 12.8% during the forecast period (2022-2030), and is projected to be worth USD 21.29 Billion by 2030. The biochip market is quickly becoming a magnet for maturing new businesses. This is due to increased drug development, greater use of tailored medications, and next-generation sequencing (NGS). The progress of microfluidic-based gadgets in biomedicine and innovation in Lab-on-a-Chip products are anticipated to fuel industry expansion. LOC devices are anticipated to provide quick findings for diagnosing infectious infections for the first time. In epidemiological investigations, the technology is commonly used.
Before going through clinical trials, medications are tested on biochips. The Viennese University of Technology (TU Wien) created a biochip-based technology in May 2022 that enables the production of tissue beads in exact sizes and the commercialization of those beads and pharmaceuticals through a narrow route. Additionally, a patent application has been filed for this technique. The expense of producing biochips, however, may limit the industry's expansion. The bulk of microfluidic devices is created using ultraviolet lithography, which is a very expensive and complicated process that calls for skilled experts and specialized equipment.
Biochips Market Dynamics:
In molecular biology, the term biochip refers to a small device that is able to carry out thousands of biochemical processes. Their distinctive characteristics are exploited in molecular biology and contain thousands of biological events. These are used in a variety of applications, including biotechnology research applications like genomics and proteomics, molecular diagnostics, and drug discovery and screening.
Driver:
The market is likely to expand as chronic diseases become more common. According to the World Health Organization (WHO), 17.9 million deaths worldwide were attributed to cardiovascular diseases (CVDs) in 2019, accounting for 32% of all fatalities. The market is also growing as a result of the development of biochip applications and the widespread use of customized pharmaceuticals.
Restraint:
High barriers to entry into the market and the production of a wide range of alternatives for the end customers are caused by the high cost of manufacturing. Concerning the industry is the limited level of knowledge regarding the use of biochips in developing and underdeveloped areas. Further, industry expansion is anticipated to be constrained by the lack of knowledge among developing enterprises in the drug development and personalized medicine sectors.
COVID-19 Analysis of Biochips Market:
The COVID-19 pandemic's influence on public health and the biochip supply chain led to an imbalance in supply and demand. With assistance from academic institutions and biopharma businesses, product demand expanded. For instance, a team of scientists from The Czech Academy of Sciences (the CAS) created a device with a biochip to identify the COVID-19 virus in January 2022. The researchers claim that a biochip is equally accurate and as quick as a PCR test. It is anticipated that the use of biochip technology in a variety of applications will accelerate industrial growth.
Biochips Market Report Coverage:
Report Attributes
Report Details
Study Timeline
2016-2030
Market Size in 2030 (USD Billion)
21.29 Billion
CAGR (2022-2030)
12.8%
By Type
DNA Chips, Protein Chips, Lab-on-chip, Tissue Arrays, Cell Arrays
By End-use
Biotechnology and Pharmaceutical Companies, Hospitals and Diagnostics Centers, Academic & Research Institutes, Others
By geography
North America– (U.S., Canada, Mexico)

Europe- (Germany, France, U.K., Russia, Italy, Spain, BENELUX, Rest of Europe)

Asia Pacific- (China, Japan, India, South Korea, Australia, ASEAN, Rest of Asia Pacific)

Latin America- (Brazil, Argentina, Chile, Rest of Latin America)

The Middle East and Africa- (GCC, Turkey, Israel, Rest of MEA)

Key Players
Thermo Fisher Scientific Inc., Abbott Laboratories, Agilent Technologies, Inc., PerkinElmer Inc., Fluidigm Corporation, Illumina, Inc., GE Healthcare, Bio-Rad Laboratories Inc., F. Hoffmann-La Roche AG, and other prominent players.
Biochips Market Segment Analysis:
By Type
In 2021, the DNA chips market category held the largest market share, contributing more than 39.50% of the total revenue. They are highly employed in clinical diagnostic procedures for various disorders and academic research. For instance, a molecular microchip that can take an individual's molecule and analyze it is expected to be developed by Roswell Biotechnologies in November 2021, a biotech business in San Diego. The procedures for disease detection, medicine development, and health monitoring are expected to alter as a result of technology. The startup plans to use the technology to boost DNA sequencing. The cancer diagnosis and treatment market had a sizable portion of DNA chips in 2021. Further, it is anticipated that traditional medical diagnostic procedures, such as cancer detection, are expected to be replaced by biochips. This in turn is expected to drive the growth of the market.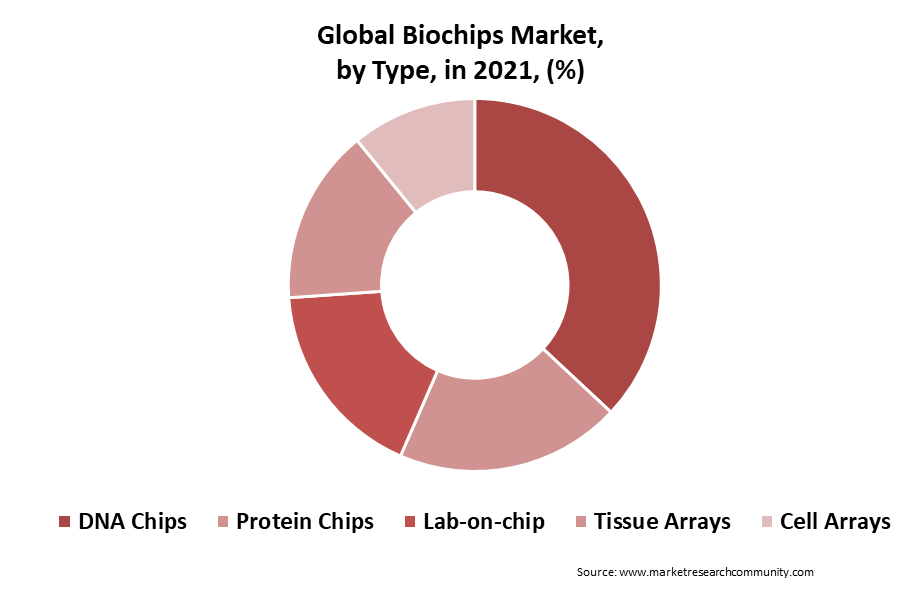 By End-Use
The biotechnology and pharmaceutical firms segment accounted for 52.20% of revenue share in 2021. The firms are investing heavily in R&D initiatives to incorporate biochip technology into a range of healthcare applications. Further, owing to fiercely competitive the pharmaceutical firms cannot afford high investments in creating treatments that are less probable to receive FDA approval. Moreover, it is anticipated that biochips are expected to open new opportunities for medication research and development, driving the market growth. In the process of discovering new drugs, biochips are used primarily for gene expression profiling and single nucleotide polymorphism (SNP) analysis to create biomarkers.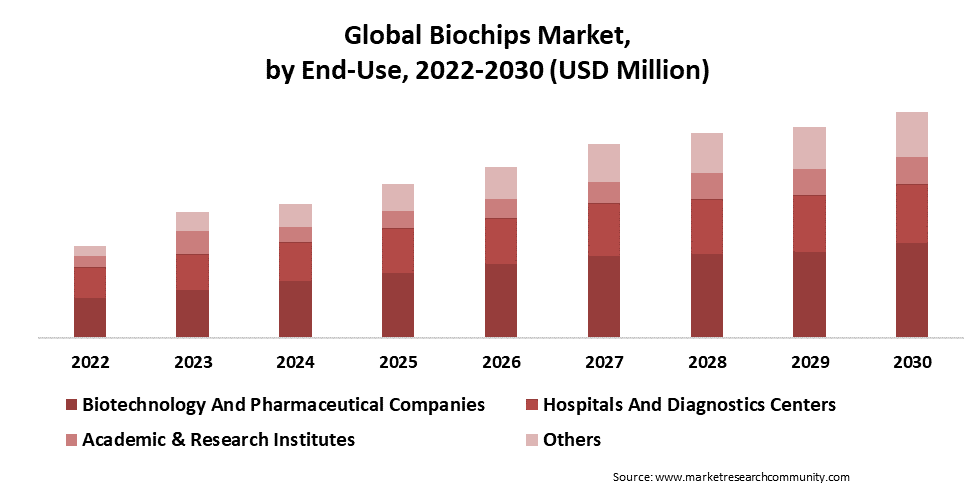 By Region
In 2021, North America dominated the biochips regional market and generated more than 48.40% of the total revenue. Due to the growing government attempts to boost R&D through tax incentives, the area is anticipated to maintain its industrial position during the projection period. It is projected that the high concentration of biotechnology businesses, coupled with academic and research organizations, in the area is expected to accelerate future technological developments in biochip applications. R&D tax credits are a economic advantage offered by the federal government in the US to businesses that are responsible to research for development, improvement, or innovate on goods, services, formulae, or software.
Biochips Market Competitive Landscape:
The competitive landscape of the market has been analyzed in the report, along with the detailed profiles of the major players operating in the industry. The majority of manufacturers are concentrating on new Type launches, improvements to current Types, and mergers and acquisitions. The key player in the market include
Agilent Technologies, Inc.
PerkinElmer, Inc.
Abbott Laboratories
Fluidigm Corporation
Illumina, Inc.
GE Healthcare
Bio-Rad Laboratories, Inc.
Thermo Fisher Scientific, Inc.
LI-COR, Inc.
Molecular Devices, LLC.
Table of Content
Introduction

Market Introduction
Market Research Methodology

Research Process
Primary Research
Secondary Research
Data Collection Technique
Data Sources

Market Estimation Methodology
Type Picture of Biochips
Global Biochips Market: Classification
Geographic Scope
Years Considered for the Study
Research Methodology in brief
Parent Market Overview
Overall Biochips Market Regional Demand
Research Programs/Design
Market Breakdown and Data Triangulation Approach
Data Source
Secondary Sources
Primary Sources
Primary Interviews
AverType Type primary breakdown ratio

Market Dynamics

Drivers
Restraints
Opportunity

Impact forces on market dynamics
Impact forces during the forecast years

Industry Value Chain

Upstream analysis
Downstream analysis
Therapeutic
Direct Channel
Indirect Channel

Potential Customers
Manufacturing/Operational Cost Analysis
Pricing Analysis by Region
Key Type Landscape
Regulatory Analysis
Porter's Analysis

Supplier Power
Buyer Power
Substitution Threat
Threat from New Entry
Competitive Rivalry

PESTEL Analysis
Political Factors
Economic Factor
Social Factors
Technological Factor
Environmental Factors
Legal Factor
Covid-19 impact on Global Economy
Covid-19 impact on Biochips Market demand 
Post-Covid Impact on Biochips Market Demand
Impact Analysis of Russia-Ukraine Conflict

Global Biochips Market Segmentation, Revenue (USD Billion), (2022-2030)

By Type

DNA Chips

Cancer Diagnosis and Treatment
Gene Expression
SNP Genotyping
Genomics
Drug Discovery
Agricultural Biotechnology
Others

Protein Chips

Proteomics
Expression profiling
Diagnostics
HTS
Drug discovery
Others

Lab-on-chip

Genomics
IVD & POC
Proteomics
Drug Discovery
Others

Tissue Arrays
Cell Arrays

By By End-Use

Biotechnology and Pharmaceutical Companies
Hospitals and Diagnostics Centers
Academic & Research Institutes
Others
By Global Biochips Market Overview, By Region

North America Biochips Market Revenue (USD Billion), by Countries, (2022-2030)
Europe Biochips Market Revenue (USD Billion), by Countries, (2022-2030)

France
UK
Spain
Russia
Italy
BENELUX

Asia Pacific Biochips Market Revenue (USD Billion), by Countries, (2022-2030)

China
Japan
Australia
South Korea
India
ASEAN
Latin America Biochips Market Revenue (USD Billion), by Countries, (2022-2030)
The Middle East and Africa Biochips Market Revenue (USD Billion), by Countries, (2022-2030)
Global Biochips Market Revenue: Competitive Analysis, 2021

Key strategies by players
Revenue (USD Billion and %), By manufacturers, 2021
Player Positioning by Market Players, 2021

Competitive Analysis

Agilent Technologies, Inc

Business Overview
Business Financials (USD Billion)
Type Category, Source, and Specification
Main Business/Business Overview
Geographical Analysis
Recent Development
Swot Analysis

PerkinElmer, Inc.
Abbott Laboratories
Fluidigm Corporation
Illumina, Inc.
GE Healthcare
Bio-Rad Laboratories, Inc.
Thermo Fisher Scientific, Inc.
LI-COR, Inc.
Molecular Devices, LLC

Market Research Findings & Conclusion
Disclaimer 
Research Methodology
The Market Research Community offers numerous solutions and its full addition in the research methods to be skilled at each step. We use wide-ranging resources to produce the best outcome for our customers. The achievement of a research development is completely reliant on the research methods implemented by the company. We always faithful to our clients to find opportunities by examining the global market and offering economic insights.

Market Research Community are proud of our widespread coverage that encompasses the understanding of numerous major industry domains. Company offers consistency in our research report, we also offers on the part of the analysis of forecast across a range of coverage geographies and coverage. The research teams carry out primary and secondary research to carry out and design the data collection methods.