Ceiling Fans Market Overview:
Ceiling Fans Market size was valued at USD 9,512.45 Million in 2021, registering a CAGR of 4.60% during the forecast period (2022-2030), and the market is projected to be worth USD 13,707.68 Million by 2030.
Ceiling fans are defined as the fans mounted on ceiling of a room which are powered by hub-mounted rotating blades, that circulate the air. The overhead ceiling fan consisting of blades of larger size is an effective solution to develop the air movement in a covered porch area. The ceiling fans can be classified as wet rated and damp rated, depending on the amount of moisture the fans can withstand. Since the wet-rated fans are built with ability to handle direct exposure to the elements, they are widely installed in the outdoor environments, and the damp-rated are installed in indoor environments owing to their less corrosion protection.
Furthermore, depending on the type of motor used, the ceiling fans can also be classified into AC and DC ceiling fans. AC stands for the Alternating Current whereas DC stands for Direct Current.  The smaller size of the DC fan motor allows the manufacturers to develop more creative designs with ceiling fans, which in turn play a crucial role in increasing its adoption across homes and commercial spaces. Moreover, increase in spending on interior decoration with a range of designs for business spaces and homes is boosting the adoption of designer ceiling fans, in turn propelling the market growth.
Market Dynamics:
Driver:
The regions across the globe are dealing with intense heat stroke for the past few years owing to a constant rise in carbon dioxide emissions. For instance, in 2022, Spain experienced a temperature rise of 46 degrees Celsius. Similar heat waves were witnessed across countries such as Germany and France that rose to 37.6 degrees Celsius and 40.1 degrees Celsius respectively, majorly in first half of the year. Moreover, such a rise in intense heat has prompted the government to install cooling facilities at public locations to provide relief from extreme heat. Similarly, individuals are gradually shifting towards the installation of cooling systems such as air conditioners and fans at their residences to get instant relief from rising heat. Moreover, UK has witnessed a rise in CO2 emission by almost three times during the period of May and July, in the year 2022. As a result, sales of fans increased by 1,876% during the same month. Supermarkets such as Sainsbury's have reported a sudden spike in the demand for fans across the region owing to sudden heat waves, and a higher demand is expected in the near future.
Moreover, according to the MIT Technology Review, only 10% of European households have an air conditioning system. For instance, Germany is said to have 3%, while France and the United Kingdom have less than 5%. However, due to growing concerns about greenhouse gas emissions from air conditioning systems, a large portion of the population is expected to shift toward the use of fans in their homes. As a result of rising heat waves in recent years and climate concerns, the demand for fan installations in the residential and commercial sectors is significantly increasing.
Furthermore, the constant use of air conditioning systems tends to have a negative impact on the environment. For instance, an air conditioning system consumes more energy, and the electricity requirement is also anticipated to be higher, which is accounted to be 80% more than a conventional fan. Furthermore, greenhouse gas emissions are deteriorating environmental conditions and worsening the climate, which is increasing the demand for fans across the globe.  
Restraint:
Ceiling fans have a wider market owing to their pricing. However, they have numerous substitutes in the form of air conditioners, window AC units, tower fans, pedestal fans, desktop fans, and others. There are a few reasons why alternatives are excelling, owing to the wider features being provided by their manufacturers. For instance, tower fans do not occupy the larger area and can be fitted in any corner of the room. Importantly, they are movable and can be stationed in a specific corner of a house to circulate air. In addition, few of the brands have features such as ionization that allow them to fill the room with fresh, outdoor-quality air. Moreover, a few of the tower fans also have the ability to pour water thus circulating fresh air along with the cold water. Similar to tower fans, pedestal fans are in demand owing to their capabilities, such as being quieter in comparison to tower and ceiling fans. Furthermore, tower fans, pedestal fans, and others similar substitutes come with a load of features such as oscillation adjustment, tilting, height adjustments, and others.
Accordingly, it can be assumed that substitutes for ceiling fans have wider and larger scopes owing to their size compatibility and pricing. Thus, owing this availability of substitutes is acting as a restraint for hampering the demand for ceiling fans.
COVID-19 Impact:
According to the WHO (World Health Organization), poor ventilated spaces and residential places are highly prone to COVID-19 virus. Few guidelines were issued by the organization addressing the populations to stay at well ventilated places to avoid getting contacted with the virus. The risk of getting infected at the crowded places was high during the period and improper ventilation had become a key factor for the rise in number of cases. It was stated by the doctors that a poorly ventilated spaces have higher concentrations of infected aerosols that can remain suspended for a longer period. Thus, a proper ventilation system across the room and public spaces reduces the risk of infection.
Moreover, with the view of rising numbers of cases across the regions, local administration was advised to follow protocol issued for maintaining proper ventilations within hospitals and care units. The advent of infection has prompted the administration to primitive measures to implement well ventilated systems at hospitals and care units. However, the supply of ceiling fans got impacted during the period owing to disruption in the supply chain management. The lack of supply for key raw materials such as semiconductor had bought a major gap in demand and supply.
Ceiling Fans Report Coverage:
Report Attributes
Report Details
Study Timeline
2016-2030
Market Size in 2030 (USD Million)
13,707.68 million
CAGR (2022-2030)
4.60%
By Fan Size
Less than 107 cm, Between 107 to 122 cm, Between 122 to 140 cm, and More than 140 cm
By Application
Indoor and Outdoor
By End-User (Sells to Professional Market)
Residential and Commercial
By Type of Product
Without any Blade, Plafonnier Ceiling Fan, Retractable Ceiling Fan, Traditional Ceiling Fan with Blades, Without Light, With WiFi, and Child ceiling fans
By Light Source  
LED Integrated and Bulbs
By Motor Type
AC and DC
By Style
Industrial, Nórdico, Nature, Design, Essential, Boheme, Neoclassic, and Country charm
By Color
White, Wood, Black, and Grey
By Distribution Channel
Online and Offline
By Geography
North America– (U.S., Canada, Mexico)

Europe- (Germany, France, U.K., Russia, Italy, Spain, BENELUX, Rest of Europe)

Asia Pacific- (China, Japan, India, South Korea, Australia, ASEAN, Rest of Asia Pacific)

Latin America- (Brazil, Argentina, Chile, Rest of Latin America)

Middle East and Africa- (GCC, Turkey, South Africa, and the Rest of MEA)

Key Players
Panasonic Corporation, Hunter Fan Company, Havells India Ltd., Midea Group Co., Ltd., Crompton Greaves Consumer Electricals Limited, Jiangsu Gaxiao Environmental Technology Co., Ltd. (GX HVLS Fan), Masco Corporation, Fanimation, Inc., Shining Electrical Appliance Co., Limited, Austar Technologies
Market Segmentation:
By Fan Size
By Fan size segment of Ceiling Fans Market is bifurcated into Less than 107 cm, Between 107 to 122 cm, Between 122 to 140 cm, and more than 140 cm.
By fan size type, between 107 to 122 cm segment accounted to garner largest market share of USD 1,897.46 million in the year 2021. This segment is expected to grow by a CAGR of 4.0% during the forecast period. Mentioned size of fans is considered the best fit for living rooms, kitchens, and other spaces in the residential segment. The key trend such as better options in terms of design, air flow features, lighting, and others is influencing the growth of fan blade size in between 107 to 122 cm segment.
Global Ceiling Fans Market, by Fan Size (%), 2021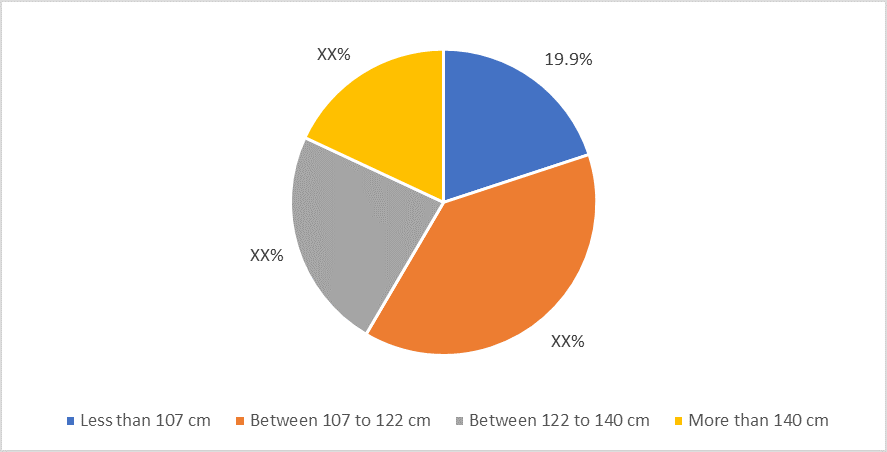 By Application
By Application segment of Ceiling Fans Market is distributed into Indoor and Outdoor.
By application type, an indoor segment is accounted to have largest market share which is accounted to be USD 5,904.18 million in the year 2021. The indoor segment is anticipated to grow by a CAGR of 4.6% during the forecast period. The indoor segment mostly refers to interior of a confined space such as a living room, office area, chamber, kitchen, and others. Moreover, outdoor sections can be associated with a large area such as an outdoor waiting hall, open garage, and others. Mostly, owing to the availability of better options in the form design, fan blade types, color, and others for indoor fans is boosting the demand for ceiling fans for an indoor segment.
Global Ceiling Fans Market, by Application 2022-2030 (USD Million)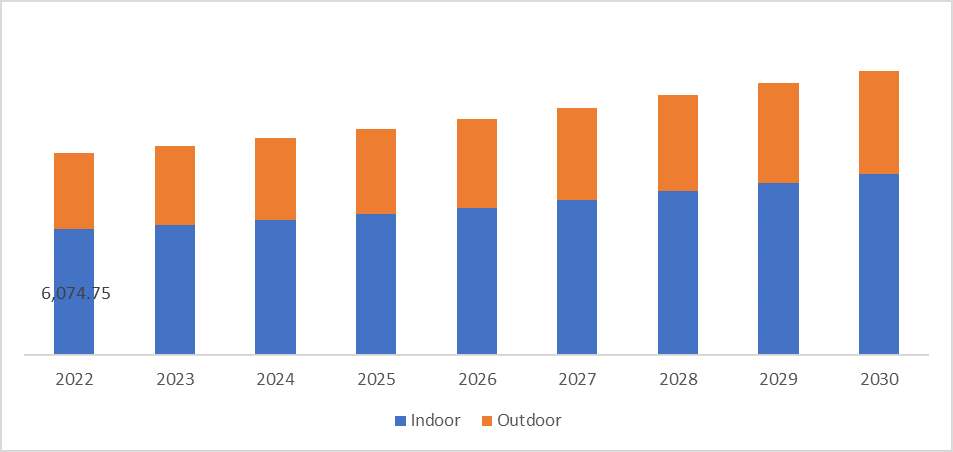 By Region:
The regional segment includes North America, Europe, Asia Pacific, the Middle East, and Africa, Latin America. In 2021, Asia-Pacific is accounted to contribute largest revenue of USD 4,039.53 million. Regional key trends can be attributed to the rise in global temperature across the globe is boosting the demand for ceiling fans. Specifically, the European peninsula is experiencing severe heat during the past one-two year which has been drastically increasing the demand for ceiling fans across the region. Moreover, the key features of ceiling fans such as low pricing and their availability in multiple designs are further fueling the market growth of ceiling fans. Furthermore, ceiling fans are seen as the best option for a low budget to combat heat within developing nations thus influencing the demand for ceiling fans.
Ceiling Fans Market Competitive Landscape:
The competitive landscape of the market has been analyzed in the report, along with the detailed profiles of the major players operating in the industry. Further, the surge in Research and Development (R&D), product innovation, various business strategies, and Application launches have accelerated the growth of the ceiling fans market. Key players in the market include-
Panasonic Corporation
Hunter Fan Company
Havells India Ltd.
Midea Group Co., Ltd.
Crompton Greaves Consumer Electricals Limited
Jiangsu Gaxiao Environmental Technology Co., Ltd. (GX HVLS Fan)
Masco Corporation
Fanimation, Inc.
Shining Electrical Appliance Co., Limited
Austar Technologies
Table of Content
To check our Table of Contents, please mail us at: [email protected]
Research Methodology
The Market Research Community offers numerous solutions and its full addition in the research methods to be skilled at each step. We use wide-ranging resources to produce the best outcome for our customers. The achievement of a research development is completely reliant on the research methods implemented by the company. We always faithful to our clients to find opportunities by examining the global market and offering economic insights.

Market Research Community are proud of our widespread coverage that encompasses the understanding of numerous major industry domains. Company offers consistency in our research report, we also offers on the part of the analysis of forecast across a range of coverage geographies and coverage. The research teams carry out primary and secondary research to carry out and design the data collection methods.