Clear Aligners Market Overview:
Clear Aligners Market was valued at USD 4.70 Billion in 2021, registering a CAGR of 27.2% during the forecast period (2022-2030), and is projected to be worth USD 40.97 Billion by 2030. Transparent trays made of a certain material are referred to as clear aligners. This dental apparatus is used to correct the alignment of teeth that are crooked or out of place. These orthodontic systems straighten teeth and provide the best substitute for traditional braces. Clear aligners are discrete from an aesthetic standpoint and are made to be flexible and convenient for patients. Without having to deal with the difficulties of traditional braces, they employ gentle and simultaneous force to place the teeth in the right position.
Intense competition has been a feature of the global market. Rapid use of cutting-edge digital technology, including intraoral scans, digital tooth models, 3D printers, and CAD/CAM appliances, is one of the main drivers boosting competition among market competitors. Furthermore, a sizable portion of these firms is swiftly deciding on strategic expansions and collaborations for broadening their geographic reach, boosting sales in developing and economically advantageous locations, and product launches. For instance, Align Technology grew its international business by constructing a production facility in Poland in April 2021. With this growth, the business is expected to serve a substantial and underserved market for Invisalign across Europe, the Middle East, and Africa.
Clear Aligners Market Dynamics:
Clear aligners are a set of snug-fitting, custom-made mouthguards or orthodontic appliances that can straighten up crooked or misaligned teeth. Clear aligners are nearly unnoticeable, removable alternatives to braces that were created with the comfort and flexibility of patients in mind.
Driver:
The market is being driven by factors such as the increased number of patients with malocclusions, the development of dental technology, and the rise in demand for personalized clear aligners. Globally, the pandemic had a favorable effect on the market, and major businesses rebounded with higher revenues in 2020 than in earlier years.
Restraint:
The adoption rate of clear aligners is hampered by their high acquisition costs, particularly in emerging economies. For instance, the average price for these aligners is between USD 4,000 and USD 8,000, with the majority falling within this range. Furthermore, dental professionals are constrained from choosing the product in underdeveloped nations due to the expensive cost of the equipment. Since clear aligners are expensive, their market expansion may be hampered.
COVID-19 Analysis of Clear Aligners Market:
As a result of the COVID-19 pandemic, some areas of the global economy have experienced significant illness load and financial hardship. Significant changes are anticipated in several industries, notably the healthcare sector, during the first half of 2020. This has caused several medical treatments to be delayed or postponed. Nevertheless, notwithstanding these developments, the COVID-19 epidemic had a favorable effect on the expansion of the market for clear aligners. Several orthodontists and their patient's used online telemedicine services to interact throughout the pandemic due to the disruption to orthodontic practice and quarantine. According to the Frontiers in Medicine study, during the epidemic, there was an upsurge in the number of posts on internet forums calling for clear aligners. According to a Dental Tribune article, one of the market's competitors, Align Technology, claimed increased sales of 1.6 million cases in 2020 as opposed to 1.5 million cases the year before. The COVID-19 pandemic's development aided the industry's expansion in terms of product uptake, and this trend is anticipated to remain for the foreseeable future. Thus, the COVID-19 pandemic had a favorable impact on the clear aligners market demand.
Clear Aligners Market Report Coverage:
Report Attributes
Report Details
Study Timeline
2016-2030
Market Size in 2030 (USD Billion)
40.97 Billion
CAGR (2022-2030)
27.2%
By Age
Adults and Teens
By End-use
Hospitals, Standalone Practices, Group Practices, Others
By geography
North America– (U.S., Canada, Mexico)

Europe- (Germany, France, U.K., Russia, Italy, Spain, BENELUX, Rest of Europe)

Asia Pacific- (China, Japan, India, South Korea, Australia, ASEAN, Rest of Asia Pacific)

Latin America- (Brazil, Argentina, Chile, Rest of Latin America)

The Middle East and Africa- (GCC, Turkey, Israel, Rest of MEA)

Key Players
Align Technology, Dentsply Sirona, Patterson Companies Inc., Institute Straumann, Danaher Corporation, 3M EPSE, Argen Corporation, Henry Schein Inc., TP Orthodontics Inc. DynaFlex, Great Lakes Dental Technologies, SCHEU DENTAL GmbH, Clarus Company
Clear Aligners Market Segment Analysis:
By Age
In 2021, the adults market had the highest revenue share more than 61.2% in the clear aligners market. Dental issues such as malocclusion are very common among people and, in addition to lowering the quality of life, can also cause issues with dentofacial aesthetics, speech, swallowing, and mastication abnormalities, as well as increased susceptibility to trauma and periodontal disease. Currently, society places a high value on acceptable aesthetic appearance, including dental appearance. Adolescents are more probable than other age groups to express growing anxiety about their oral appearance. A more comfortable, convenient, and discrete alternative to fixed appliances, aligner therapy is one of the orthodontics subspecialties that is expanding the quickest.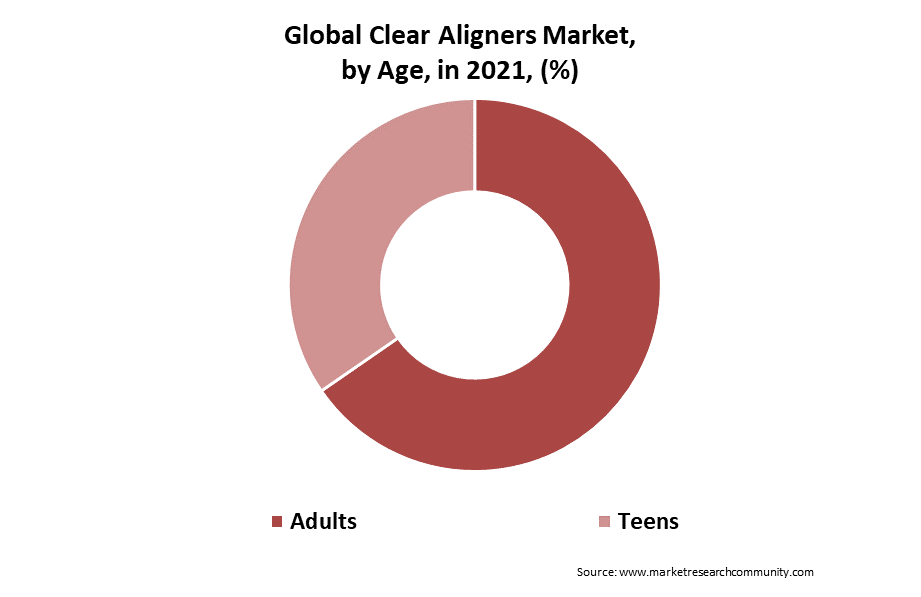 By End-Use
During the projected period, the solo practices category is anticipated to grow at a considerable CAGR and had the highest revenue share of over 50.4% in 2021 in the clear aligners market. Hospitals, independent practices, group practices, and other uses are the sub-segments of the end-use division. Easily adopted transparent aligner systems and innovative with cutting-edge digital technologies, solo practices dominated the clear aligners market in 2021. Choosing private/standalone dental services has many advantages, according to Today's RDH, a digital media company for Registered Dental Professionals. Some of these advantages include a wider range of dental treatments, shorter wait times, specialized and high-quality service, and high adoption of the most recent technology and high-quality materials for both diagnostics and treatment.
The American Dental Association (ADA) estimates that there were roughly 795 orthodontists who owned or co-owned practices in the United States as of 2017. This information comes from the American Association of Orthodontics. Furthermore, group practices have the highest CAGR over the forecast period as they employ more advanced technologies while reducing expenses and optimizing their revenue potential.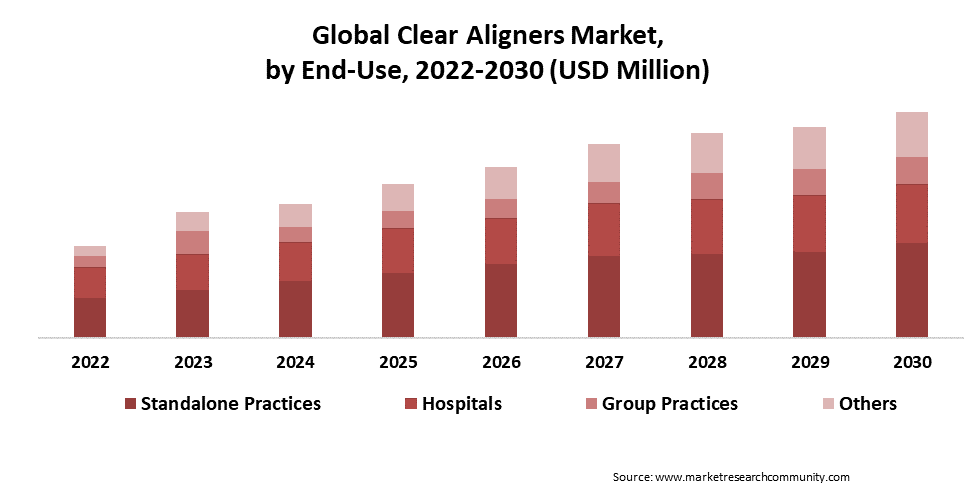 By Region
In 2021, North America has a market share of nearly 55.0% in the clear aligners market. This is related to rising R&D expenditures, the local presence of multinational corporations, and those corporations' efforts to get new patents. According to a survey by the American Dental Association, 85% of Americans genuinely appreciate their dental health and view it as a crucial component of total care. 25% of the four million Americans with braces are adults. Further, the introduction of clear tray-style aligners grabbed the interest of several patients and enhance the metal-mouth appearance of braces which in turn fueled the growth of the clear aligners market. Additionally, people in the region are increasingly choosing aligners as a treatment for teeth misalignment due to factors such as rising beauty standards, increased awareness of recent advancements in dental hygiene, and a variety of practical treatment options during the forecast period.
Clear Aligners Market Competitive Landscape:
The competitive landscape of the market has been analyzed in the report, along with the detailed profiles of the major players operating in the industry. The majority of manufacturers are concentrating on new Age launches, improvements to current Ages, and mergers and acquisitions. –
Align Technology
Dentsply Sirona
Patterson Companies Inc.
Institute Straumann
Danaher Corporation
3M EPSE
Argen Corporation
Henry Schein Inc.
TP Orthodontics Inc.
DynaFlex
Great Lakes Dental Technologies
SCHEU DENTAL GmbH
Clarus Company
Table of Content
Introduction

Market Introduction
Market Research Methodology

Research Process
Primary Research
Secondary Research
Data Collection Technique
Data Sources

Market Estimation Methodology
Age Picture of Clear Aligners
Global Clear Aligners Market: Classification
Geographic Scope
Years Considered for the Study
Research Methodology in brief
Parent Market Overview
Overall Clear Aligners Market Regional Demand
Research Programs/Design
Market Breakdown and Data Triangulation Approach
Data Source
Secondary Sources
Primary Sources
Primary Interviews
Average Type primary breakdown ratio

Market Dynamics

Drivers
Restraints
Opportunity

Impact forces on market dynamics
Impact forces during the forecast years

Industry Value Chain

Upstream analysis
Downstream analysis
Therapeutic
Direct Channel
Indirect Channel

Potential Customers
Manufacturing/Operational Cost Analysis
Pricing Analysis by Region
Key Age Landscape
Regulatory Analysis
Porter's Analysis

Supplier Power
Buyer Power
Substitution Threat
Threat from New Entry
Competitive Rivalry

PESTEL Analysis
Political Factors
Economic Factor
Social Factors
Technological Factor
Environmental Factors
Legal Factor
Covid-19 impact on Global Economy
Covid-19 impact on Clear Aligners Market demand 
Post-Covid Impact on Clear Aligners Market Demand
Impact Analysis of Russia-Ukraine Conflict

Global Clear Aligners Market Segmentation, Revenue (USD Billion), (2022-2030)

By Age
By Application

Hospitals
Standalone Practices
Group Practices
Others
By Global Clear Aligners Market Overview, By Region

North America Clear Aligners Market Revenue (USD Billion), by Countries, (2022-2030)

US

By Age
By Application
By End-Use

Canada
Mexico

Europe Clear Aligners Market Revenue (USD Billion), by Countries, (2022-2030)

France
UK
Spain
Russia
Italy
BENELUX

Asia Pacific Clear Aligners Market Revenue (USD Billion), by Countries, (2022-2030)

China
Japan
Australia
South Korea
India
ASEAN
Latin America Clear Aligners Market Revenue (USD Billion), by Countries, (2022-2030)
The Middle East and Africa Clear Aligners Market Revenue (USD Billion), by Countries, (2022-2030)
Global Clear Aligners Market Revenue: Competitive Analysis, 2021

Key strategies by players
Revenue (USD Billion and %), By manufacturers, 2021
Player Positioning by Market Players, 2021

Competitive Analysis

Align Technology

Business Overview
Business Financials (USD Billion)
Age Category, Source, and Specification
Main Business/Business Overview
Geographical Analysis
Recent Development
Swot Analysis

Dentsply Sirona
Patterson Companies Inc.
Institute Straumann
Danaher Corporation
3M EPSE
Argen Corporation
Henry Schein Inc.
TP Orthodontics Inc.
DynaFlex
Great Lakes Dental Technologies
SCHEU DENTAL GmbH
Clarus Company

Market Research Findings & Conclusion
Disclaimer
Research Methodology
The Market Research Community offers numerous solutions and its full addition in the research methods to be skilled at each step. We use wide-ranging resources to produce the best outcome for our customers. The achievement of a research development is completely reliant on the research methods implemented by the company. We always faithful to our clients to find opportunities by examining the global market and offering economic insights.

Market Research Community are proud of our widespread coverage that encompasses the understanding of numerous major industry domains. Company offers consistency in our research report, we also offers on the part of the analysis of forecast across a range of coverage geographies and coverage. The research teams carry out primary and secondary research to carry out and design the data collection methods.