Key Market Overview:
Conductive Silver Adhesive Market size was valued at USD 2,128.46 Million in 2021, registering a CAGR of 5.9% during the forecast period (2022-2030), and the market is projected to be worth USD 3,488.29 Million by 2030.
Conductive silver adhesive is a specific type of adhesive agent, primarily composed of conductive fillers and resins, including silver dust, nickel powder, graphite powder, copper powder, epoxy, and more. The conductive silver adhesive is frequently deployed as an adhesive material in various microelectronic components, medical devices, and many other products. Recent trends such as the growth of the electrical and electronics industry and the surging production of medical devices are fueling up the demand for conductive silver adhesives to ensure superior flexibility along with higher conductivity.
Market Dynamics:
Driver:
Conductive silver adhesives are frequently deployed in the electrical & electronics industry because silver conductive adhesives are highly effectives due to its beneficial properties such as lower processing temperature, highly suitable for temperature-sensitive polymer substrates, and others. The mentioned beneficial properties of the conductive silver adhesive make it ideal for various electrical & electronics applications, including printed circuit boards, semiconductors, displays, and more. The surge in demand for consumer durables such as smartphones, televisions, and other electronics is likely to drive the growth of the display industry.
For instance, according to the India Cellular & Electronics Association (ICEA) report, in 2020, the global display industry, which also includes flat panel displays was valued at USD 104 billion, and in 2021, it was USD 115 billion, an increase of 10.6%.
Restraint:
The fluctuations in the prices of silver are having a direct impact on the prices of silver dust, which is a crucial raw material in the manufacturing of conductive silver adhesive. For instance, according to the recent data published by Mint, in February 2021, silver prices at the global level soared as much as 7.4%, a 6 month higher at that time.  Furthermore, according to the LBMA silver price, in 2022, the average silver price is forecasted to be at USD 24.8, a decrease of 1% in comparison with 2021's average price of USD 25.14. It is still higher than the historical annual average price of silver.
COVID-19 Impact:
The various measures adopted by countries across the world included strict lockdown measures, social distancing norms, and supply chain disruption caused delays in the production of conductive silver adhesives, which in turn, impacted the global conductive silver adhesives market growth. Furthermore, in 2020, several industries, including automotive, electrical & electronics, and semiconductor industries registered a decline in production activities.
For instance, according to the International Trade Centre (ITC), in 2019, the global imports of prepared glues and adhesives, including conductive silver adhesives was USD 13,099,027 thousand and in 2020, it was USD 13,093,699 thousand, declined of about 1%.
Conductive Silver Adhesive Report Coverage:
| | |
| --- | --- |
| Report Attributes | Report Details |
| Study Timeline | 2016-2030 |
| Market Size in 2030 (USD Million) | 3,488.29 Million |
| CAGR (2022-2030) | 5.9% |
| By type | Isotropic Conductive Adhesives, Anisotropic Conductive Adhesives |
| By Application | Printed Circuit Boards, Telephone and Mobile Communication Systems, Automotive, Medical Devices, Structural Adhesive, Optical Circuits, Substrate for semiconductors, Others |
| By Geography | North America, Europe,, Asia Pacific, Latin America , Middle East and Africa |
| Key Players | Ted Pella, Inc., LORD Corporation, Henkel, MG Chemicals, Panacol-Elosol GmbH, HB Fuller, Dow Inc., Bacon Adhesives, and Electrolube. |
Market Segmentation:
By Type
The type segment is divided into isotropic conductive adhesives and anisotropic conductive adhesives. The benefits associated with the utilization of isotropic conductive adhesives, include being highly environment-friendly, curing at lower temperatures, being lighter in weight, and more. As a result, these adhesives are cost-effective. The isotropic conductive adhesives are frequently deployed in various electrical & electronic applications. Furthermore, isotropic conductive adhesives have vital properties such as superior conductivity in all directions, while anisotropic conductive adhesives can conduct electricity only in one direction, which makes anisotropic conductive adhesives less susceptible to handling and climatic extremes.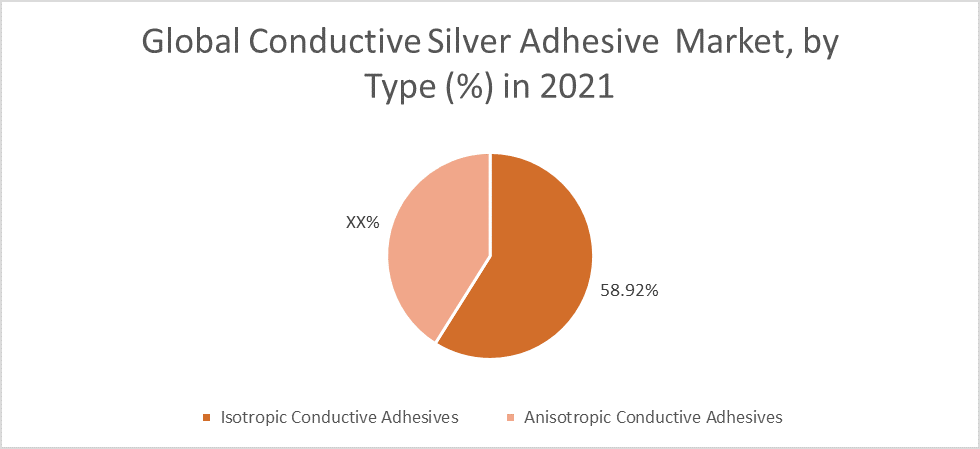 By Application
The application segment is divided into printed circuit boards, telephone and mobile communication systems, automotive, medical devices, structural adhesive, optical circuits, substrate for semiconductors, and others
Various trends such as surging disposable income, governmental initiatives, surging foreign direct investments, and others are fueling the growth of the production activities associated with smartphones, automobiles, and others. Thus, the surge in production activities is driving the demand for conductive silver adhesive, thereby accelerating overall growth.
Additionally, vital factors such as the growth of printed circuit board production, increasing demand for semiconductors, and others are also boosting the demand for conductive silver adhesives. As a result, the surging adoption of conductive silver adhesives in applications such as semiconductors, printed circuit boards, and others are accelerating the market growth.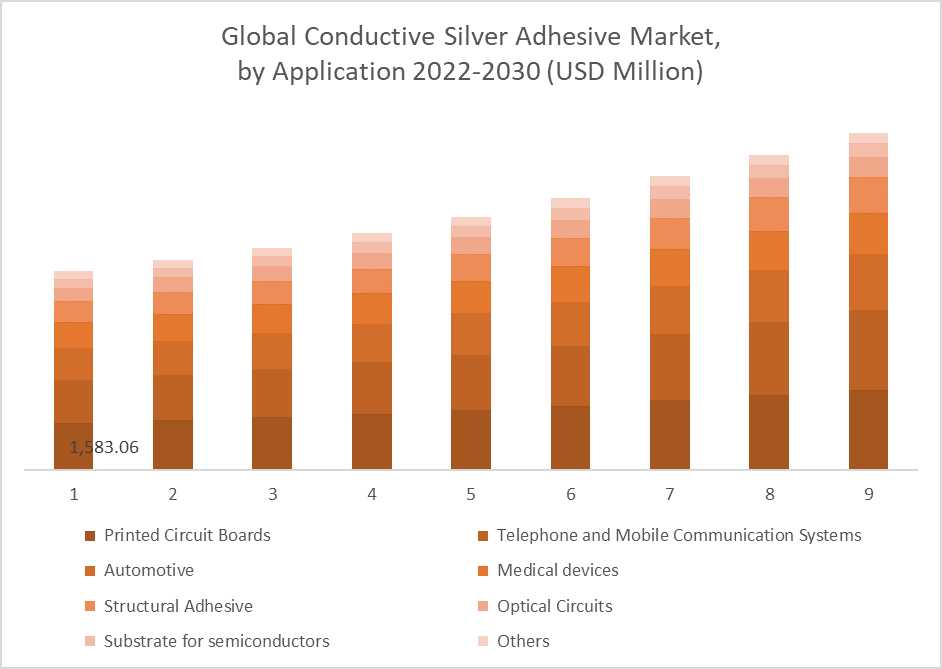 By Region:
The regional segment includes North America, Europe, Asia Pacific, the Middle East, and Africa, Latin America. The growth of regions such as North America, Europe, Asia Pacific, Latin America, and Middle East & Africa are driven by different industries. However, a general trend that has been influencing the demand for conductive silver adhesives. This is increasing adoption of conductive silver adhesives in the electrical & electronics industry.
Moreover, the governmental initiatives for the growth of the medical devices industry and increasing focus towards improvement of the healthcare system among countries such as the U.S., India, Germany, and others are boosting the demand for conductive silver adhesives. This, in turn, is driving the overall market growth.  Furthermore, the growth of the 5G infrastructure will spur the production of smartphones at the global level. As a result, the demand for conductive silver adhesives will increase. This will lead to the growth of the global conductive silver adhesives market.
Conductive Silver Adhesive Market Competitive Landscape:
The competitive landscape of the market has been analyzed in the report, along with the detailed profiles of the major players operating in the industry. Further, the surge in Research and Development (R&D), product innovation, various business strategies, and Application launches have accelerated the growth of the Conductive Silver Adhesive market. Key players in the market include-
Ted Pella, Inc.
LORD Corporation
Henkel
MG Chemicals
Panacol-Elosol GmbH
HB Fuller
Dow Inc.
Bacon Adhesives
Electrolube
Ardilla Technologies Ltd.
Table of Content
To check our Table of Contents, please mail us at: [email protected]
Research Methodology
The Market Research Community offers numerous solutions and its full addition in the research methods to be skilled at each step. We use wide-ranging resources to produce the best outcome for our customers. The achievement of a research development is completely reliant on the research methods implemented by the company. We always faithful to our clients to find opportunities by examining the global market and offering economic insights.

Market Research Community are proud of our widespread coverage that encompasses the understanding of numerous major industry domains. Company offers consistency in our research report, we also offers on the part of the analysis of forecast across a range of coverage geographies and coverage. The research teams carry out primary and secondary research to carry out and design the data collection methods.