Corporate Wellness Market Overview:
Corporate Wellness Market was valued at USD 52.40 Billion in 2021, registering a CAGR of 7.2% during the forecast period (2022-2030), and is projected to be worth USD 97.97 Billion by 2030. Programs that target various risk factors and conditions and have an impact on both employees and the entire firm make up corporate wellness initiatives. The National Center for Chronic Disease Prevention and Health Promotion (NCCDPHP) asserts that corporate wellness and health promotion initiatives and the provision of disease prevention plans have the potential to significantly lower healthcare costs by influencing more than 150 million American workers. Employees are urged to lead healthier lifestyles, which is expected to improve employee wellness and assist businesses in increasing productivity and cutting expenses. In the upcoming years, it is anticipated that the overall expenditures associated with lost productivity owing to illness-related absenteeism is anticipated to surpass USD 150 billion. Increased insurance expenses as a result of the growing number of obese and overweight people place a financial burden on companies.
Corporate Wellness Market Dynamics:
Corporate wellness initiatives focus on particular regulations and restrictions that address a range of risk factors and health issues, as well as planning strategies that may have an impact at various organizational levels, such as changing employee behavior, organizational culture, and worksite dynamics. Any organization that employs a range of strategies and interventions to promote the health of its employees should consider workplace wellness programs to be a crucial component.
Driver:
The rise in chronic disease incidence, employers are implementing wellness programs are the factors act as major drivers to the growth of the market. Further, chronic disease prevalence at work reduces employee productivity and raises company healthcare costs. For instance the prevalence of lifestyle diseases in the US is responsible for many of the nation's health issues, including diabetes, heart disease, and pulmonary ailments are the major drivers of the market.
Restraint:
The most recent trend among cybercriminals is leaking healthcare data. Participants in wellness programs at work provide personal information and health-related statistics. Fitness trackers and other digital devices are also more susceptible to hacking as they have weak data security safeguards and can be monitored by thieves. On the other side, corporate wellness providers are more concerned with the privacy and medical information of their clients and are working with cybersecurity companies to stop data breaches. Hence, cybercrime is expected to hamper the growth of the market.
COVID-19 Analysis of Corporate Wellness Market:
The corporate wellness market has been severely impacted since the COVID-19 epidemic in many different parts of the world. Shipments were impacted during the initial lockdown due to a labor shortage and the closure of a manufacturing facility. The pandemic's initial effects on China were tremendous. However, the nation's circumstances have stabilized, and all product and service production rates have increased. As a result, it is determined that COVID-19's overall impact on the corporate wellness market is moderate.
Corporate Wellness Market Report Coverage:
Report Attributes
Report Details
Study Timeline
2016-2030
Market Size in 2030 (USD Billion)
97.97 Billion
CAGR (2022-2030)
7.2%
By Service
Health Risk Assessment, Fitness, Smoking Cessation, Health Screening, Nutrition & Weight Management, Stress Management, Others
By Category
Fitness & Nutrition Consultants, Psychological Therapists, Organizations/Employers
By Delivery Model
Onsite, Offsite
By End-use
Small Scale Organizations, Medium Scale Organizations, Large Scale Organizations
By geography
North America– (U.S., Canada, Mexico)

Europe- (Germany, France, U.K., Russia, Italy, Spain, BENELUX, Rest of Europe)

Asia Pacific- (China, Japan, India, South Korea, Australia, ASEAN, Rest of Asia Pacific)

Latin America- (Brazil, Argentina, Chile, Rest of Latin America)

The Middle East and Africa- (GCC, Turkey, Israel, Rest of MEA)

Key Players
ComPsych, Wellness Corporate Solutions, Virgin Pulse; Provant Health Solutions, EXOS, Marino Wellness, Privia Health, Vitality Group, Wellsource, Inc., Central Corporate Wellness, Truworth Wellness, and SOL Wellness, Well Nation, ADURO, INC., Beacon Health Options, Fitbit, Inc.
Corporate Wellness Market Segmental Analysis:
By Service
The health risk assessment sector led the corporate wellness market with a revenue share of 21.1% in 2020. Corporate wellness initiatives often involve screening procedures to detect health hazards and the use of suitable interventional tactics to encourage staff to lead healthy lifestyles. Further, more than, 80% of firms that offer services for employee well-being choose to examine their workers' health risks. The WCS Analytics Plus platform, which comprises an interactive data dashboard and was introduced by Wellness Corporate Solutions in June 2016, enables clients to plan and carry out healthy activities that promote productive workspaces. Hence, health risk assessment segment is fueling the growth of the corporate wellness market.
By Category
Organizations led the market and accounted for the major revenue share of 50.3% in the category segment in 2021. The service providers provide internal and external health management services for big and small businesses. On-site fitness, which incorporates yoga and meditation, is a growing trend fueling the market growth. As a result, during the forecast period, the stress management market is expected to grow at the fastest rate.
By Delivery Model
In 2020, onsite corporate wellness programs dominated the delivery model market and represented more than 57% of total revenue. Over the projected period, the segment is expected to grow rapidly. The facilities to exercise under the direction of fitness consultants and coaches to meet their individual health needs are provided by on-site wellness initiatives, which give employees a personal touch on their well-being. To accommodate the health needs of employees and their families, several firms have changed or increased benefits and insurance programs. Further, due to COVID-19, service providers are educating workers about the negative effects of working from home. For instance, the epidemic has caused a shift from physical meetings to virtual meetings. However, compared to in-person meetings, associated difficulties such as the need to pay closer attention to non-verbal cues such as body language and facial expressions, slow internet connections that cause disconnection from the meeting, and multitasking during meetings are making people feel more stressed and exhausted. Hence, the onsite delivery mode segment dominated the growth of the corporate wellness market.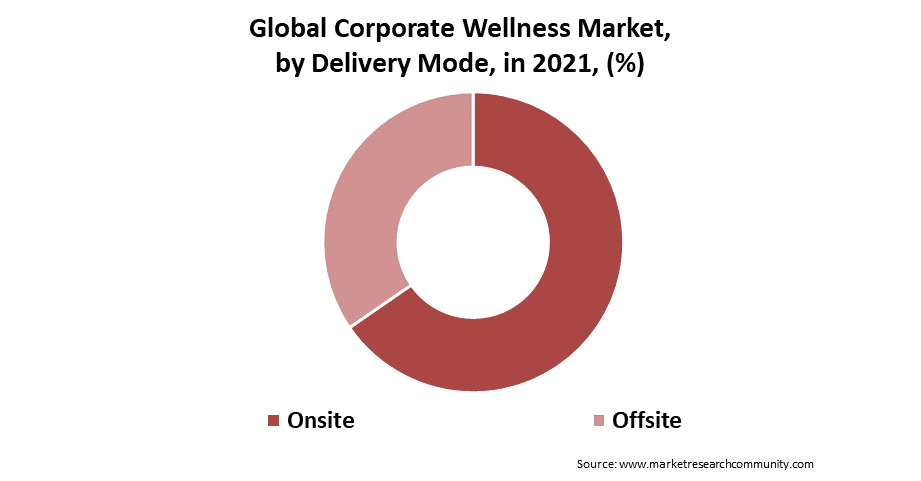 By End-Use
The end-user segment was dominated by large organizations, and 2020 accounted for 51.2% of total revenue. RAND estimates that in 2013, approximately 70% of organizations expended money on health screening services. According to well-researched studies, initiatives that are highly executed are expected to generate a 3:1 return on investment. The infrastructure of larger organizations might include programs and services. Smaller businesses are expected to profit from corporate memberships and service outsourcing. Hence, the end-user segment is fueling the growth of the market during the forecast period.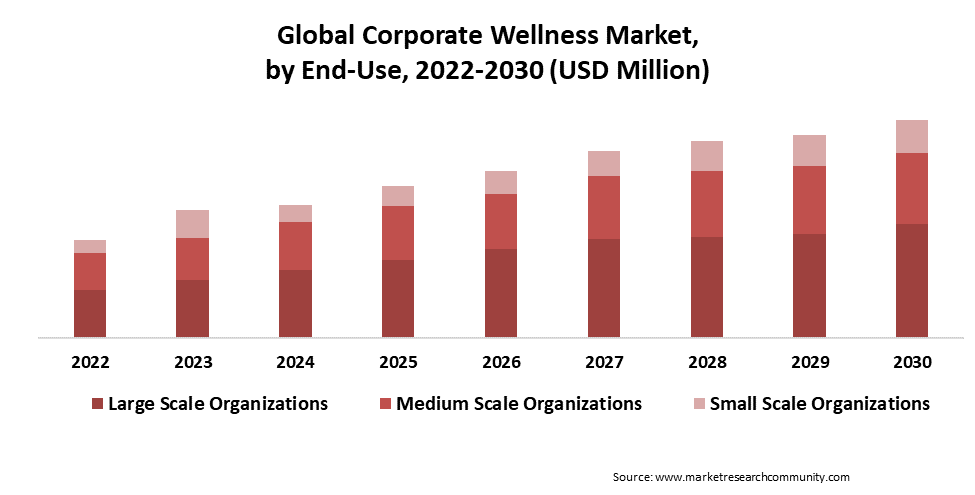 By Region
In 2020, North America held the greatest revenue share of 42% and led the corporate wellness industry. In the US, approximately 50.0% of firms offer wellness programs to their staff, according to the RAND employer survey. Greater employers provide more sophisticated wellness programs. Further, Asia Pacific is anticipated to experience significant growth during the forecast period. As corporate wellness creativities are mandatory in the Asia Pacific region due to the region's expanding working population along with increasing employee health management attentiveness.
Corporate Wellness Market Competitive Landscape:
The competitive landscape of the market has been analyzed in the report, along with the detailed profiles of the major players operating in the industry. The majority of manufacturers are concentrating on new Service launches, improvements to current Services, and mergers and acquisitions. –
ComPsych
Virgin Pulse
Wellness Corporate Solutions
Provant Health Solutions
EXOS
Marino Wellness
Privia Health
Vitality Group
Wellsource, Inc.
Central Corporate Wellness
Truworth Wellness
SOL Wellness
Well Nation
ADURO, INC.
Beacon Health Options
Fitbit, Inc.
Table of Content
Introduction

Market Introduction
Market Research Methodology

Research Process
Primary Research
Secondary Research
Data Collection Technique
Data Sources

Market Estimation Methodology
Service Picture of Corporate Wellness
Global Corporate Wellness Market: Classification
Geographic Scope
Years Considered for the Study
Research Methodology in brief
Parent Market Overview
Overall Corporate Wellness Market Regional Demand
Research Programs/Design
Market Breakdown and Data Triangulation Approach
Data Source
Secondary Sources
Primary Sources
Primary Interviews
AverService Type primary breakdown ratio

Market Dynamics

Drivers
Restraints
Opportunity

Impact forces on market dynamics
Impact forces during the forecast years

Industry Value Chain

Upstream analysis
Downstream analysis
Therapeutic
Direct Channel
Indirect Channel

Potential Customers
Manufacturing/Operational Cost Analysis
Pricing Analysis by Region
Key Service Landscape
Regulatory Analysis
Porter's Analysis

Supplier Power
Buyer Power
Substitution Threat
Threat from New Entry
Competitive Rivalry

PESTEL Analysis
Political Factors
Economic Factor
Social Factors
Technological Factor
Environmental Factors
Legal Factor
Covid-19 impact on Global Economy
Covid-19 impact on Corporate Wellness Market demand  
Post-Covid Impact on Corporate Wellness Market Demand
Impact Analysis of Russia-Ukraine Conflict

Global Corporate Wellness Market Segmentation, Revenue (USD Billion), (2022-2030)

By Service

Health Risk Assessment
Fitness
Smoking Cessation
Health Screening
Nutrition & Weight Management
Stress Management
Others

By Category

Fitness & Nutrition Consultants
Psychological Therapists
Organizations/Employers

By Delivery Model
By Application

Hospitals
Standalone Practices
Group Practices
Others

By End-Use

Small Scale Organizations
Medium Scale Organizations
Large Scale Organizations
By Global Corporate Wellness Market Overview, By Region

North America Corporate Wellness Market Revenue (USD Billion), by Countries, (2022-2030)

US

By Service
By Category
By Delivery Model
By Application
By End-Use

Canada
Mexico

Europe Corporate Wellness Market Revenue (USD Billion), by Countries, (2022-2030)

France
UK
Spain
Russia
Italy
BENELUX

Asia Pacific Corporate Wellness Market Revenue (USD Billion), by Countries, (2022-2030)

China
Japan
Australia
South Korea
India
ASEAN
Latin America Corporate Wellness Market Revenue (USD Billion), by Countries, (2022-2030)
The Middle East and Africa Corporate Wellness Market Revenue (USD Billion), by Countries, (2022-2030)
Global Corporate Wellness Market Revenue: Competitive Analysis, 2021

Key strategies by players
Revenue (USD Billion and %), By manufacturers, 2021
Player Positioning by Market Players, 2021

Competitive Analysis

Align Technology

Business Overview
Business Financials (USD Billion)
Service Category, Source, and Specification
Main Business/Business Overview
Geographical Analysis
Recent Development
Swot Analysis

ComPsych
Virgin Pulse
Wellness Corporate Solutions
Provant Health Solutions
EXOS
Marino Wellness
Privia Health
Vitality Group
Wellsource, Inc.
Central Corporate Wellness
Truworth Wellness
SOL Wellness
Well Nation
ADURO, INC.
Beacon Health Options
Fitbit, Inc.

Market Research Findings & Conclusion
Disclaimer
Research Methodology
The Market Research Community offers numerous solutions and its full addition in the research methods to be skilled at each step. We use wide-ranging resources to produce the best outcome for our customers. The achievement of a research development is completely reliant on the research methods implemented by the company. We always faithful to our clients to find opportunities by examining the global market and offering economic insights.

Market Research Community are proud of our widespread coverage that encompasses the understanding of numerous major industry domains. Company offers consistency in our research report, we also offers on the part of the analysis of forecast across a range of coverage geographies and coverage. The research teams carry out primary and secondary research to carry out and design the data collection methods.