Dairy Food Market Insights
Dairy Food Market is projected to be worth USD 936.08 Billion by 2028, registering a CAGR of 5.2 % CAGR during the forecast period (2022-2028), The market was valued at USD 656.45 Billion in 2021. The milk and yogurt segment is estimated to grab more revenue in the dairy food market. Further, the sale of dairy products through the online channel has attracted more consumers during the Covid-19 pandemic to avoid contamination from infected to healthy individuals.
Products like milk, yogurt, and cheese are examples of dairy foods. Though certain dairy products are sourced from the milk of sheep, goats, and other animals, most dairy products are made from cow's or buffalo's milk. Foods containing dairy are a great source of calcium and other important vitamins and minerals. As part of a balanced diet, dairy foods contribute to strong bones and help to stay healthy. Dairy foods vary in fat content and as per consumer demand. For example, milk that comes in full-fat milk contains 3.5% fat, low-fat milk contains less than 1.5% fat, and skim milk contains less than 0.15% fat.
Dairy Food Market Dynamics
Driver:
The rising consumption of dairy products and shifting consumer preference from meat to dairy products for protein enrichment are significant drivers of this market's growth.
Restraints:
Increasing demand for plant-based dairy products such as tofu, peanut milk, almond milk, coconut milk, and others is estimated to hamper the growth of the market. Moreover, growing awareness regarding animal welfare has simultaneously enhanced the demand for plant-based dairy products.
Opportunity:       
Demand for fat-free and sugar-free yogurt and other dairy product is estimated to bring better opportunities for the dairy food market. As consumers are more focused on healthy diet awareness regarding chronic diseases such as Cholesterol, obesity, heart failure, and others.                                      
COVID-19 Analysis of Dairy Food Market 
The dairy food market has experienced an exponential amount of turmoil since the COVID-19 epidemic broke out due to the major shift in demand. The food service and hospitality industries were particularly hampered by the worldwide lockdown in many developed and developing countries, which significantly reduced demand for milk and other dairy products. Post covid-19 there was a positive impact on the dairy food market as consumers were more focused on health, nutrition values from a dairy products, low-fat and fewer calories products which increased the demand for dairy foods.
Dairy Food Market  Report Coverage
Report Attributes
Report Details
Study Timeline
2016-2028
Market Size in 2028 (USD Billion)
936.08
CAGR (2022-2028)
5.2%
By Type
Lactose, Lactose-Free
By Product
Cheese, Milk, Butter, Dessert, Yogurt, Other
By Distribution Channel
Supermarket/Hypermarket, Convenience Store, Specialty Store, Online Retail
By geography
North America: U.S., Canada, Mexico

Europe: Germany, France, U.K., Russia, Italy, Spain, BENELUX, Rest of Europe

Asia Pacific: China, Japan, India, South Korea, Australia, ASEAN, Rest of Asia Pacific

Latin America: Brazil, Argentina, Chile, Rest of Latin America

The Middle East and Africa: GCC, Turkey, Israel, Rest of MEA
Dairy Food Market Segment Analysis
By Type
By type, the segment is bifurcated into lactose and lactose-free. The lactose segment is expected to grow at a high CAGR in the type segment of the dairy food market. Lactose is less sweet as compared to sugar and it helps in maintaining sugar levels in diabetic patients and other individuals without lowering the sweetness. Considering the above-mentioned factors lactose segment is estimated to dominate the type segments.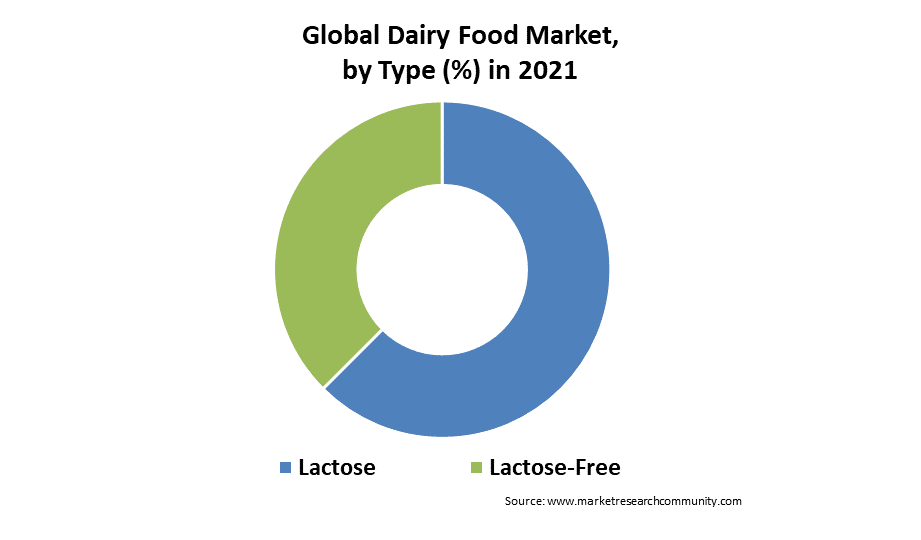 By Product
The product segment is divided into cheese, milk, butter, dessert, yogurt, and others. The milk sub-segment has grabbed more revenue in the dairy food market. Wide-ranging application in beverages, food products, confectionery, and bakery is estimated to fuel the demand for milk. Further, milk is considered nutritive and beneficial for all age groups as it contains various nutrients such as selenium, riboflavin, calcium, and others. Moreover, consumption of milk reduces osteoporosis in the geriatric population and is anticipated to drive the demand for milk.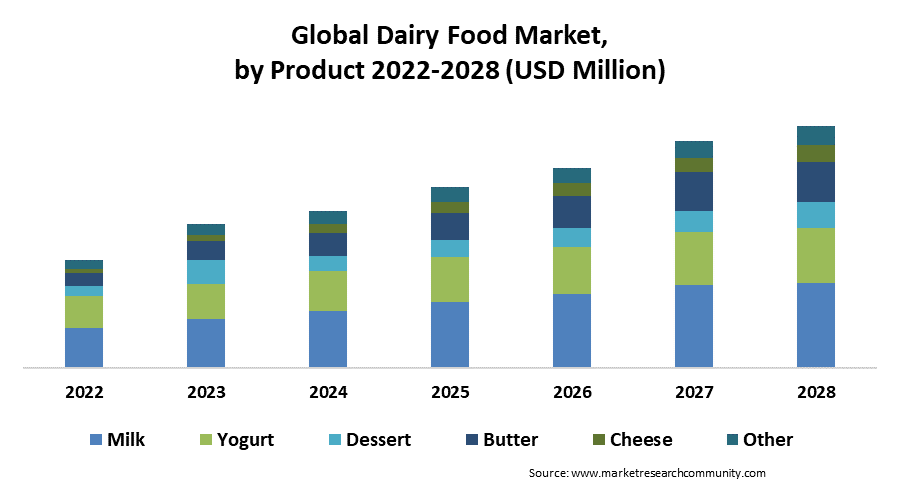 By Distribution Channel
A distribution channel is categorized into supermarket/hypermarket, convenience store, specialty store, and online retail. The supermarket/hypermarket segment is estimated to account for 63.5% of the market share in 2020. The growing number of supermarkets and hypermarkets with a variety of dairy products is a major factor responsible for the growth of the channel in the dairy food market. Moreover, the low cost associated with high convenience for purchasing dairy needs is estimated to support the growth of the channel.
By Region
Asia Pacific is projected to dominate the growth of the market in the forecast period due to the growing population and increasing demand for Fast-Moving Consumer Goods (FMCG). The market is also being driven by the expansion of online distribution channels in the region. Further, India is predicted to experience the fastest growth rate in the regional market due to the rising demand for dairy products such as yogurt and milk. Moreover, the growing disposable income of individuals, the launch of new dairy product, and changing consumer behavior is estimated to supplement the growth of the market.
Dairy Food Market Competitive Landscape
The competitive landscape of the market has been analyzed in the report, along with the detailed profiles of the major players operating in the industry. Major companies are focusing on market expansion strategies such as product launches, mergers & acquisitions, and expansion of manufacturing facilities to boost market presence. For instance, to reduce CO2 emissions by 30%, Arla Foods amba introduced its well-known yogurt product skyr bucket in a sustainable packaging type in 2020. Some of the players in the market are Nestle S.A., Fonterra Co-operative Group Limited, Friesland Campina N.V., Danone S.A., Dairy Farmers of America, Inc., Lactalis International, Arla Foods Group, DuPont de Nemours, Inc., Unilever Plc, The Kraft Heinz Company.
Research Methodology
The Market Research Community offers numerous solutions and its full addition in the research methods to be skilled at each step. We use wide-ranging resources to produce the best outcome for our customers. The achievement of a research development is completely reliant on the research methods implemented by the company. We always faithful to our clients to find opportunities by examining the global market and offering economic insights.

Market Research Community are proud of our widespread coverage that encompasses the understanding of numerous major industry domains. Company offers consistency in our research report, we also offers on the part of the analysis of forecast across a range of coverage geographies and coverage. The research teams carry out primary and secondary research to carry out and design the data collection methods.