Dental Lasers Market Insights:
Dental Lasers Market was valued at USD 1.20 Billion in 2021, registering a CAGR of 6.7% during the forecast period (2022-2030), and is projected to be worth USD 2.15 by 2030. For the purpose of eliminating or reshaping tissues throughout dental surgery, dental lasers create light. As a result, the market is anticipated to grow over the projected period owing to the rising prevalence of dental problems and the minimum invasive nature of dental lasers. The market is expected to increase due to benefits of laser dentistry, such as less bleeding and fewer stitches being required. Other important elements that have a beneficial impact on the market are minimally invasive procedures and the speed with which dental procedures can be completed. The market is being driven by improvements in surgery and treatment. Additionally, rising consumer acceptance of dental tools and instruments produced by manufacturers is boosting the market for dental lasers.
Dental Lasers Market Dynamics:
Dental lasers are tools that emit a focused beam of light and are used during dental procedures to remove or sculpt tissue. Dental lasers have made it feasible to do quick and painless dental procedures.
Driver:
The growth is mainly driven by the rising prevalence of dental problems among a sizable population and the growing awareness of oral hygiene. Technology advancements in the diagnosis and treatment of oral problems are major drivers the market.
Opportunities:
Technical advances are anticipated to present the market profitable opportunities during the forecast period. Further, a few new trends in the market include the expanding usage of lasers in dentistry and the increasing acceptance of devices with novel technologies by dental surgeons which are expected to provide profitable opportunities.
COVID-19 Analysis of Dental Lasers Market:
The dental lasers market has been severely impacted since the COVID-19 epidemic in many different parts of the world. Shipments were impacted during the initial lockdown due to a labor shortage and the closure of a manufacturing facility. The pandemic's initial effects on China were tremendous. However, the nation's circumstances have stabilized, and all product and service production rates have increased. As a result, it is determined that COVID-19's overall impact on the dental lasers market is moderate.
Dental Lasers Market Report Cover:
Report Attributes
Report Details
Study Timeline
2016-2030
Market Size in 2030 (USD Billion)
2.15
CAGR (2022-2030)
6.7%
By Product
Soft Tissue, All Tissue, Dental Welding Lasers
By Application
Conservative Dentistry, Endodontic Treatment, Oral Surgery, Implantology, Peri-Implantitis, Periodontics, Tooth Whitening.
By End-use
Hospitals, Dental Clinics
By geography
North America– (U.S., Canada, Mexico)

Europe- (Germany, France, U.K., Russia, Italy, Spain, BENELUX, Rest of Europe)

Asia Pacific- (China, Japan, India, South Korea, Australia, ASEAN, Rest of Asia Pacific)

Latin America- (Brazil, Argentina, Chile, Rest of Latin America)

The Middle East and Africa- (GCC, Turkey, Israel, Rest of MEA)

Key Players
Danaher, Dentsply Sirona, Laserstar Technology, Fotona D.D, Ivoclar Vivadent AG, Sirona, Syneron Dental, ZOLAR Technology & Mfg. Co. Inc., THE YOSHIDA DENTAL MFG. CO., LTD.
Dental Lasers Market Segment Analysis:
By Product
Soft tissue product segment is predicted to be the segment with the quickest growth due to the high prevalence of soft tissue illnesses, such as periodontal disorders and gingivitis among a wide population. The expansion of this market segment is anticipated to be driven by an increase in soft tissue operations as diode lasers are primarily used in these procedures. Diode laser therapy for soft tissue offers greater portability, cost, and user-friendliness. As a result, increasing number of surgeons favor using diode lasers during operations. Additionally, rising disposable income and rising customer preference for minimally invasive procedures are both contributing to the segment's growth in the dental lasers market.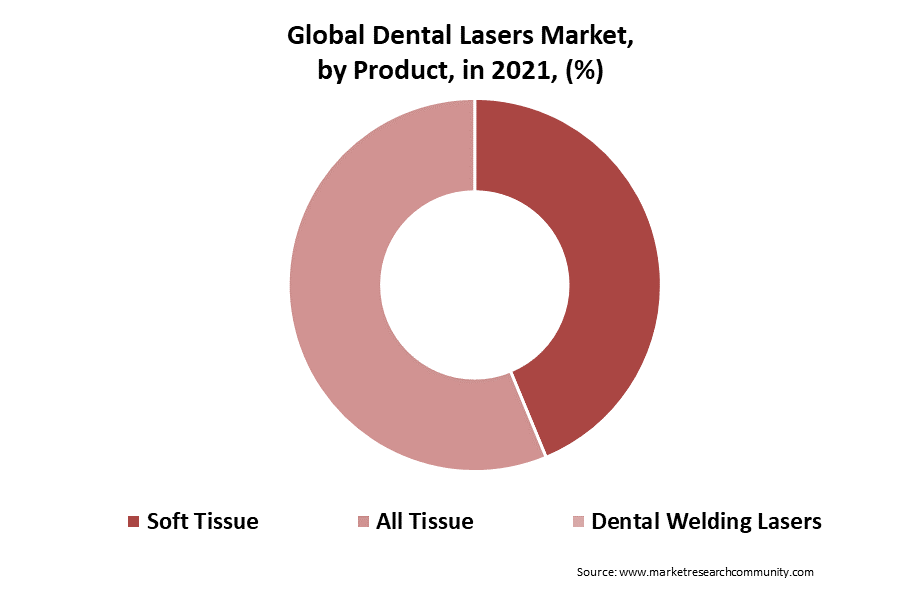 By Application
The periodontics segment has led the market in past years and is predicted to grow further during the forecast period, owing to the growing number of periodontists. Additionally, the rise of the market is being fueled by customers' increasing purchasing power. Further, the oral surgery market is predicted to grow profitably over the next seven years as more patients are requesting a reconstruction of their bone and gum tissue. Additionally, it is anticipated that increased oral hygiene awareness is expected to spur growth.
The increasing significance of oral surgery as a result of growing awareness of physical appearance and dental aesthetics is anticipated to propel the segment's expansion. Restructuring of the jaw, neck, and face structures is a component of oral operations. Another aspect driving the rise is the rising number of dental professionals with enhanced abilities to carry out these operations.
 By End-Use
The dental clinics segment held the major market share, is anticipated to experience considerable expansion in the near term, due to the availability of highly qualified doctors. Additionally, the segment is anticipated to develop as a result of increased desire for diagnosis and treatment at dental clinics as well as an expansion in the number of dental clinics and experts. Dental clinic specialists utilize highly skilled equipment and instruments for a variety of procedures, which ultimately increases the need for diverse tools, particularly dental lasers. Additionally, dental clinics are becoming more important since they possess superior resources than hospitals do. Further, the hospital sector is anticipated to grow at a CAGR of 5.8% by 2030 as a result of improved healthcare infrastructure in emerging economies and established medical facilities in developed countries. In addition, the segment is anticipated to grow as hospitals hire more qualified doctors.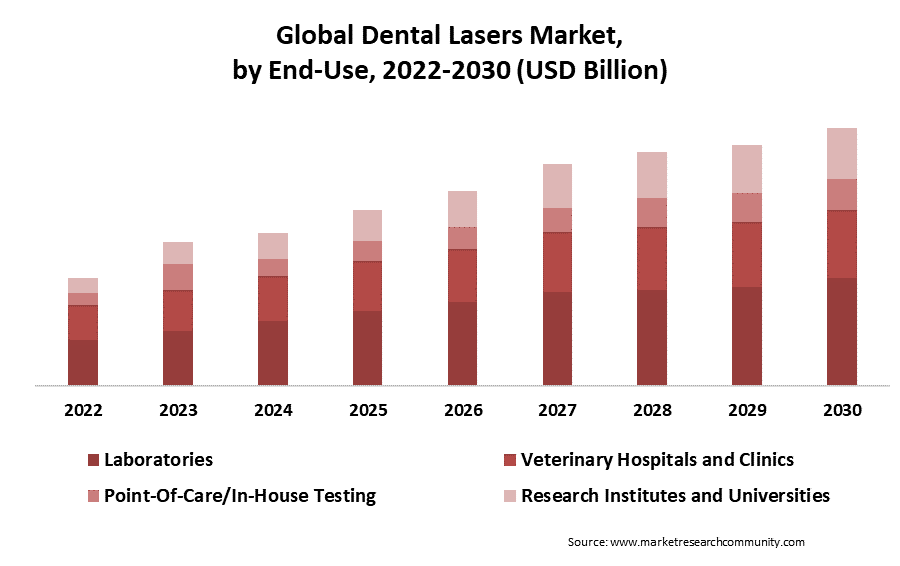 By Region
North America, dominated the market and is expected to grow at a CAGR of 6.4% during the Forecast period, owing to rising oral hygiene awareness in the region. In the foreseeable future, emerging economies like Brazil are anticipated to dominate the industry significantly. The region's market is being driven by the high frequency of oral cancer, periodontal disease, caries, and gingivitis. Additionally, it is anticipated that in the near future, technologically upgraded healthcare infrastructure is expected to present growth potential opportunities for the dental lasers market.
Dental Lasers Market Competitive Landscape:
The competitive landscape of the market has been analyzed in the report, along with the detailed profiles of the major players operating in the industry. The majority of manufacturers are concentrating on new product launches, improvements to current products, and mergers and acquisitions. For managing soft tissue, Biolase Inc. introduced Epic Pro. Compared to other diodes on the market, it provides more power and innovation. For consistent, dependable, and predictable outcomes with every usage, the device measures and monitors the laser temperature. The operator can lase with confidence and speed because to the unique innovation used in the design of Epic Pro. Key players in the market include-
Dentsply Sirona
Fotona D.D
Ivoclar Vivadent AG
Laserstar Technology
Danaher
Sirona
Syneron Dental
ZOLAR Technology & Mfg. Co. Inc.
THE YOSHIDA DENTAL MFG. CO., LTD.
Table of Content
Introduction

Market Introduction
Market Research Methodology

Research Process
Primary Research
Secondary Research
Data Collection Technique
Data Sources

Market Estimation Methodology
Product Picture of Dental Lasers
Global Dental Lasers Market: Classification
Geographic Scope
Years Considered for the Study
Research Methodology in brief
Parent Market Overview
Overall Dental Lasers Market Regional Demand
Research Programs/Design
Market Breakdown and Data Triangulation Approach
Data Source
Secondary Sources
Primary Sources
Primary Interviews
Average Type primary breakdown ratio

Market Dynamics

Drivers
Restraints
Opportunity

Impact forces on market dynamics
Impact forces during the forecast years

Industry Value Chain

Upstream analysis
Downstream analysis
Therapeutic
Direct Channel
Indirect Channel

Potential Customers
Manufacturing/Operational Cost Analysis
Pricing Analysis by Region
Key Product Landscape
Regulatory Analysis
Porter's Analysis

Supplier Power
Buyer Power
Substitution Threat
Threat from New Entry
Competitive Rivalry

PESTEL Analysis
Political Factors
Economic Factor
Social Factors
Technological Factor
Environmental Factors
Legal Factor
Covid-19 impact on Global Economy
Covid-19 impact on Dental Lasers Market demand  
Post-Covid Impact on Dental Lasers Market Demand
Impact Analysis of Russia-Ukraine Conflict

Global Dental Lasers Market Segmentation, Revenue (USD Billion), (2022-2030)

By Product

Soft Tissue
All Tissue
Dental Welding Lasers

By Application

Conservative Dentistry
Endodontic Treatment
Oral Surgery
Implantology
Peri-Implantitis
Periodontics
Tooth Whitening

By End-Use
By Global Dental Lasers Market Overview, By Region

North America Dental Lasers Market Revenue (USD Billion), by Countries, (2022-2030)

US

By Product
By Application
By End-Use

Canada
Mexico

Europe Dental Lasers Market Revenue (USD Billion), by Countries, (2022-2030)

France
UK
Spain
Russia
Italy
BENELUX

Asia Pacific Dental Lasers Market Revenue (USD Billion), by Countries, (2022-2030)

China
Japan
Australia
South Korea
India
ASEAN
Latin America Dental Lasers Market Revenue (USD Billion), by Countries, (2022-2030)
The Middle East and Africa Dental Lasers Market Revenue (USD Billion), by Countries, (2022-2030)
Global Dental Lasers Market Revenue: Competitive Analysis, 2021

Key strategies by players
Revenue (USD Billion and %), By manufacturers, 2021
Player Positioning by Market Players, 2021

Competitive Analysis

Biolase, Inc.

Business Overview
Business Financials (USD Billion)
Product Category, Source, and Specification
Main Business/Business Overview
Geographical Analysis
Recent Development
Swot Analysis

Danaher
Dentsply Sirona
Laserstar Technology
Fotona D.D
Ivoclar Vivadent AG
Sirona
Syneron Dental
ZOLAR Technology & Mfg. Co. Inc.
THE YOSHIDA DENTAL MFG. CO., LTD.

Market Research Findings & Conclusion
Disclaimer
Research Methodology
The Market Research Community offers numerous solutions and its full addition in the research methods to be skilled at each step. We use wide-ranging resources to produce the best outcome for our customers. The achievement of a research development is completely reliant on the research methods implemented by the company. We always faithful to our clients to find opportunities by examining the global market and offering economic insights.

Market Research Community are proud of our widespread coverage that encompasses the understanding of numerous major industry domains. Company offers consistency in our research report, we also offers on the part of the analysis of forecast across a range of coverage geographies and coverage. The research teams carry out primary and secondary research to carry out and design the data collection methods.