Dicyclopentadiene Market Overview:
Dicyclopentadiene Market Size was valued at USD 1,527.22 Million in 2021, registering a CAGR of 6.3% during the forecast period (2022-2030), and the market is projected to be worth USD 2,526.34 Million by 2030.
Dicyclopentadiene, also known as DCPD is a colorless, crystalline, flammable solid compound comprising a disagreeable, camphor-like odor. Its chemical formula is C10H12, molecular weight 132.2023 g/mol, and a CAS registry number 77-73-6. The energy density of dicyclopentadiene is 10,975 Wh/l.
Dicyclopentadiene is majorly produced through the steam cracking of crude oil products. It is used in the production of resins such as unsaturated polyester resins, aromatic hydrocarbon resins, phenolic resins, epoxy resins, specialty resins and other specialty intermediates. Additionally, Dicyclopentadiene is used as a chemical intermediate to produce pesticides, paints, varnishes, flame retardants for plastics, and other chemicals.
Market Dynamics:
Driver:
Rising demand from the automotive industry is accelerating the market growth
The rising awareness of gut health, and the increase in diseases such as constipation, bloating, and other urinary tract-related concerns are driving the demand for supplementary diets. Dicyclopentadiene has superior characteristics such as a superior blend of stiffness and strength, temperature consistency, excellent surface finish, and higher electrical electric insulation. These characteristics enable the efficient production of lighter parts with beneficial mechanical properties.
In the automotive industry, EPDM manufactured from dicyclopentadiene is used in the windows & doors of vehicles, gaskets, protective parts, and others. Thus, the adoption of dicyclopentadiene containing EPDM is increasing in Europe and North America, which is leading to market growth.
Restraint:
High cost is restraining market growth in Europe and North America
The overall cost structure of dicyclopentadiene is primarily determined by the costs of production, followed by the cost of raw materials such as coal tar, naphtha, and other materials used to manufacture dicyclopentadiene. Moreover, the price of dicyclopentadiene varies depending on the material's purity, performance properties, and more. The ongoing war between Russia and Ukraine has highly impacted the supply chain and manufacturing in Europe. This has resulted in higher prices of raw materials.
As a result, the prices of coal tars are going high in the European region. This is resulting in higher manufacturing costs for dicyclopentadiene.
COVID-19 Impact:
The advent of Covid-19 in early 2020 significantly impacted the demand for dicyclopentadiene in the market. The pandemic resulted in nationwide lockdowns and restrictions in movement of people to curb the spread of infection. Various manufacturing facilities had to either shut down or operate at a lesser workforce owing to rise in the cases and stringent social distancing norms by the government.
This led to a major demand-supply gap in the market. The pandemic also attributed to disruption in the global supply chains owing to restrictions in transportation which further had a negative impact on the export and import of DCPD.
Dicyclopentadiene Market Report Coverage:
Report Attributes
Report Details
Study Timeline
2016-2030
Market Size in 2030 (USD Million)
2,526.34 USD Million
CAGR (2022-2030)
6.3%
By Grade
High Purity Grade, Polyester Grade (UPR), Hydrocarbon Resin Grade
By Application
(Unsaturated Polyester Resin, Hydrocarbon Resins, EPDM Elastomers, COC and COP, Poly-DCPD, Others
By End Use Industry
Construction Industry, Automotive Industry, Electronics Industry, Paint Industry, Marine Industry, Others
By Geography
North America– (U.S., Canada, Mexico)

Europe- (Germany, France, U.K., Russia, Italy, Spain, BENELUX, Rest of Europe)

Key Players
The Dow Chemical Company, Braskem S.A., LyondellBasell Industries Holdings B.V., NOVA Chemicals Corporate, Cymetech Corporation, Tokyo Chemical Industry Co., Ltd. (TCI), Chevron Phillips Chemical Company LLC., China Petroleum and Chemical Corporation, Henghe (Nanjing) Materials and Science Technology Co., Ltd., KH Chemicals BV
Market Segmentation:
By Grade
Based on grade, the North America & Europe dicyclopentadiene market is segmented into the high purity grade, polyester grade (UPR) and hydrocarbon resin grade. The polyester grade dicyclopentadiene commands the largest market share and high purity grade segment is anticipated to register the fastest growth during the forecast period.
The polyester grade dicyclopentadiene finds major applications in construction, marine and automotive sector. The dicyclopentadiene modified unsaturated polyester resins are mostly used in decks, bathroom facilities and hulls. Their vast demand in market can be attributed to properties such as lower cost, reduce styrene emission, fast curing in thin layers and low shrinking. High purity grade dicyclopentadiene are used in the manufacturing of ethylene propylene diene rubbers. These find major uses in electronics, transparent materials, and automotive parts, thus augmenting the segment growth in coming years.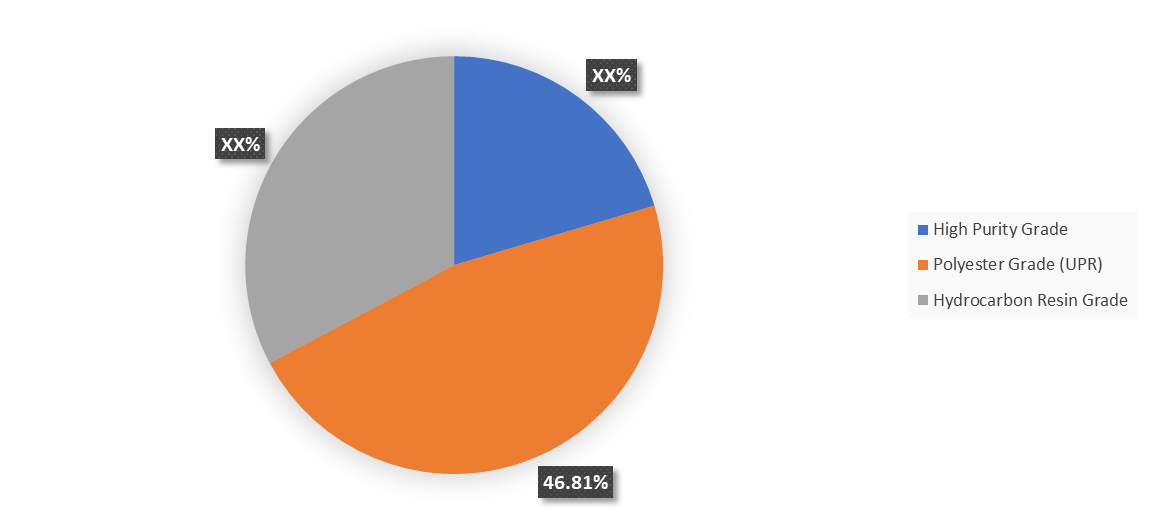 By Application
Based on application, the North America & Europe dicyclopentadiene market is subdivided into Unsaturated Polyester Resin, Hydrocarbon Resins, EPDM Elastomers, COC and COP, COC and COP and others. Unsaturated polyester resin holds the largest market share with COC and COP being the fastest growing segment among the applications of dicyclopentadiene. Dicyclopentadiene (DCPD) unsaturated polyesters resin economical and affordable resins synthesized from dicyclopentadiene, maleic anhydride, and a glycol. These unsaturated polyester resins have gained a dominant market share owing to their low styrene content and low shrinking property. Cyclic olefin polymers (COP) are attractive high temperature polymers possess exceptional optical properties coupled with excellent dimensional stability and good heat and chemical resistance. COC find major use as shatter resistant substitute for glass in optical lenses and films especially in electronic and medical applications such as touch screens, reflection films among others. Hence, the above-mentioned properties have propelled the respective segments to dominate in market.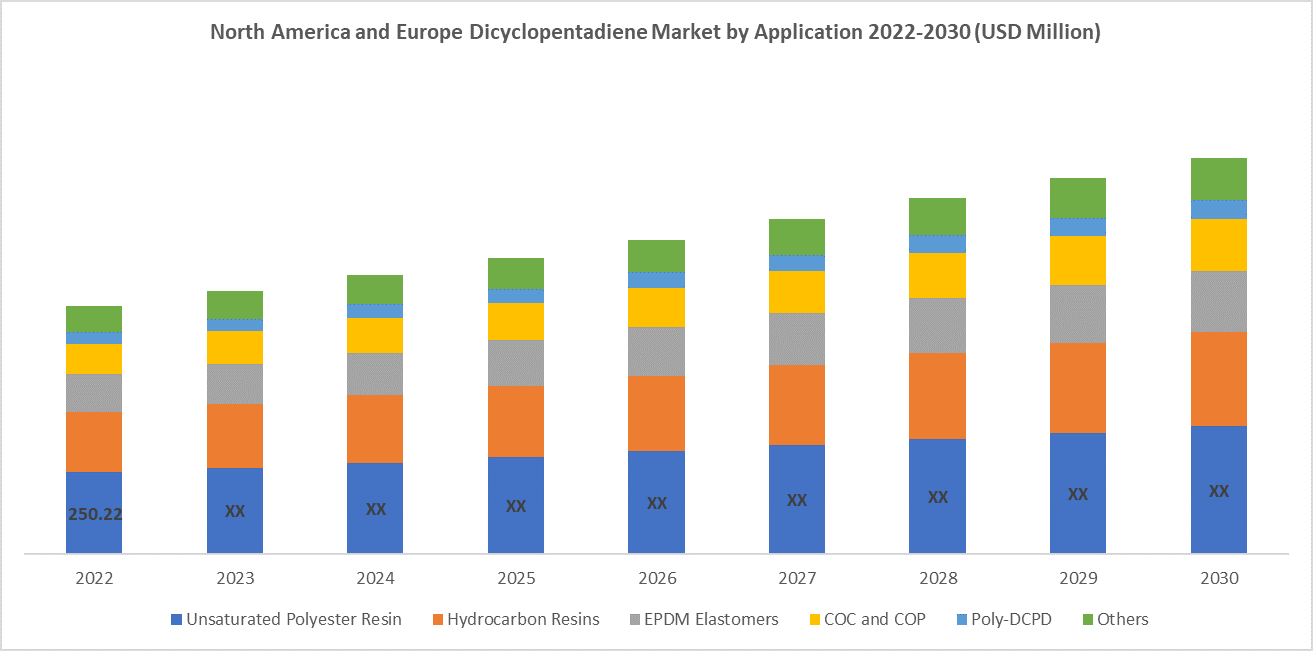 By Region:
Europe region is considered to witness the fastest growth owing to the significant growth of industrial sector in the region. The region is expected to capture a revenue share of 19.42% in 2021.
Europe region has the largest producers of motor vehicles, which would assist the market growth in the region owing to their characteristics such as resistance to heat, impact and corrosive chemicals and low viscosity which results in strong, large and lightweight protective coatings such as hoods and shields as well as outer bodies of cars, machinery and trucks. A surge in production of electric vehicles would further boost the market demand in the region. The growing construction industry in the region would propel the demand for dicyclopentadiene during the forecast period as they find application in bridges, façade panels, profiles.
Dicyclopentadiene Market Competitive Landscape:
The competitive landscape of the market has been analyzed in the report, along with the detailed profiles of the major players operating in the industry. Further, the surge in Research and Development (R&D), product innovation, various business strategies, and Application launches have accelerated the growth of the dicyclopentadiene market. Key players in the market include-
The Dow Chemical Company
Braskem S.A.
LyondellBasell Industries Holdings B.V.
NOVA Chemicals Corporate
Cymetech Corporation
Tokyo Chemical Industry Co., Ltd. (TCI)
Chevron Phillips Chemical Company LLC.
China Petroleum and Chemical Corporation
Henghe (Nanjing) Materials and Science Technology Co., Ltd.
KH Chemicals BV
Table of Content
To check our Table of Contents, please mail us at: [email protected]
Research Methodology
The Market Research Community offers numerous solutions and its full addition in the research methods to be skilled at each step. We use wide-ranging resources to produce the best outcome for our customers. The achievement of a research development is completely reliant on the research methods implemented by the company. We always faithful to our clients to find opportunities by examining the global market and offering economic insights.

Market Research Community are proud of our widespread coverage that encompasses the understanding of numerous major industry domains. Company offers consistency in our research report, we also offers on the part of the analysis of forecast across a range of coverage geographies and coverage. The research teams carry out primary and secondary research to carry out and design the data collection methods.