Immunotherapy Drugs Market:
Immunotherapy Drugs market was valued at USD 109.00 Billion in 2021, registering a CAGR of 6.6% during the forecast period (2022-2030), and is projected to be worth USD 193.75 Billion by 2030. The global increase in the prevalence of chronic diseases is the main factor driving the market. According to the International Diabetes Federation, an estimated 537 million people between the ages of 20 and 79 would have diabetes in 2021. Furthermore, it is anticipated that by 2045, this figure will reach 783 million. To improve research in the field of immunotherapy medications, major players in the market are concentrating on new product discoveries and forming strategic alliances.
For instance, in March 2022, Nextera AS and Zelluna Immunotherapy AS deliberately worked together to produce optimal TCRs for cancer immunotherapy. Additionally, Biomunex Pharmaceuticals and Institut Curie joined forces in February 2022 to develop an immunotherapy medication candidate for the treatment of hematological malignancies using Biomunex Pharmaceuticals' BiXAR technology. Furthermore, Boehringer Ingelheim International GmbH and Enara Bio entered into a licensing deal in January 2021 to use Enara Bio's Dark Antigen discovery platform to develop novel cancer immunotherapies.
Immunotherapy Drugs Market Dynamics:
A type of cancer treatment is called immunotherapy. It makes use of chemicals produced by the body or in a lab to strengthen the immune system and assist the body in locating and eliminating cancer cells. Numerous forms of cancer can be treated using immunotherapy. The drugs are also used alone or in conjunction with other cancer treatments such as chemotherapy.
Driver:
This market's expansion is primarily attributable to the increased prevalence of the target diseases, rising demand for biosimilars and monoclonal antibodies, rising preference for immunotherapy medications over traditional treatments, and an approval environment.
Restraint:
Immunotherapy drugs market expansion is anticipated to be hampered by government regulation, adverse impacts, manufacturing complexity, and a high attrition rate in the product development cycle during the forecast period.
Immunotherapy Drugs Market Report Cover:
Report Attributes
Report Details
Study Timeline
2016-2030
Market Size in 2030 (USD Billion)
193.75 Billion
CAGR (2022-2030)
6.6%
By Drugs Type
Monoclonal Antibodies, Immunomodulators, Vaccines
By Indication
Cancer, Autoimmune Diseases, Infectious Diseases, Others
By geography
North America– (U.S., Canada, Mexico)

Europe- (Germany, France, U.K., Russia, Italy, Spain, BENELUX, Rest of Europe)

Asia Pacific- (China, Japan, India, South Korea, Australia, ASEAN, Rest of Asia Pacific)

Latin America- (Brazil, Argentina, Chile, Rest of Latin America)

The Middle East and Africa- (GCC, Turkey, Israel, Rest of MEA)

Key Players
Amgen, Inc., Novartis AG, AbbVie, Inc., Pfizer, Inc., F. Hoffmann-La Roche Ltd., Johnson & Johnson Services, Inc., AstraZeneca, GSK, Sanofi, Bayer AG
Immunotherapy Drugs Market Segment Analysis:
By Indication
The indication segment is divided into cancer, autoimmune illnesses, infectious diseases, and other diseases based on drug kinds in the immunotherapy drug market. Due to a growth in cancer prevalence and the introduction of additional cancer immunotherapies, the cancer category had the highest revenue share of above 90.10% in 2021. Breast cancer and lung cancer have prevalence rates of approximately 11.7% and 11.4%, respectively, according to Globocan 2020. Additionally, the FDA authorized the use of Opdivo (nivolumab) in combination with chemotherapy for people with stomach cancer in April 2021. Hence, these factors are fueling the growth of the immunotherapy drug market.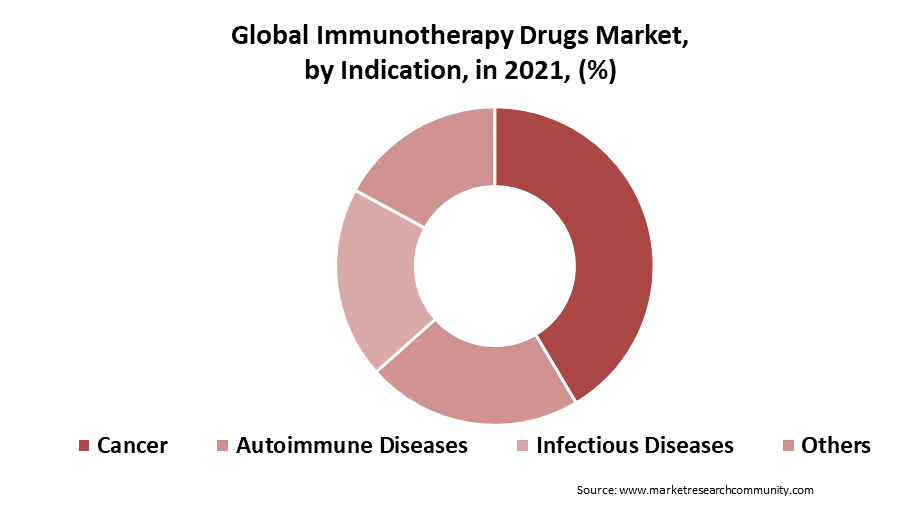 By Drug Type
The drug type segment is segmented into immunomodulators, monoclonal antibodies, and vaccines. Due to expanded R&D in therapeutic monoclonal antibodies along with helpful government measures, the monoclonal antibodies category held the greatest share of 75.30% in 2021. For instance, the U.S. FDA approved the supplementary Biologics License Application for Dupixent (dupilumab), which is indicated for the treatment of prurigo nodularis, in May 2022. During the projection period, the vaccines segment is anticipated to experience the quickest CAGR.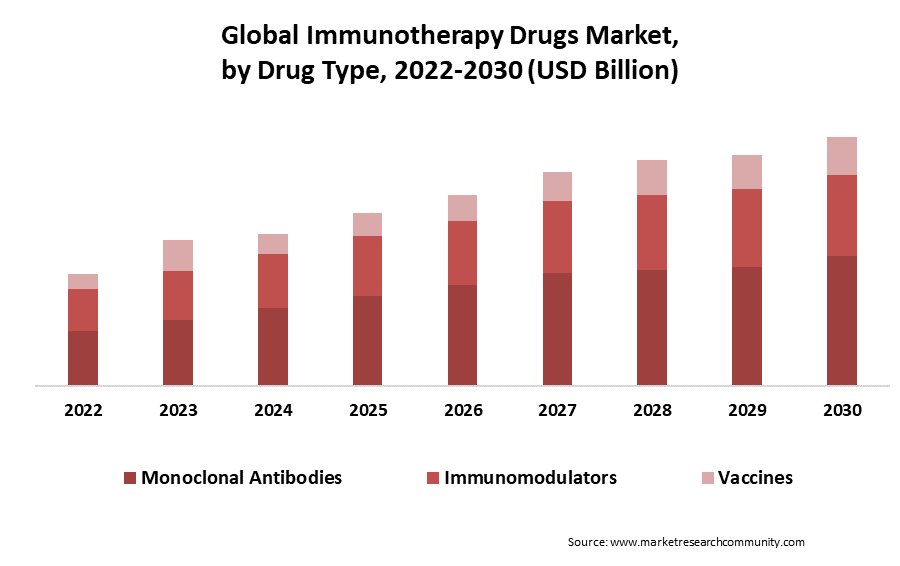 By Region
In 2021, North America held a disproportionately big share of the worldwide industry, contributing more than 44.90% of the total revenue. The release and regulatory approval of new immunotherapy medications as well as kind reimbursement policies are anticipated to contribute to the region's growth. For instance, the FDA approved the use of Keytruda, a drug manufactured by Merck, in conjunction with chemotherapy to treat cervical cancer in October 2021. Additionally, the FDA approved Bristol Myers Squibb Co.'s Opdivo (nivolumab) in August 2021 for the treatment of urothelial cancer.
Chimeric antigen receptor T-cell therapy hospital inpatient care is covered by the Centers for Medicare & Medicaid Services. During the predicted period, Japan is anticipated to see a considerable CAGR in Asia Pacific. One of the main drivers of the region's growth is the rising incidence of cancer in Japan, together with the country's aging population, expanding spending on medical research, and a sophisticated healthcare system.
Immunotherapy Drugs Market Competitive Landscape:
The competitive landscape of the market has been analyzed in the report, along with the detailed profiles of the major players operating in the industry. The majority of manufacturers are concentrating on new Drugs Type launches, improvements to current Drugs Types, and mergers and acquisitions. –
Amgen, Inc.
Novartis AG
AbbVie, Inc.
Pfizer, Inc.
Hoffmann-La Roche Ltd.
Johnson & Johnson Services, Inc.
AstraZeneca
GSK
Sanofi
Bayer AG
Table of Content
Introduction

Market Introduction
Market Research Methodology

Research Process
Primary Research
Secondary Research
Data Collection Technique
Data Sources

Market Estimation Methodology
Drugs Type Picture of Immunotherapy Drugs
Global Immunotherapy Drugs Market: Classification
Geographic Scope
Years Considered for the Study
Research Methodology in brief
Parent Market Overview
Overall Immunotherapy Drugs Market Regional Demand
Research Programs/Design
Market Breakdown and Data Triangulation Approach
Data Source
Secondary Sources
Primary Sources
Primary Interviews
Average Type primary breakdown ratio

Market Dynamics

Drivers
Restraints
Opportunity

Impact forces on market dynamics
Impact forces during the forecast years

Industry Value Chain

Upstream analysis
Downstream analysis
Therapeutic
Direct Channel
Indirect Channel

Potential Customers
Manufacturing/Operational Cost Analysis
Pricing Analysis by Region
Key Drugs Type Landscape
Regulatory Analysis
Porter's Analysis

Supplier Power
Buyer Power
Substitution Threat
Threat from New Entry
Competitive Rivalry

PESTEL Analysis
Political Factors
Economic Factor
Social Factors
Technological Factor
Environmental Factors
Legal Factor
Covid-19 impact on Global Economy
Covid-19 impact on Immunotherapy Drugs Market demand      
Post-Covid Impact on Immunotherapy Drugs Market Demand
Impact Analysis of Russia-Ukraine Conflict

Global Immunotherapy Drugs Market Segmentation, Revenue (USD Billion), (2022-2030)

By Drugs Type

Monoclonal Antibodies
Immunomodulators
Vaccines

By Indication

Cancer
Autoimmune Diseases
Infectious Diseases
Others
By Global Immunotherapy Drugs Market Overview, By Region

North America Immunotherapy Drugs Market Revenue (USD Billion), by Countries, (2022-2030)

US

By Drugs Type
By Indication

Canada
Mexico

Europe Immunotherapy Drugs Market Revenue (USD Billion), by Countries, (2022-2030)

France
UK
Spain
Russia
Italy
BENELUX

Asia Pacific Immunotherapy Drugs Market Revenue (USD Billion), by Countries, (2022-2030)

China
Japan
Australia
South Korea
India
ASEAN
Latin America Immunotherapy Drugs Market Revenue (USD Billion), by Countries, (2022-2030)
The Middle East and Africa Immunotherapy Drugs Market Revenue (USD Billion), by Countries, (2022-2030)
Global Immunotherapy Drugs Market Revenue: Competitive Analysis, 2021

Key strategies by players
Revenue (USD Billion and %), By manufacturers, 2021
Player Positioning by Market Players, 2021

Competitive Analysis

Baxter International Inc.

Business Overview
Business Financials (USD Billion)
Drugs Type Category, Source, and Specification
Main Business/Business Overview
Geographical Analysis
Recent Development
Swot Analysis

Amgen, Inc.
Novartis AG
AbbVie, Inc.
Pfizer, Inc.
Hoffmann-La Roche Ltd.
Johnson & Johnson Services, Inc.
AstraZeneca
GSK
Sanofi
Bayer AG

Market Research Findings & Conclusion
Disclaimer 
Research Methodology
The Market Research Community offers numerous solutions and its full addition in the research methods to be skilled at each step. We use wide-ranging resources to produce the best outcome for our customers. The achievement of a research development is completely reliant on the research methods implemented by the company. We always faithful to our clients to find opportunities by examining the global market and offering economic insights.

Market Research Community are proud of our widespread coverage that encompasses the understanding of numerous major industry domains. Company offers consistency in our research report, we also offers on the part of the analysis of forecast across a range of coverage geographies and coverage. The research teams carry out primary and secondary research to carry out and design the data collection methods.