Infrared Filters Market Overview:
The Infrared Filters Market size was valued at USD 927.50 Million in 2021, registering a CAGR of 16% during the forecast period (2022-2030), and the market is projected to be worth USD 3,194.88 Million by 2030.
Infrared filters, also known as infrared cut-off filters, are defined as devices that are designed to block or reflect the infrared wavelengths and pass the visible light. The infrared filters are made from two types of materials, namely optical glass, and acrylic plastic. These filters are available in two different forms comprising IR long pass filters and IR bandpass filters. The long pass filters are specifically designed to transmit light that is higher than the cut-on wavelength, whereas the bandpass filters are designed to pass through them the specific wavelengths. The growth of the global infrared filters market is mainly driven by a rise in demand of infrared filters for applications in laptops, mobile phones, and tablets for installation in the cameras and fingerprint recognition sensors. In addition, the surge in adoption of infrared filters for applications in different types of cameras for surveillance, photography, and astrophotography uses is another factor propelling the global market growth.
Market Dynamics:
Driver:
The rising application of infrared cameras and thermal imaging equipment for military, defense, and environmental gas monitoring & analysis applications are some of the key factors driving the infrared filters market over the forecast period. Other major applications of infrared filters include home & industrial security, spectroscopy equipment, blood analyzer equipment, flame detection for petrochemical plants & oil rigs, and consumer electronic equipment.
The key application of infrared filters in military & defense industry includes facilitating security, surveillance, and search & rescue operations. Infrared filters are used in defense operations for delivering advanced sensing and imaging outcomes for mission critical land, air, and sea platforms. Growing investments by various nations to ramp up the respective military & defense infrastructure activities further fuel the infrared filters market size. Increase in geographical tensions, extremism, and territorial expansion ambitions are certain other factors attributing to increased global defense expenditures, which in turn expand the overall product demand. For instance, according to a report by Stockholm International Peace Research Institute (SIPRI), the global expenditure on defense was estimated at USD 2113 billion in 2021, exhibiting an increase of 0.7% in comparison to 2020. Countries such as U.S., China, India, UK, and Russia were the major contributors accounting for 62% of the total global defense expenditure.
Restraint:
The inability of infrared cameras to pass through glass and water surfaces is a major drawback of the product. Infrared cameras use heat signatures from objects to detect temperature differences. Infrared rays get reflected off glass, water, & other shiny surfaces (such as metals) and cannot penetrate through opaque objects. Owing to this drawback of infrared cameras, the application of IR filters gets limited which is a major factor restraining the market growth. The issue of hotspot in infrared filters is another potential drawback of IR filters. A hotspot is an area of an image that appears to be lighter or brighter in comparison to the rest of the picture. Hotspots occur due to the black coating on the interior of the lens barrel. The coating sometimes reflects stray light and ends up creating a hotspot. The hotspot reduces the quality of the photograph which in turn restrains the growth of IR filters.
Infrared Filters Report Coverage:
Report Attributes
Report Details
Study Timeline
2016-2030
Market Size in 2030 (USD Million)
3,194.88 Million
CAGR (2022-2030)
16%
By Order Type
IR Long Pass Filter, IR Bandpass Filter
By Product
Glass Type, Film Type
By Application
Mobile Phone, Notebook, Cameras, Tablet, Others
By End-User
Fingerprint Recognition Machine, Remote Control, Surveillance, Others
By Geography
North America– (U.S., Canada, Mexico)

Europe- (Germany, France, U.K., Russia, Italy, Spain, BENELUX, Rest of Europe)

Asia Pacific- (China, Japan, India, South Korea, Australia, ASEAN, Rest of Asia Pacific)

Latin America- (Brazil, Argentina, Chile, Rest of Latin America)

Middle East and Africa- (GCC, Turkey, South Africa, and the Rest of MEA)

Key Players
Umicore Electro-Optic Materials, Viavi Solutions, Materion Corporation, American Polarizers, Inc., Andover Corporation, Kenko Tokina Co., Ltd., InfraTec GmbH, Cokin Filter, Nantong Yinxing Optical, W-olf Photoeletric, Optrontec
Market Segmentation:
By Order Type
The order type segment is divided into IR Long Pass Filter, IR Bandpass Filter.
The IR Bandpass Filter segment is anticipated to contribute the largest revenue share of over USD 959.69 million in the year 2025 during the forecast period. Bandpass filters are defined as devices that pass frequencies within specific band range and filter out the frequencies outside the range. The IR bandpass filters are used to filter the frequencies within 0.7 to 1000 um. The IR bandpass filters can be classified into two types comprising of narrow bandpass for filtering wavelengths up to 250 nm bandwidth and wide bandpass filters for filtering wavelengths of more than 500 nm bandwidths. These types of filters are mainly used for controlling equipment and machines that make use of infrared light. In addition, bandpass filters are widely used for gas analysis for detecting gases such as CO2, CO, HC, O3, and several others. This is anticipated to be one of the major factors driving the demand for IR bandpass filters. Additionally, the IR Long Pass Filter segment is expected to grow at a CAGR of over 15.3% during the forecast period. The IR long pass filters tend to transmit light higher than that of cut-on wavelengths and reduces the shorter wavelengths. These filters are specifically designed to transmit wavelengths that are longer than their specified 5% cut on wavelength and for blocking wavelengths shorter than their specified 5% cut on wavelength. Since these filters can transmit large amount of energy by cutting-off excess energy, they are widely used as order sorting filters in the spectroscopy applications. This is the key factor driving the demand for long pass infrared filters. Furthermore, the IR long pass filters comprise of coated germanium or silicon substrates, making them suitable for Fourier-transform infrared spectroscopy (FTIR) spectroscopy applications for quickly identifying compounds such as rubbers, plastics, resins, coating, and several others.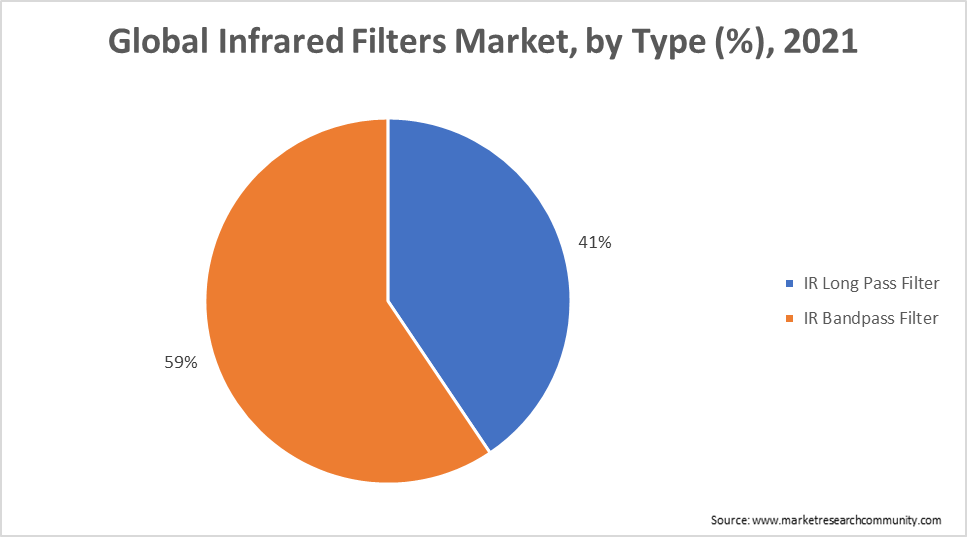 By End User
The end-user segment is divided into Fingerprint Recognition Machine, Remote Control, Surveillance, Others.
The Surveillance segment is expected to account for the largest market share of approximately 31.9% in 2021 as the infrared filters are widely used in CCTV surveillance cameras equipped with IR illumination. The cameras used for surveillance purposes are equipped with an infrared filter to block the infrared light from entering the sensors during the day light. This helps in enhancing the video quality of the cameras. Furthermore, the surge in trend towards installing surveillance cameras in the commercial and industrial sectors is anticipated to positively impact market growth. Similarly, the rising trend towards installing security cameras in homes and residential spaces is another factor fueling the adoption of infrared filters.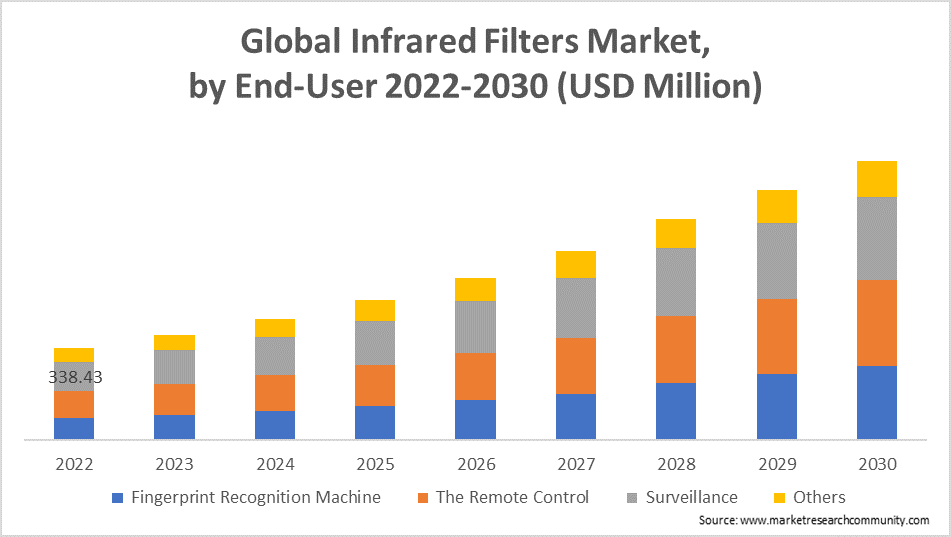 By Region:
The regional segment includes North America, Europe, Asia Pacific, the Middle East and Africa, and Latin America. In 2021, North America is considered to contribute the largest revenue share of USD 307.41 million. The rising security and surveillance standards have resulted in surge in installation of high-quality surveillance cameras, which in turn drives the demand for infrared filters. For instance, according to Comparitech, the most-surveilled city in U.S., Atlanta is deployed with approximately 50 cameras per 1,000 people. Moreover, the surge in trend towards installing security cameras in house premises, owing to shifting consumer trends is another factor fueling the demand for surveillance cameras in the region, thus positively impacting the adoption of infrared filters.  Furthermore, according to the Entertainment Software Association, as of 2022 around 66% of the American population, approximately 215 million people are involved in playing video games. Moreover, approximately 76% of children under 18 and 67% of adults play video games in North America.
The Asia Pacific region is anticipated to witness substantial growth during the forecast period with a CAGR of 17.4%. The rising smartphone and consumer electronics market in the region is a major factor driving the IR filters market. Additionally, the high prevalence of smartphone and digital camera manufacturers across the region is also attributed to the market growth of IR filters. For instance, majority of the digital camera manufacturers incorporating infrared filters are present in Japan such as Canon, Nikon, Sony, and Panasonic.
Infrared Filters Market Competitive Landscape:
The competitive landscape of the market has been analyzed in the report, along with the detailed profiles of the major players operating in the industry. Further, the surge in Research and Development (R&D), product innovation, various business strategies, and application launches have accelerated the growth of the Global Infrared Filters Market. Key players in the market include-
Umicore Electro-Optic Materials
Viavi Solutions
Materion Corporation
American Polarizers, Inc.
Andover Corporation
Kenko Tokina Co., Ltd.
InfraTec GmbH
Cokin Filter
Nantong Yinxing Optical
W-olf Photoeletric
Optrontec
Table of Content
To check our Table of Contents, please mail us at: [email protected]
Research Methodology
The Market Research Community offers numerous solutions and its full addition in the research methods to be skilled at each step. We use wide-ranging resources to produce the best outcome for our customers. The achievement of a research development is completely reliant on the research methods implemented by the company. We always faithful to our clients to find opportunities by examining the global market and offering economic insights.

Market Research Community are proud of our widespread coverage that encompasses the understanding of numerous major industry domains. Company offers consistency in our research report, we also offers on the part of the analysis of forecast across a range of coverage geographies and coverage. The research teams carry out primary and secondary research to carry out and design the data collection methods.