Italy Feldspar Market Insights
Italy Feldspar Market was valued at USD 201.56 million in 2021 and is anticipated to rise with a CAGR of 7.3% from 2022- 2028 during the forecast period. Feldspar is a mineral found in large quantities on the earth's crust and accounts for 60% of terrestrial rocks.
Feldspar industry includes a wide range of minerals along with alkalis and alumina such as sodium and potassium oxide and has wide industrial use in the manufacturing of glass, ceramics, paints, plastic, rubbers, and others. It is a part of our daily usage of products such as glassware, tiles, kitchenware, sanitary ware, tableware, and others.
Feldspar usage in ceramic and glass products, as well as coatings and fillers in the paint industry, makes it an important mineral, thereby increasing its market value. Moreover, the growth of the construction sector in European nations has been fuelling the demand for feldspar.
Feldspar's properties, such as strength and durability, make it an ideal choice for the manufacturing of ceramic tiles, household products, and others. Feldspar has varying melting points due to which it has different temperature levels and owing to its flux property, it is mainly used in the manufacturing of glass.
According to Global Trade data, Italy was the largest consumer of feldspar with approximately 5.4 million tonnes of consumption in the year 2018, moreover, according to our estimation, the consumption volume is estimated to be 3.7 million tonnes. Spain consumed 3.2 million tonnes and held the third position after China. The surge in demand for feldspar can be witnessed in the region owing to ongoing construction and industrial activities.
COVID-19 Analysis of Italy Feldspar Market
All non-essential production in Italy was shut down, involving ceramic tile production and the upstream sector of ceramic machinery manufacturing. The repeated requests made by Confindustria Ceramica to the provinces and authorities to permit the freight of goods previously in stock to continue were unnoticed.
The lockdown has severely impacted the demand for feldspar in the region owing to the closure of mines and restrictions on mining activities. Furthermore, imports and other trade routes got severely impacted owing to restrictions on transportation and supply chain activities.
Upon opening of economies across the globe and re-initiation of services and production activities have gradually started reviving the economies. In a similar manner, the economy of Italy dependent on the ceramic and construction industry has started to gain momentum during the early Quarter of 2021.
According to Ceramic World, sales of Italian tiles grew by 9% in Q1 2021 (+7% compared to 2019). Italian sales were up by 19%, whereas exports rose by 7.3%.
In addition, the adverse effects of Covid (domestic tile production was down by 14% and overall total sales were accounted to be down by 3.9% in both volume and value), by 31 March 2021, all indicators had returned to the decidedly positive mark.
The ceramic industry has shown great resilience during 2021 and was quickly able to revive.  In general, the growing interest in housing all over the world combined with the durability, healthiness, and sustainability of ceramics products has driven the global demand for tiles, and the market has achieved to tap the demand.
Italy Feldspar Market Report Coverage
Italy Feldspar Market is segmented by Product Type, Application, and Country. By Product Type, the market is segmented into Alkali Feldspars and Plagioclase Feldspar. By Application, the market is bifurcated into Glassmaking, Ceramics, and Additives. The report also covers the market size and forecasts for the Italy Feldspar Market.
| | |
| --- | --- |
| Report Attributes | Report Details |
| Study Timeline | 2016-2028 |
| Market Size in 2028 | USD 326.57Million |
| CAGR (2021-2028) | 7.3% |
| By Product Type | Alkali Feldspars, Plagioclase Feldspar |
| By Application | Glassmaking, Ceramics, Additives |
| By Region | Italy |
Italy Feldspar Market Segmental Analysis
Market Research Community provides an extensive analysis of the size, share, and major trends in each sub-segment of the Italy Feldspar Market, along with forecasts for Europe, regional, and country-level from 2022 to 2028.
Product Type Segment Insights
Alkali feldspar Product type accounted for the largest market share in Italy Feldspar Market. Alkali feldspar contains a group of silicate minerals containing alkali metals such as potassium and sodium. The alkali feldspars are characterized by the edge of the triangle connecting KAlSi3O8 and NaAlSi3O8 and these minerals contain 10% by weight of the 3rd phase (CaAl2Si2O8).
At higher temperatures, the alkali feldspars exhibit a solid solution among the potassium and sodium, but when the temperature declines separation initiates, and potassium feldspar and sodium feldspar split up to produce a perthitic texture.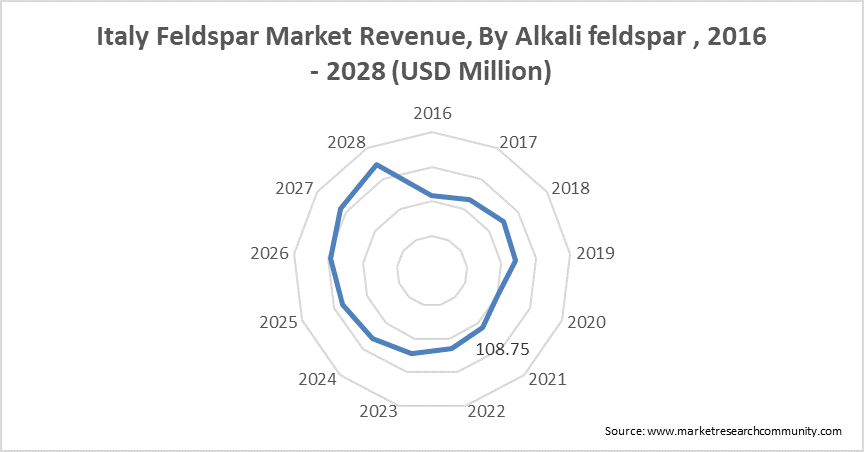 Moreover, alkali feldspar is an essential component of acid pyrogenous rocks and arkoses, which is applied in the manufacture of glazes, porcelain, and pottery. Albite (NaAlSi3O8) is sodium-rich result of the alkali feldspars and the plagioclase feldspars. The semi-exquisite moonstone, with its distinctive bluish sheen or schiller, is a good example of perthitic alkali feldspar.
Therefore, owing to its mineral content qualities and durability features, alkali feldspar has a substantial market demand and is being used in the manufacturing of sanitaryware, kitchenware, and other commercial and household items.
Application Segment Insights
Additives Application is the fastest growing segment in Italy. The additives market segment can be distributed into, plastic, rubber, paints, and others. In lacquers, coatings, and paints, ultra-finely milled feldspars are used as fillers.
The non-toxic addition of feldspar is appealing due to its reduced overall material cost. Moreover, the use of feldspar does not impact the colour density of paint owing to its relatively low refractive indices in the region of 1.0 to 1.5 and is therefore considered one of the ideal materials for use.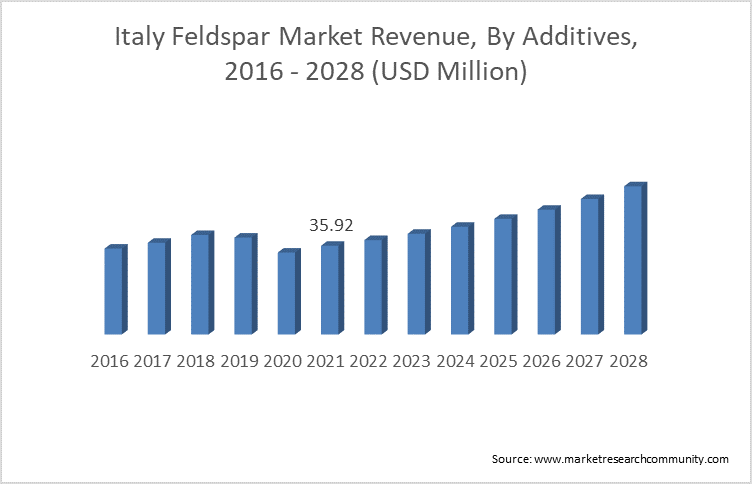 Moreover, feldspar has a useful application as extenders and fillers in the rubber industry. Feldspar is considered an effective filler owing to several factors such as low viscosity at high filler loading, high chemical inertness, high resistance to abrasion, and stable pH value.
Since carbon black is one of the major constituents in the formation of rubber and owing to the rising cost of hydrocarbon fuels on the international market is thus proving the manufacturing of rubber is a costly business. To reduce and minimize the cost of rubber production, manufacturers are implementing minerals that have wide availability in nature such as feldspar.
Therefore, owing to the large availability of feldspar and low cost of production are a few of the important factors that are promoting the growth of the market for feldspar.
Regional Segment Insights
Italy is anticipated to witness a growth rate of 8.92%. Italy is more engaged in exporting goods at a high valuable rate. The most significant pillar of the economy is the manufacturing of high-quality products such as granite, marble, ceramic, machinery, textiles, furniture sectors, and alimentary and industrial designs. These manufactured goods contribute significantly to the nation's exports.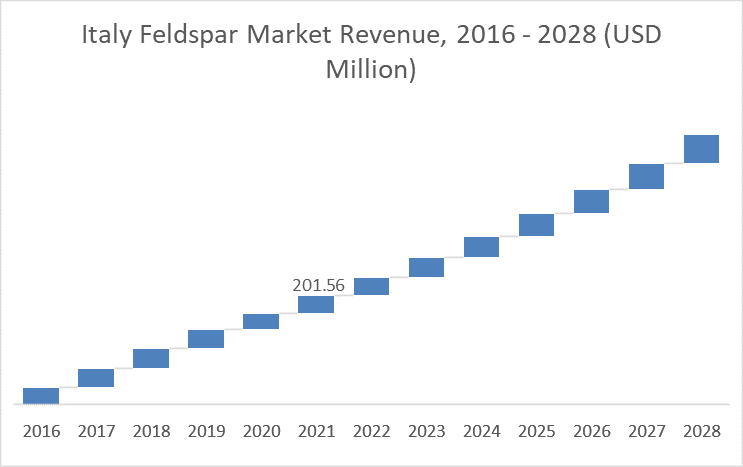 However, Italy being poor in its energy, manufacturing sectors, and natural resources is majorly reliant on imports. Making Italy's external status vulnerable to fluctuations in import expenses such as fuel. The county logged market shortages from 2004 to 2011. However, last two years, falling imports have helped to turn the balance into positive figures.
 Key Players
Sibelco Group,
Imerys S.A.,
Eczacibasi,
Kaltun Madencilik
Quarzwerke GmbH
Adolf Gottfried Tonwerke GmbH
Global Investment Holdings Group
Recent Developments
On, 9 Dec 2021 Imerys extends its sanitaryware glazes portfolio to meet the increasing requirement for large and complex sanitaryware, the Group has established specific expertise and procedures resulting in a committed range of chamotte products.
In 2020, Sibelco Group started upgrading its double floated feldspar production facility in Cine (Turkey).
Table of Content
Introduction

Market Introduction
Market Research Methodology

Research Process
Primary Research
Secondary Research
Data Collection Technique
Data Sources

Market Estimation Methodology
Product Picture of Italy Feldspar
Italy Feldspar Market: Classification
Geographic Scope
Years Considered for the Study
Research Methodology in brief:
Parent Market Overview
Overall Italy Feldspar Market Regional Demand
Research Programs/Design
Market Breakdown and Data Triangulation Approach
Data Source
Secondary Sources
Primary Sources
Primary Interviews:
Average primary breakdown ratio

Market Dynamics

Drivers
Restraints
Opportunity

Impact forces on market dynamics
Impact forces during the forecast years

Industry Value Chain

Upstream analysis
Downstream analysis
Distribution Channel
Direct Channel
Indirect Channel

Potential Customers
Manufacturing/Operational Cost Analysis
Pricing Analysis by Region
Key Technology Landscape
Regulatory Analysis
Porter's Analysis

Supplier Power
Buyer Power
Substitution Threat
Threat from New Entry
Competitive Rivalry

PESTEL Analysis
Political Factors
Economic Factor
Social Factors
Technological Factor
Environmental Factors
Legal Factor
Covid-19 impact on Global Economy
Covid-19 impact on Italy Feldspar demand
Post-Covid Impact on Italy Feldspar Market Demand
Impact Analysis of Russia-Ukraine Conflict

Italy Feldspar Market Segmentation, by Volume (Kilo Tons) & Revenue (USD Billion), (2022-2030)

By Product Type

Alkali Feldspars
Plagioclase Feldspar

By Application

Glassmaking
Ceramics
Additives
Italy Feldspar Market Revenue: Competitive Analysis, 2021

Key strategies by players
Revenue (USD Billion and %), By manufacturers, 2021
Player Positioning by Market Players, 2021

Competitive Analysis

Sibelco Group

Business Overview
Business Financials (USD Million)
Product Category, Type, and Specification
Main Business/Business Overview
Geographical Analysis
Recent Development
Swot Analysis

Imerys S.A.
Eczacibasi
Kaltun Madencilik
Quarzwerke GmbH
Adolf Gottfried Tonwerke GmbH
Global Investment Holdings Group
Market Research Findings & Conclusion
Disclaimer 
Research Methodology
The Market Research Community offers numerous solutions and its full addition in the research methods to be skilled at each step. We use wide-ranging resources to produce the best outcome for our customers. The achievement of a research development is completely reliant on the research methods implemented by the company. We always faithful to our clients to find opportunities by examining the global market and offering economic insights.

Market Research Community are proud of our widespread coverage that encompasses the understanding of numerous major industry domains. Company offers consistency in our research report, we also offers on the part of the analysis of forecast across a range of coverage geographies and coverage. The research teams carry out primary and secondary research to carry out and design the data collection methods.