Micropump Market Overview:
The Micropump Market was valued at USD 2,004.36 Million in 2021, registering a CAGR of 19.2% during the forecast period (2022-2030), and the market is projected to be worth USD 8,629.94 Million by 2030.
Micro pumps are the devices that are embedded on a chip for generating microfluidic flow and maintaining it. The micro pumps are designed to generate a laminar flow instead of turbulent flow and it is able to pump fluid at different pressure and flow rate. Micropumps are classified into mechanical and non-mechanical. The mechanical micropump includes peristaltic, piezoelectric, and thermo-pneumatic among others. The non-mechanical micropumps include electro-hydrodynamic, and electro & magneto-kinetic pumps. Presently the healthcare landscape is changing by extending services of hospitals to nearby diagnostic centers or directly to the home. This has resulted in reduced costs, increased convenience, and improved outcomes.  Micropump devices have played an important role in bringing services closer to the customer. It has helped in the treatment and early diagnosis of chronic diseases such as diabetes, cardiovascular disease, hypertension, and sleep apnea. The devices are also being used in hospitals for drug delivery, MRI-compatible instruments, medical simulators wound care, and nitric oxide therapy among others. For instance, AA Series Miniature Diaphragm Air Pump (850-2660 cc/min) being manufactured by Sensidyne is used for blood pressure monitoring, pharmaceutical delivery system
Market Dynamics:
Driver:
Micro pump is an actuating part of microfluidic devices, with wide variety of bio-medical applications. These are basically the miniaturized versions of the normal pumps designed for controlled fluid delivery with extremely low volume and relatively high pressure. Microfluidic systems used in medical fields such as impeller system for blood flow regulation and pressurization as well as implantable drug delivery systems for precision flow control needs a precise and reliable fluid delivery unit to convey the fluid from reservoir to the target place.
A prominent example of drug dosing applications is insulin therapy. Patients suffering from diabetes need to manage their insulin requirements carefully. Research shows that continuous subcutaneous insulin injection with micropump systems improves the patients' health compared to multiple daily injections. Rise in the number of diabetes patients is attributed to a wide range of factors; obesity is often seen as the main contributor to an increasing prevalence of diabetes but other factors such as ageing, ethnicity, lifestyle (i.e., physical inactivity and energy dense diet), socioeconomic status, education, and urbanization have also been identified as potentially important factors. According to American Diabetes Association, use of insulin pumps has increased dramatically in the United States from less than 7,000 users in 1990 to nearly 100,000 users in 2000 and almost 350,000 users in 2019. Therefore, all these above factors are elevating the demand for liquid-micro pumps in medical devices.
Restraint:
Automated dosing is beneficial for regular injections, which is crucial for treatment of various diseases. Existing devices for drug dosing are large, uncomfortable and it interferes with movement. To overcome this, MEMS (Micro electromechanical system) based drug delivery device came into existence. It is a small, reliable patch pump, and energy efficient system. However, reliability to the MEMS pumps and dosing precision are still challenging. The dosing accuracy and miniaturization of these pumps should be attained. Few challenges are faced during the use of micropumps for instance, if an air bubble transports into the micro diaphragm pump leads to the failure, as the air bubble is compressible, and it acts as a fluid in the chamber of the displacement pump. According to the paper published in MDPI, on 30 August 2021 suggests, Bolus Precision Investigation, for bolus drug delivery, repeatable dosing in small packages is indispensable. While doing same if an air bubble passing through the pump, it needs strokes to be ejected out before the drug is transported. The air can be trapped in capillaries, connectors, or the edges of the testing house; bubbles can also occur during the drug dose. Since it is impossible to always overcome the bubbles, leading to major drawback in the Global Micropump Market.
Micropump Report Coverage:
Report Attributes
Report Details
Study Timeline
2016-2030
Market Size in 2030 (USD Million)
8,629.94 million
CAGR (2022-2030)
19.2%
By Type
Mechanical Micropump and Non-Mechanical Micropump
By Applications
Drug Delivery Systems, Medical Device and In-Vitro Diagnostics
By End-User
Hospitals, Biotechnology and Pharmaceutical Companies, Diagnostic Centers and Research institutes
By Geography
North America– (U.S., Canada, Mexico)

Europe- (Germany, France, U.K., Russia, Italy, Spain, BENELUX, Rest of Europe)

Asia Pacific- (China, Japan, India, South Korea, Australia, ASEAN, Rest of Asia Pacific)

Latin America- (Brazil, Argentina, Chile, Rest of Latin America)

Middle East and Africa- (GCC, Turkey, South Africa, and the Rest of MEA)

Key Players
TOPS INDUSTRY AND TECHNOLOGY CO. LTD, Microfluidica, LLC., Advanced Microfluidics, Alldoo Micropump Co., Ltd, World Precision Instruments, Xiamen AJK Technology Co., Ltd, Ingersoll Rand Inc., Servoflo Corporation, Cole-Parmer, Dolomite Microfluidics (Backtrace Holdings Ltd.), Takasago Electric, Xavitech Micropumps AB
Market Segmentation:
By Type
The Type segment is divided into Mechanical Micropump and Non-Mechanical Micropump.
The Mechanical Micropump segment is anticipated to contribute the largest revenue share of over USD 2,754.08 million in the year 2025 during the forecast period. Mechanical micro pumps are smaller kinds of mechanical pumps that have moving parts such as gear and diaphragm for creating high pressure. The different types of mechanical micropumps include peristaltic pump, piezoelectric micropump, and others. The growth of mechanical pumps is due to the adoption of micropump technology in microfluidic devices to meet the need for the precise delivery of fluids. Microfluidic devices are extensively used in hospitals for accurate delivery of drugs into the body as it helps in achieving the best possible efficacy of medications. For instance, Xiamen AJK Technology Co., Ltd provides a range of diaphragm-based pumps such as AJK-B3206, AJK-B2106, AJK-B2103 and AJK-B3206 among others which are used for medical applications. On 18th June 2020, the company launched AJK-B3204 diaphragm-based micropumps. The pumps are compact and have high efficiency and are used in medical and healthcare equipment.
Additionally, the Non-Mechanical Pump segment is expected to grow at a CAGR of over 17.5% during the forecast period. Non-mechanical micropump transforms non-mechanical energy such as electroosmotic, electro hydrodynamic, magneto-hydrodynamic, and electrowetting into kinetic energy which drives fluid into microchannels. Electro and magneto-kinetic micropumps which is a type of non-mechanical micropump that converts mechanical and electrical energy into a fluid motion. It provides constant flow through the constant pumping process. Another example of a non-mechanical micropump is electro-hydrodynamic (EHD) micro-pumps. The market demand for non-mechanical pumps is expected to grow because of the cost-effectiveness. The non-mechanical pumps have no moving parts which results in less power consumption. For instance, Electro-Osmotic Pump by Takasago Electric, Inc uses electroendosmosis for flow generation. The pumped flow rate ranges between 10 microliters to 60 microliters.
Global Micropump Market, by Type (%), 2021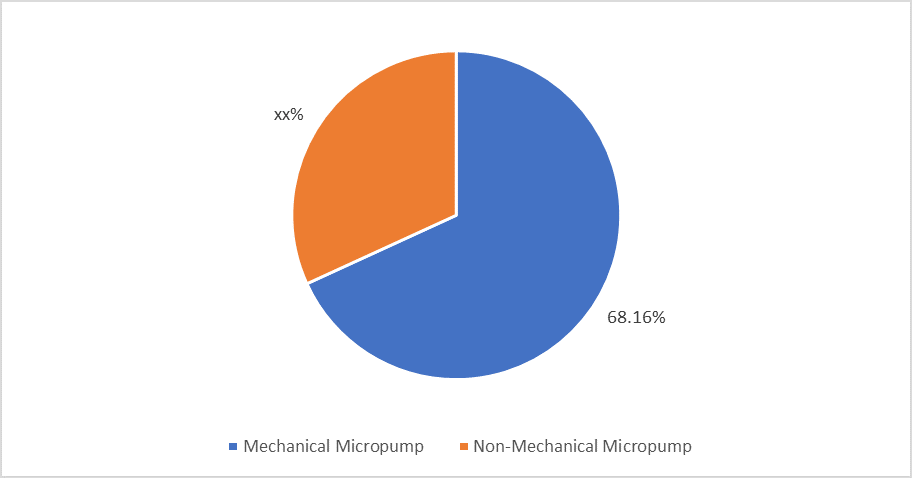 By End-User
The End-User segment is divided into Hospitals, Biotechnology and Pharmaceutical Companies, Diagnostic Centers and Research institutes.
The Hospitals segment is expected to account for the largest share of approximately 46.46% in 2021. Micropump proved highly successful in biomedical applications by minimizing the size of devices. It is used in devices for ICUs, acute care, and monitoring. The uses in hospitals include MRI-compatible instruments, drug delivery, breathomics capnography, medical simulators, wound care, and nitric oxide therapy among others. For instance, mp6 Piezoelectric Diaphragm Micropump made by Bartels Mikrotechnik can transport the tinniest amount of liquid or gas in a wide variety of applications including medical applications where it is used for drug delivery, and blood transportation. The micro pumps are also used for the detection of germs in Hospitals. For example, mp6 Micropump by Bartels Mikrotechnik GmbH which is used in Genspeed R2 helps in discovering infectious germs including antibiotic-resistant bacteria. The device is made using a microfluid chip and an automated system for dispensing. The microliter accuracy in the inlet opening of a microfluidic chip is used for disposing of the different reagents. The controlled volume of reagents is then precisely applied in a certain succession. This delivers results faster than traditional methods where samples were sent to the laboratory.
Global Micropump Market, by End-User 2022-2030 (USD Million)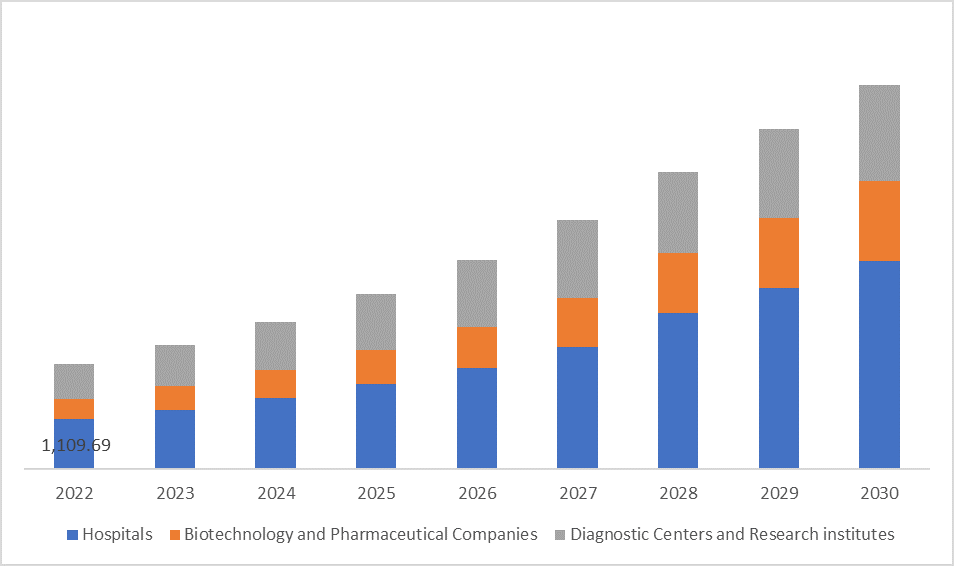 By Region:
The regional segment includes North America, Europe, Asia Pacific, the Middle East and Africa, and Latin America. In 2021, North America region is considered to contribute the largest revenue share of USD 2,660.57 million. The U.S. in North America has a growing geriatric population which is 16% of its total population according to the U.S. Department of Human and Health Services. The growth is expected to continue and is expected to be 21.6% of the total population by 2040. The growing population is also susceptible to respiratory-related and heart issues. Cases such as diabetes have risen over the years owing to the sedentary lifestyle among individuals and a lack of proper diet has further worsened the situation. The rise in the price of insulin within the region by approximately 450% during these years has made it much more difficult for diabetic people to afford these medicines. This has resulted in the increased adoption of micropump-based devices. For example, MiniMed 630G System developed by U.S.-based Medtronic is a pump used for insulin therapy. It comes with optional continuous glucose monitoring system. It has predictive alerts and alarm if a person has glucose level below preset levels.
The Asia Pacific region is anticipated to witness substantial growth during the forecast period with a CAGR of 20.4%. Asia Pacific region is home to a large population of 60% of the world's population including China and India which are the world's most populous countries. The problem of providing healthcare services to everyone comes with a huge population. Micropump-based devices play an important role in providing medical services at the doorstep which includes diagnostic centers, point of care testing, and home-based services. It also resulted in reduced cost of services, convenience, and improved outcomes. The above-mentioned drivers play an important role in boosting the growth of micro pump devices. The devices are available for a wide range of applications such as diabetes, apnea, blood transportation, injection of drugs, and wound care management. The adoption of a micro pump-based wearable device for observing sleep patterns and heart rate has become a trend among millennials. For instance, TTP Ventus Ltd. in January 2018, developed a wearable device for the treatment of sleep apnea in which sufferers stop breathing temporarily during sleep.
 Micropump Market Competitive Landscape:
The competitive landscape of the market has been analyzed in the report, along with the detailed profiles of the major players operating in the industry. Further, the surge in Research and Development (R&D), product innovation, various business strategies, and application launches have accelerated the growth of the Global Micropump Market. Key players in the market include-
Tops Industry and Technology Co. Ltd.
Microfluidica, LLC
Advanced Microfluidics
Alldoo Micropump Co., Ltd.
World Precision Instruments
Xiamen AJK Technology Co., Ltd.
Ingersoll Rand Inc.
Servoflo Corporation
Cole-Parmer
Dolomite Microfluidics (Backtrace Holdings Ltd.)
Takasago Electric
Xavitech Micropumps AB
Table of Content
To check our Table of Contents, please mail us at: [email protected]
Research Methodology
The Market Research Community offers numerous solutions and its full addition in the research methods to be skilled at each step. We use wide-ranging resources to produce the best outcome for our customers. The achievement of a research development is completely reliant on the research methods implemented by the company. We always faithful to our clients to find opportunities by examining the global market and offering economic insights.

Market Research Community are proud of our widespread coverage that encompasses the understanding of numerous major industry domains. Company offers consistency in our research report, we also offers on the part of the analysis of forecast across a range of coverage geographies and coverage. The research teams carry out primary and secondary research to carry out and design the data collection methods.