PhotoMOS Relays Market Insights
Global PhotoMOS Relays Market size was valued at USD 239.67 Million in 2021 and is expected to rise with a CAGR of 14.8% from 2022-2028 during the forecast period. Growing application of PhotoMOS Relays in electric vehicles is driving the market. Over the period, there is an advancement in the field of architecture and engineering that has bought many revolutionary changes specifically in the form of digital up-gradation.
PhotoMOS relays are the semiconductor relays which consist of an LED coupled optically to a MOSFET and are used primarily as signal relay replacements. Having no flexible contacts, PhotoMOS relays are understood to have long-term reliability than mechanical relays. PhotoMOS relay is a type of photocoupler which comprises of an LED at the input side and a photodetector at the output side. PhotoMOS coupler product also varies according to the kind of photodetector at the output side. Its core varieties include an IC-output photocoupler, transistor-output photocoupler, MOSFET-output photo coupler (known as "photorelay"), triac-output photocoupler.
Rise in emission controls for carbon dioxide (CO2) are progressing in several countries, and this trend is expected to continue in the future. For instance, EPA finalized reworked national greenhouse gas (GHG) emissions guidelines for light trucks and passenger cars in the year December 2021. Advent of electric vehicles, such as plug-in hybrids (PHEVs) and electric vehicles (EVs) with higher fuel efficiency, is anticipated to fuel the PhotoMOS relays market growth in coming years.
COVID-19 Analysis of Global PhotoMOS Relays Market
Covid-19 has impacted the use of PhotoMOS relays in various end-use industries such as automotive, aerospace, defense and communications, consumer electronics, during the first quarters of the Covid-19 pandemic. The demand for PhotoMOS relays in the market significantly dropped due to disruption in the value chain of the market and low demand for semiconductor-based devices.
During 2020 owing to the pandemic, the global automotive industry saw a decline of 16% in automotive sales compared to 2019. As per the International Organization of Motor Vehicle Manufacturers, U.S. automotive manufacturing declined by 19%, Europe saw a decline of 21% on average, Latin America's market declined by more than 30%, the African region saw a decline by 35% while the Asia region saw a decline of 10% in production. As per McKinsey, in early COVID-19 outbreak, the automotive industry slammed on the brakes. Sales in China decreased 71 percent in February 2020; by April, sales in the United States had declined 47 percent, and sales in Europe had dropped 80 percent. The production in the various automotive industry dropped, which significantly affected the market of PhotoMOS relays.
Global PhotoMOS Relays Market Report Coverage
PhotoMOS Relays Market is segmented by Type, Application, End-Use Industry, and Region. By type the market is segmented into upto 80 V, 80V – 200V, Above 200V. By Application, the market is segmented into Testing Equipment, Programmable Logic Controller, Power Monitoring System and others. By End-Use Industry the market is segmented into Aerospace & Defense, Automotive, Semiconductor & Electronics, Industrial Automation, and Others. The report also covers the market size and forecasts for the Global PhotoMOS Relays Market in 26 countries across major regions.
Report Attributes
Report Details
Study Timeline
2015-2028
Market Size in 2028 (USD Million)
609.00
CAGR (2022-2028)
14.8%
By Type
Upto 80V, 80V- 200V, Above 200V
By Application
Testing Equipment, Programmable Logic Controller, Power Monitoring System, Others
By End-Use Industry
Aerospace & Defense, Automotive, Semiconductor & Electronics, Industrial Automation, Others
By geography
North America: U.S., Canada, Mexico

Europe: Germany, France, U.K., Russia, Italy, Spain, BENELUX, Rest of Europe

Asia Pacific: China, Japan, India, South Korea, Australia, ASEAN, Rest of Asia Pacific

Latin America: Brazil, Argentina, Chile, Rest of Latin America

The Middle East and Africa: GCC, Turkey, Israel, Rest of MEA
Global PhotoMOS Relays Market Segmental Analysis
Market Research Community provides extensive analysis of the size, share, major trends in each sub-segment of the Global PhotoMOS Relays Market, along with forecasts at the global, regional and country level from 2022-2028.
The Above 80V – Upto 200V relay type to register highest growth rate in Global PhotoMOS Relays Market
PhotoMOS relays are available in the range above 80 V to upto 200 V. These are majorly driven by the high usage in automotive and testing applications. Further, TOSHIBA photorelays (VOFF = 90 to 200 VDC) are recommended for thermostats mechanical relay replacement.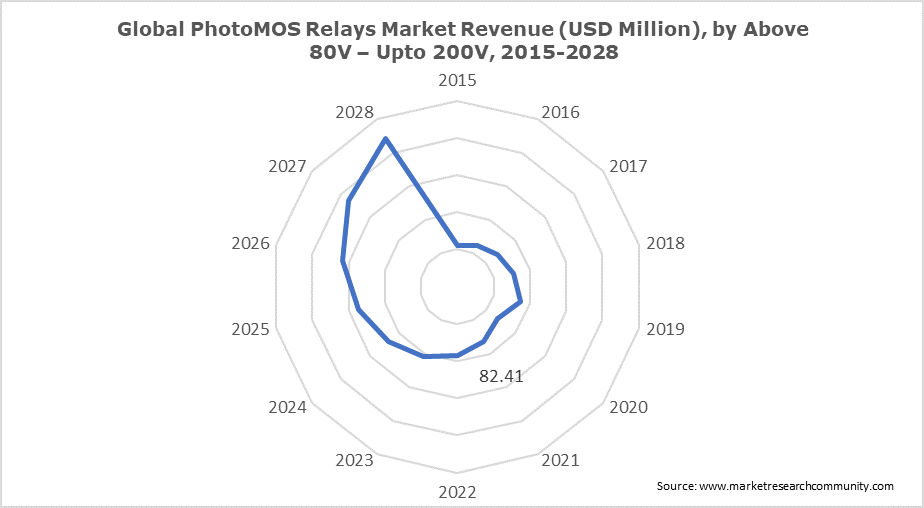 Power Monitoring System is the most preferred application in the development of PhotoMOS Relays
An energy monitoring system is a network of meters connected to the Internet that provides real-time data about the energy system. The PhotoMOS relay is located in the battery cell performance monitoring circuit. PhotoMOS relays are highly recommended as relays are expected to make many contacts and have no contact life. PhotoMOS relays used in power monitoring systems offer many advantages such as long life, high withstand voltage, and small size. In addition, PhotoMOS relays are used in smart meters as contact outputs for external communications.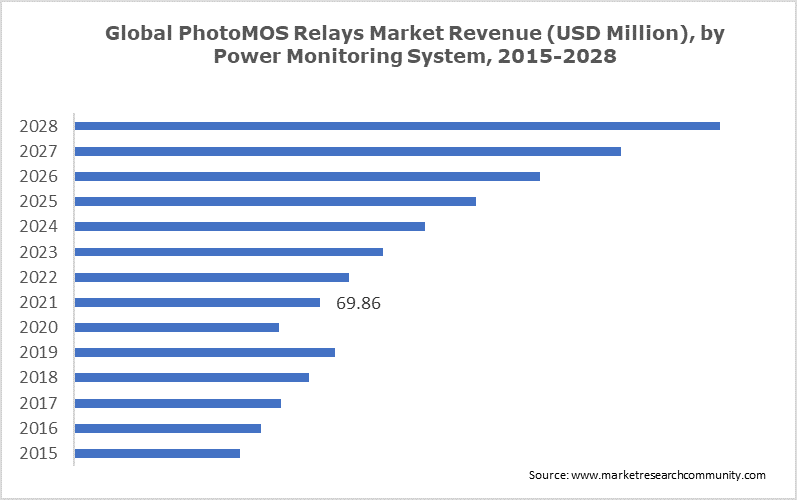 Increased implementation of smart meters along with rising investment in smart grid technology is expected to bolster opportunities in the global energy surveillance market. The main contributors to market growth include increasing attention to the efficient use of energy resources, industrialization and growing urbanization, and expanding the reliability of electrical infrastructure.
Increasing adoption of smart grid technology is driving attention to industrial development. This has surged the implementation of power monitoring systems that is expected to drive the growth of PhotoMOS relays market.
Industrial Automation to grab a dominant share in the PhotoMOS Relays market
Rapid growth in the manufacturing business has resulted in fierce rivalry in the photorelays sector. End Use industries manufacturers such as automotive and aerospace & defence are searching for solutions that can help them with real-time data analysis and preventive maintenance.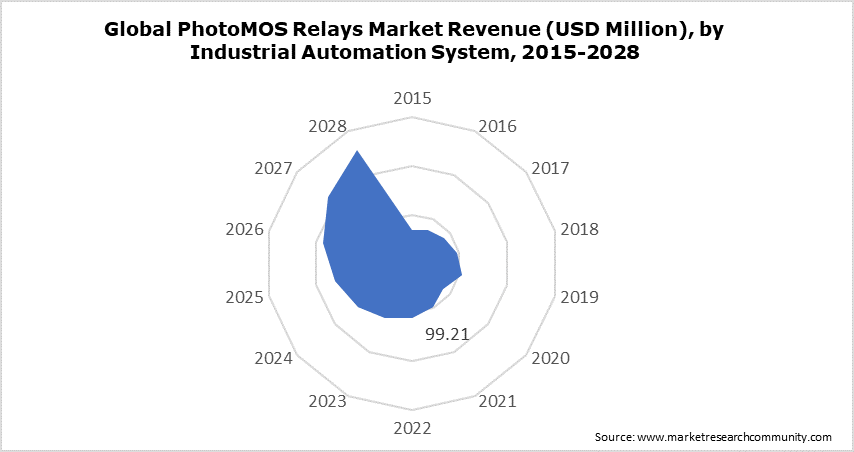 Advancement in industrial automation technology has considerably improved the access capabilities of plant floor data that is helping to consolidate corporate data and multi-plant operations. This factor is projected to boost the growth of industrial automation, which would in turn boost the market for PhotoMOS relays. FA equipment used in various production sites and processes is evolving to meet a variety of needs, including improved facility availability and production efficiency, higher precision, improved safety, and energy conservation
China to dominate dominates the market of PhotoMOS Relays Market during the for
Asia Pacific is one of the leading regions with a high number of PhotoMOS Relays products. Wherein, China is anticipated to generate highest revenue in the region.
Asia-Pacific dominates the global PhotoMOS relays market, and it is expected to grow at a higher pace in the forecast period owing to the growth of automotive, industrial automation and semiconductor & electronics industry in countries such as Japan, China, India, South Korea, and rest of Asia Pacific.
In 2020, the Asia-Pacific region was the fastest growing region for robot adoption among automotive companies in the three months leading up to September. The number of roles in the Asia Pacific region accounted for 7.2% of total robotics work, up from 4.7% in the same quarter of 2021. Globally, China accounted for the largest vehicle sales in 2020 with approximately 25 million units. At the end of 2020, China was the world's largest automobile market in terms of new registrations. Such high sales in the Asia Pacific region will lead to significant growth in the PhotoMOS relay market.
Global PhotoMOS Relays Market Competitive Landscape
The Global PhotoMOS Relays Market study is relatively competitive, with a significant number of global and regional players. The key strategies adopted by these firms include product innovations, expansions, acquisitions and mergers.
Key Players
Toshiba Corporation
Panasonic Corporation
OMRON Corporation
COSMO Electronics
Renesas Electronics Corp.
IXYS Corporation
Bright Toward Industrial Co., Ltd
A highly developed distribution network provides a competitive edge to the primary market players. Furthermore, players need to invent constantly, to grow in the market, due to the rapidly advancing consumer needs and choices.
Recent Developments
In 2021, OMRON, launched low-heat generating, high power PCB relay "G9KA" with industry-leading ultra-low contact resistance. This development will contribute towards decarbonized society by improving energy efficiency through heat generation suppression.
FAQ
How much is the PhotoMOS Relays Market evaluated?
Global PhotoMOS Relays Market size is evaluated at USD 609.00 Million by 2028.
What are the key drivers of this industry?
Toshiba Corporation, Panasonic Corporation, OMRON Corporation, COSMO Electronics, Renesas Electronics Corp. are the key drivers of this industry.
Which region recorded the fastest CAGR growth?
Asia-Pacific region recorded the fastest CAGR growth.
Which is the leading End-Use segment in this market?
Aerospace & Defense are the leading End-Use segment in this market.
Table of Content
Introduction

Market Introduction
Market Research Methodology

Research Process
Primary Research
Secondary Research
Data Collection Technique
Data Sources

Market Estimation Methodology
Product Picture of PhotoMOS Relays
Global PhotoMOS Relays Market: Classification
Geographic Scope
Years Considered for the Study
Research Methodology in brief:
Parent Market Overview
Overall PhotoMOS Relays Market Regional Demand
Research Programs/Design
Market Breakdown and Data Triangulation Approach
Data Source
Secondary Sources
Primary Sources
Primary Interviews:
Average primary breakdown ratio

Market Dynamics

Drivers
Restraints
Opportunity

Impact forces on market dynamics
Impact forces during the forecast years

Industry Value Chain

Upstream analysis
Downstream analysis
Distribution Channel
Direct Channel
Indirect Channel

Potential Customers
Manufacturing/Operational Cost Analysis
Pricing Analysis by Region
Key Technology Landscape
Regulatory Analysis
Porter's Analysis

Supplier Power
Buyer Power
Substitution Threat
Threat from New Entry
Competitive Rivalry

PESTEL Analysis
Political Factors
Economic Factor
Social Factors
Technological Factor
Environmental Factors
Legal Factor
Covid-19 impact on Global Economy
Covid-19 impact on PhotoMOS Relays demand
Post-Covid Impact on PhotoMOS Relays Market Demand
Impact Analysis of Russia-Ukraine Conflict

Global PhotoMOS Relays Market Segmentation, by Revenue (USD Billion), (2022-2030)

By Type

Upto 80V
80V- 200V
Above 200V

By Product

Testing Equipment
Programmable Logic Controller
Power Monitoring System
Others

By End Use

Aerospace & Defense
Automotive
Semiconductor & Electronics
Industrial Automation
Others
Global PhotoMOS Relays Market Overview, By Region

North America PhotoMOS Relays Market Revenue (USD Billion), by Countries, (2022-2030)

US

By Type
By Product
By End Use

Canada
Mexico

Europe PhotoMOS Relays Market Revenue (USD Billion), by Countries, (2022-2030)

France
UK
Spain
Russia
Italy
BENELUX

Asia Pacific PhotoMOS Relays Market Revenue (USD Billion), by Countries, (2022-2030)

China
Japan
Australia
South Korea
India
ASEAN
Latin America PhotoMOS Relays Market Revenue (USD Billion), by Countries, (2022-2030)
Middle East and Africa PhotoMOS Relays Market Revenue (USD Billion), by Countries, (2022-2030)
Global PhotoMOS Relays Market Revenue: Competitive Analysis, 2021

Key strategies by players
Revenue (USD Billion and %), By manufacturers, 2021
Player Positioning by Market Players, 2021

Competitive Analysis

Toshiba Corporation

Business Overview
Business Financials (USD Million)
Product Category, Type, and Specification
Main Business/Business Overview
Geographical Analysis
Recent Development
Swot Analysis

Panasonic Corporation
OMRON Corporation
COSMO Electronics
Renesas Electronics Corp.
IXYS Corporation
Bright Toward Industrial Co., Ltd
Market Research Findings & Conclusion
Disclaimer 
Research Methodology
The Market Research Community offers numerous solutions and its full addition in the research methods to be skilled at each step. We use wide-ranging resources to produce the best outcome for our customers. The achievement of a research development is completely reliant on the research methods implemented by the company. We always faithful to our clients to find opportunities by examining the global market and offering economic insights.

Market Research Community are proud of our widespread coverage that encompasses the understanding of numerous major industry domains. Company offers consistency in our research report, we also offers on the part of the analysis of forecast across a range of coverage geographies and coverage. The research teams carry out primary and secondary research to carry out and design the data collection methods.