Plasma Fractionation Market Insights :
Plasma fractionation market was valued at USD 27.40 Billion in 2021, registering a CAGR of 7.3% during the forecast period (2022-2030), and is projected to be worth USD 51.66 Billion by 2030. The COVID-19 pandemic has had an unexpected and devastating impact on the world, and demand for plasma fractionation has been lower than expected in all regions compared to pre-pandemic levels. According to our estimate, the global market grew 4.9% less slowly in 2020 than it did in 2019. Major market players have launched several R&D projects to develop new plasma-derived medicines in response to the rising demand for goods derived from plasma.
Additionally, to facilitate the availability of plasma for the development of new products, these major market participants concentrated heavily on owning and purchasing new plasma collection sites. For instance, Grifols, S.A. bought all the shares of Prometic Plasma Resources Inc. in 2021 via its subsidiary, Grifols Canada Therapeutics Inc. Correspondingly, Terumo Blood, CSL Plasma, and Cell Technologies announced their agreement in April 2021 to create and deliver an innovative plasma collection platform at the CSL Plasma Collection Centers in the United States. Therefore, it is anticipated that the strategic efforts of the main corporations will fuel the expansion of the global market.
Plasma Fractionation Market Dynamics:
Fractionation is a technique used to isolate specific amounts of a mixture. Additionally, blood's fluid component, plasma, is fractionated to produce several plasma derivatives comprising immunoglobulins and albumin. These plasma-derived complexes are employed to treat several blood plasma-related illnesses and have beneficial effects. Consider the plasma derivative coagulation factor VIII, which is used to prevent and treat hemophilia. Additionally, it is used to prevent excessive blood loss during surgery. Immunoglobulins are used in a similar way to treat both primary and secondary immunological deficiencies.
Driver:
Globally, there has been a significant increase in demand for plasma-derived medicines. Strong growth in immunoglobulin demand resulted in positive market expansion on a global scale. The increase in the incidence of various immunodeficiency illnesses around the world is the cause of the rising demand.
Restraint:
For many plasma-driven therapies, various recombinant substitutes have been created recently. Recombinant products are employed as preventative measures and are less immunogenic than those made from plasma. Significant advantages of the medicines include less frequent administration and improved prophylactic performance. Thus, a significant factor restricting the utilization of plasma products is the expanding usage of recombinant factors and their greater use in preventative therapy.
COVID-19 Analysis of Plasma Fractionation Market:
To treat sick people, several organizations tested plasma-based medicines in response to the COVID-19 outbreak. To tackle COVID-19, several businesses started a variety of R&D projects. For instance, in 2020, Biotest AG collaborated with other businesses throughout the sector through the COVID-19 Plasma Alliance, including Takeda Pharmaceutical Company Limited, LFB, CSL Behring, and Octapharma AG. Together, the businesses developed a new polyclonal hyper immunoglobulin medication to combat SARS-CoV-2. However, as a result of disruption to the plasma collecting procedure, the market grew slowly. Plasma collection was affected despite being referred to as an important infrastructure due to the rise in cases and COVID-19 regulations, such as social distance and stay-at-home orders. For instance, the volume of plasma collected was reduced as a result of COVID-19, while the cost of collection in terms of donor remuneration increased, according to the annual report for the years 2020–2021 released by CSL Limited.
Plasma Fractionation Market Report Cover:
Report Attributes
Report Details
Study Timeline
2016-2030
Market Size in 2030 (USD Billion)
51.66 Billion
CAGR (2022-2030)
7.3%
By Product
Albumin, Immunoglobulins, Coagulation factor VIII, Coagulation factor IX
By Application
Immunology & Neurology, Hematology, Critical care, pulmonology, Others
By End-use
Hospitals, & Clinics, Clinical Research Labs, and Others
By geography
North America– (U.S., Canada, Mexico)

Europe- (Germany, France, U.K., Russia, Italy, Spain, BENELUX, Rest of Europe)

Asia Pacific- (China, Japan, India, South Korea, Australia, ASEAN, Rest of Asia Pacific)

Latin America- (Brazil, Argentina, Chile, Rest of Latin America)

The Middle East and Africa- (GCC, Turkey, Israel, Rest of MEA)

Key Players
Thermo Fisher Scientific Inc., Merck KGaA, GENERAL ELECTRIC, Moregate Biotech, Atlanta Biologics Inc., Gemini Bio-Products, and Bovogen BiologicsPty ltd.
Plasma Fractionation Market Segment Analysis:
By Product
The market is divided into albumin, protease inhibitors, coagulation factors, immunoglobulin, and others based on the product. Intravenous immunoglobulin (IVIG) and subcutaneous immunoglobulin are two sub-segments of the immunoglobulin segment (SCIG). Further, factor IX, factor VIII, prothrombin complex concentrates, fibrinogen concentrates, and others are expected to boost the growth of the market.
By Application
In 2021, the immunology & neurology category is expected to have a larger market share and is expected to expand at a faster rate. Strong global demand for these medications was sparked by the rising toll of autoimmune and immunodeficiency illnesses. Plasma proteins including coagulation factors and immunoglobulins are frequently used in treatment methods due to the rising prevalence of immunological and neurological illnesses. The segment is expected to rise throughout the projected period due to the discovery of several plasma-based proteins and clinical trials for neurology and immunology applications.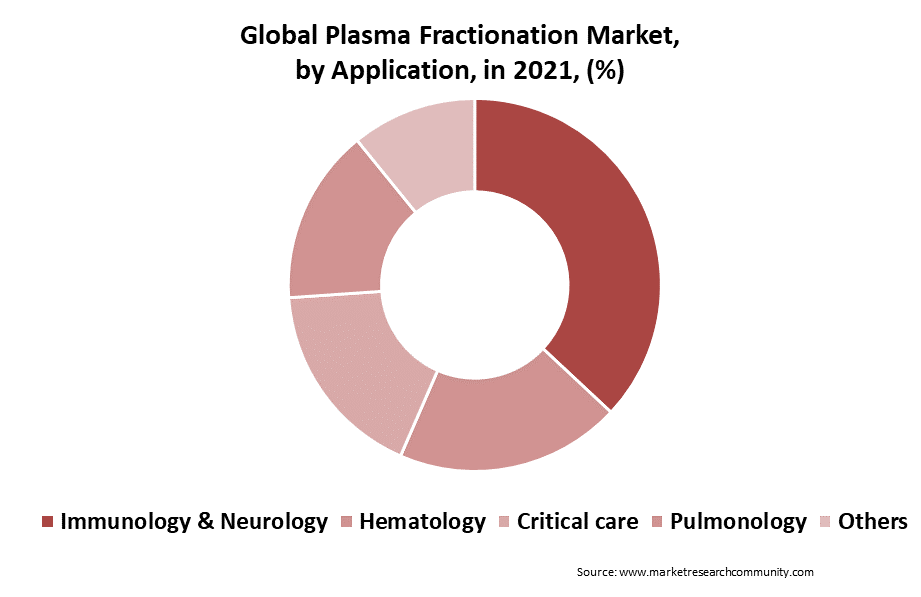 By End-Use
The market is divided into hospitals & clinics, clinical research laboratories, and others based on the end-user (academic institutes). The hospitals & clinics segment is anticipated to generate the largest revenue during the forecast period. The rising popularity of plasma-derived medicines around the world is credited with driving the segment's rise. Further, several private institutions have adopted plasma-derived therapies and are recommending them to their patients who have rare immunodeficiency illnesses due to increased infrastructure and technology. For instance, the Brazilian Rare Disease Network (BRDN), which comprises 40 organizations, including 18 university hospitals, 17 reference services for rare diseases, and five reference services for newborn screening, is now being built.
By Region
The regional segment of the plasma fractionation market is North America, Europe, Asia Pacific, Latin America, and the Middle East and Africa. The plasma fractionation market was dominated by North America in 2021, followed by Europe and the Asia Pacific region. Due to the growing usage of preventative treatments among diagnosed patients as well as the growing use of immunoglobulins in autoimmune and neurological illnesses. The large number of patients with hemophilia who have registered further fuels the expansion of this sector. The market for plasma fractionation in North America is also expected to be driven by the increasing adoption of coagulation factors due to the rising number of hemophilic patients.
The second-largest market share belonged to Europe, in the plasma fractionation market. As immunodeficiency and bleeding disorders are becoming more common in the area, increased investments in these systems are accelerating market growth in the area. For instance, the NCBI reported in 2021 that the prevalence of Common Variable Immunodeficiency (CVID), which affects 1 in 25,000 people, is greater in northern Europe.
Plasma Fractionation Market Competitive Landscape:
The competitive landscape of the market has been analyzed in the report, along with the detailed profiles of the major players operating in the industry. The majority of manufacturers are concentrating on new product launches, improvements to current products, and mergers and acquisitions. –
Bioproduct laboratory
Biotest AG
CSL Ltd.
Grifols SA
Kedrion S.P.A (Kedrion Biopharma Inc.)
LFB S. A.
Octapharma AG
Sanquin Blood Supply Foundation
Takeda Pharmaceutical Company Limited
Table of Content
Introduction

Market Introduction
Market Research Methodology

Research Process
Primary Research
Secondary Research
Data Collection Technique
Data Sources

Market Estimation Methodology
Product Picture of Plasma Fractionation
Global Plasma Fractionation Market: Classification
Geographic Scope
Years Considered for the Study
Research Methodology in brief
Parent Market Overview
Overall Plasma Fractionation Market Regional Demand
Research Programs/Design
Market Breakdown and Data Triangulation Approach
Data Source
Secondary Sources
Primary Sources
Primary Interviews
Average Type primary breakdown ratio

Market Dynamics

Drivers
Restraints
Opportunity

Impact forces on market dynamics
Impact forces during the forecast years

Industry Value Chain

Upstream analysis
Downstream analysis
Therapeutic
Direct Channel
Indirect Channel

Potential Customers
Manufacturing/Operational Cost Analysis
Pricing Analysis by Region
Key Product Landscape
Regulatory Analysis
Porter's Analysis

Supplier Power
Buyer Power
Substitution Threat
Threat from New Entry
Competitive Rivalry

PESTEL Analysis
Political Factors
Economic Factor
Social Factors
Technological Factor
Environmental Factors
Legal Factor
Covid-19 impact on Global Economy
Covid-19 impact on Plasma Fractionation Market demand
Post-Covid Impact on Plasma Fractionation Market Demand
Impact Analysis of Russia-Ukraine Conflict

Global Plasma Fractionation Market Segmentation, Revenue (USD Billion), (2022-2030)

By Product

Albumin
Immunoglobulins
Coagulation factor VIII
Coagulation factor IX

By Application

Immunology & Neurology
Hematology
Critical care
Pulmonology
Others

By End-Use

Hospitals, & Clinics
Clinical Research Labs
Others
By Global Plasma Fractionation Market Overview, By Region

North America Plasma Fractionation Market Revenue (USD Billion), by Countries, (2022-2030)

US

By Product
By Application
By End-Use

Canada
Mexico

Europe Plasma Fractionation Market Revenue (USD Billion), by Countries, (2022-2030)

France
UK
Spain
Russia
Italy
BENELUX

Asia Pacific Plasma Fractionation Market Revenue (USD Billion), by Countries, (2022-2030)

China
Japan
Australia
South Korea
India
ASEAN
Latin America Plasma Fractionation Market Revenue (USD Billion), by Countries, (2022-2030)
The Middle East and Africa Plasma Fractionation Market Revenue (USD Billion), by Countries, (2022-2030)
Global Plasma Fractionation Market Revenue: Competitive Analysis, 2021

Key strategies by players
Revenue (USD Billion and %), By manufacturers, 2021
Player Positioning by Market Players, 2021

Competitive Analysis

Baxter International Inc.

Business Overview
Business Financials (USD Billion)
Product Category, Source, and Specification
Main Business/Business Overview
Geographical Analysis
Recent Development
Swot Analysis

Bio product laboratory
Biotest AG
CSL Ltd.
Grifols SA
Kedrion S.P.A (Kedrion Biopharma Inc.)
LFB S. A.
Octapharma AG
Sanquin Blood Supply Foundation
Takeda Pharmaceutical Company Limited

Market Research Findings & Conclusion
Disclaimer 
Research Methodology
The Market Research Community offers numerous solutions and its full addition in the research methods to be skilled at each step. We use wide-ranging resources to produce the best outcome for our customers. The achievement of a research development is completely reliant on the research methods implemented by the company. We always faithful to our clients to find opportunities by examining the global market and offering economic insights.

Market Research Community are proud of our widespread coverage that encompasses the understanding of numerous major industry domains. Company offers consistency in our research report, we also offers on the part of the analysis of forecast across a range of coverage geographies and coverage. The research teams carry out primary and secondary research to carry out and design the data collection methods.