Simulator Market Insights
Simulator Market is projected to be worth USD 27.45 Billion by 2028, registering a CAGR of 8.25% CAGR during the forecast period (2022-2028), the market was valued at USD 17.25 Billion in 2021. The hardware sub segment has the largest market share in component segment as hardware components have a significant impact on the gaming or learning experience which enhance its usage. The commercial training sub segment dominated the market as increase in the air passenger traffic has surged the demand for new aircraft pilot who are trained through flight simulator. The Asia Pacific operator training simulator market is expected to grow between 2022 and 2028, owing to the increasing adoption of digital solutions in government facilities.
A simulator is a programme or machine that creates a virtual version of a real-life situation for the purpose of instruction or experimentation. Simulators are frequently used to train people in difficult and often dangerous tasks such as surgery or flying an airplane. Simulators allow them to practice and learn such tasks without risk. The simulators market is expected to grow significantly during the forecast period. Furthermore, factors such as the rising use of virtual pilot training to ensure aviation safety and the development of simulators for air accident investigations are also expanding the market.
Simulator Market Dynamics
Driver:
Growing awareness of virtual training and simulation drives the simulator market. The simulator is used in various fields such as civil aviation, military, e-learning, gaming, digital manufacturing, and healthcare. Benefits such as ease of handling and understanding, providing a virtual environment as close to a real one, and increasing training efficiency are driving the simulator market growth.
Restraints:
A full flight simulator has a nearly 25-year average lifecycle. This lifecycle, however, can be easily extended through software and hardware upgrades. Simulator software is upgraded and modified as civil and military aircraft are updated to provide a more realistic training experience. The major factor limiting market growth is the periodic modification of simulator systems to extend their lifecycle.
Opportunity:
The growing demand for unmanned systems for defense and commercial applications is expected to provide more opportunity for simulators. Companies like AEgis Technologies Group and Havelsan Inc. are developing highly sophisticated unmanned simulators. These simulators are independent of hardware configurations and can simulate any unmanned aerial system (UAS) with any sensor operator and payload suite. These simulators can generate a virtual battlefield in real-time, allowing for first-person training, basic payload and flight operations, mission rehearsal, and mission planning.
COVID-19 Analysis of Simulator Market
The coronavirus pandemic has aided the growth of operator training simulators as there is an increasing adoption of high-end technology by businesses. The outbreak has hampered the operational activities of several industry players, but also encouraged them to deploy smart technologies that help industries improve the efficiency of their facilities. Many participants are utilizing operating training simulators to instruct their employees with necessary skills, reducing the chances of damaging the equipment while performing regular tasks. Moreover, the incorporation of cloud technology, virtual reality, artificial intelligence, and augmented reality in simulator software has fueled market demand. Most key players in the simulator market such as Lockheed Market Corporation, Reytheon Technologies has declared that business has largely resumed to normality but have also acknowledged the serious impact of Covid.
Simulator Market Report Coverage
Report Attributes
Report Details
Study Timeline
2016-2028
Market Size in 2028 (USD Billion)
27.45
CAGR (2022-2028)
8.25%
By Component
Hardware, Software
By Application
Commercial Training, Military Training
By End-Use
Defense & Security, Civil Aviation, Gaming, Others
By geography
North America: U.S., Canada, Mexico

Europe: Germany, France, U.K., Russia, Italy, Spain, BENELUX, Rest of Europe

Asia Pacific: China, Japan, India, South Korea, Australia, ASEAN, Rest of Asia Pacific

Latin America: Brazil, Argentina, Chile, Rest of Latin America

The Middle East and Africa: GCC, Turkey, Israel, Rest of MEA
Simulator Market Segment Analysis
By Component
The segment is bifurcated into hardware, software. The hardware sub segment is leading the market. Hardware components have a significant impact on the gaming or learning experience. The growing acceptance of essential reality simulators, which aid in enhancing the gaming or learning experience, is expected to drive market participants to advance simulator hardware. Nowadays, individuals or organizations use either hardware or software, or a combination of the two, to train professionals, students, crews, and other associated people efficiently and with minimal effort.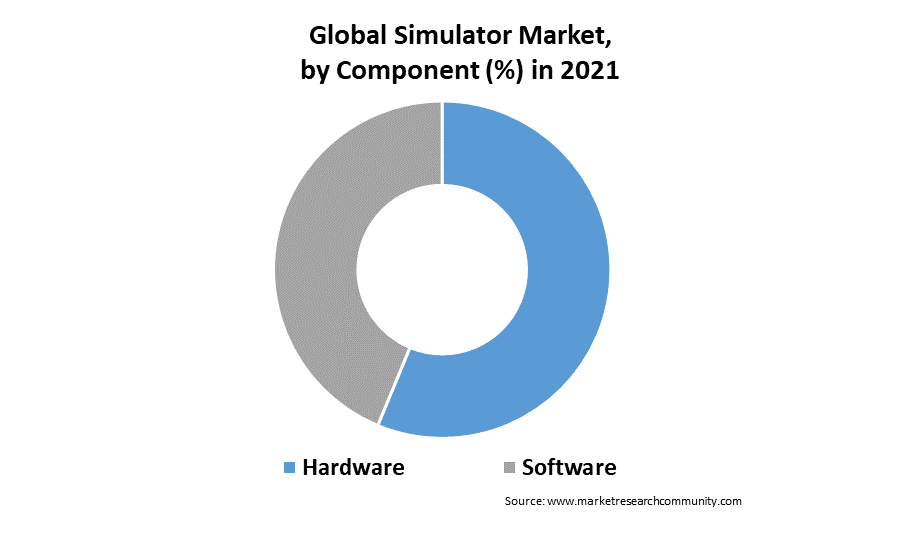 By Application
The Application segment includes commercial training, military training. The commercial training sub segment dominated the market. Owing to increase in the air passenger traffic has surged the demand for new aircraft. Thus, deployment of new aircrafts will lead to requirement of new pilots, in turn, fueling the demand for simulators to train them. The military training segment is also expected to grow at the high CGAR rate during the forecast period, owing to the growing use of military simulators worldwide.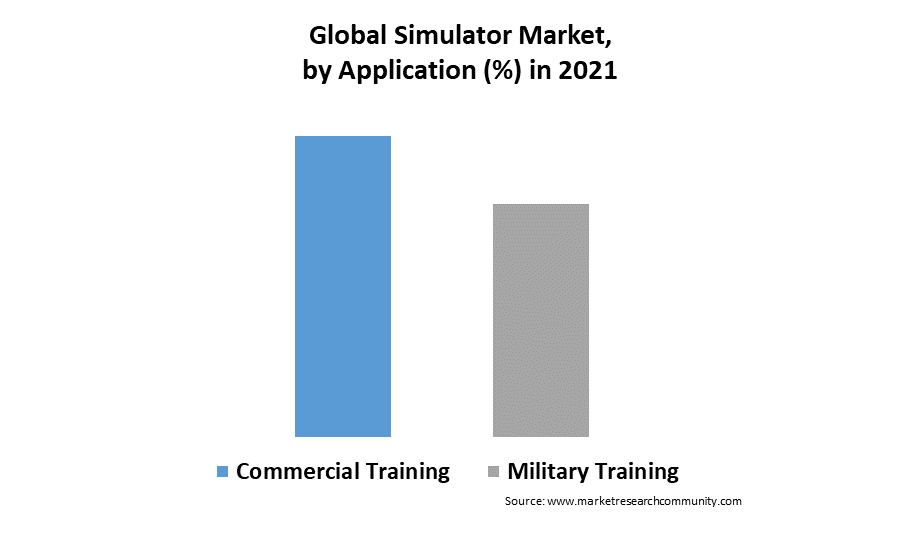 End-Use
The end-use segment is categorized into civil aviation, defense & security, gaming, and others. The gaming sub segments is expected to dominate the market. As gaming simulators allow players to enjoy thrilling and pleasurable elements, these circumstances are physically impossible to recreate. As a result, the Gaming Simulators market is expected to expand in the near future.
By Region
The region segment is divided as Asia Pacific, Europe, North America, Middle East and Africa, Latin America. The Asia Pacific operator training simulator market is expected to grow between 2022 and 2028, owing to the increasing adoption of digital solutions in government facilities. Governments are using advanced training simulations to train their employees more effectively and economically. For example, the Airports Authority of India (AAI) chose ALSIM in September 2021 to build and design simulators for various applications. Multi Crew Coordination (MCC), Flight Simulator Training Device (FSTD), and Flight Navigation and Procedure Trainer (FNPT) are all part of it. This factor will encourage other organizations to implement operating training simulation technology, thereby promoting industry growth.
Simulator Market Competitive Landscape
The competitive landscape of the market has been analyzed in the report, along with the detailed profiles of the major players operating in the industry. Further, surge in Research and Development (R&D), product innovation, and various business strategies have accelerated the growth of the market. Some of these players in Simulator Market are as follows.
Key Players
Airbus S.A.S.
Havelsan Inc.
CAE Inc
The Boeing Company
Flight Safety International
Indra
Saab AB
Thales SA
L3Harris Technologies, Inc.
LOCKHEED MARTIN CORPORATION
Recent Development:
February 2022, Kongsberg Digital (KDI), a division of Kongsberg Gruppen, was given a major contract to provide a range of marine simulator systems to Fremantle's South Metropolitan TAFE (Technical and Further Education) college. This further aided to the company's growth in the market.
March 2019, CAE signed a five-year agreement with AirAsia (Malaysia) to provide CAE Rise, a full flight simulator, for initial pilot training. This aided the company's efforts to expand its customer base in Malaysia.
Research Methodology
The Market Research Community offers numerous solutions and its full addition in the research methods to be skilled at each step. We use wide-ranging resources to produce the best outcome for our customers. The achievement of a research development is completely reliant on the research methods implemented by the company. We always faithful to our clients to find opportunities by examining the global market and offering economic insights.

Market Research Community are proud of our widespread coverage that encompasses the understanding of numerous major industry domains. Company offers consistency in our research report, we also offers on the part of the analysis of forecast across a range of coverage geographies and coverage. The research teams carry out primary and secondary research to carry out and design the data collection methods.