Key Market Overview:
Ski Rental Service Market size was valued at USD 108.54 Million in 2021, registering a CAGR of 4.1% during the forecast period (2022-2030), and the market is projected to be worth USD 147.82 Million by 2030.
Ski and snowboard rental businesses generally operate near ski fields, ski resorts and similar places. They rent ski equipment such as ski or snowboard, ski boots, ski suits as well as safety and protective gear such as goggles, helmets among others. Austria has an extensive mountain range system and project an ideal snowy condition until springtime. Hence, the country provides suitable geography and climate for skiing. Alpine skiing is the national sport of Austria which is a major factor attributing to the popularity of the sport across the country.
Market Dynamics:
Driver:
The rise in winter sports activities along with increasing tourism across the country is a major factor driving the ski rental service industry. Austria is a major destination for winter sports in Europe along with France and Switzerland. Additionally, alpine skiing is the national sport of Austria which is a major factor attributing to the popularity of the sport across the country. This in turn is a key factor driving the ski sporting activities across the country which is subsequently attributing to the market growth of ski rental industry.
According to a report by Statista, the Austrian Winter Sport Equipment Market is expected to reach around USD 71.48 Million by 2027. The growing winter sport activities across the country, government initiatives to promote the tourism and sports & leisure industry, and favorable climatic conditions for commencing ski sports are some of the major factors driving the Austria Ski Rental Services Market.
Restraint:
The negative impact of skiing activities across mountainous regions is a major factor restraining the growth of ski rental service industry. Deforestation is a major concern related to ski activities in mountain regions which involves cutting to trees to facilitate the construction of skiers & ski lifts. Deforestation leads to rise in global warming and climate change which is another major factor negatively impacting the environment.
The use of water to create artificial snows in ski resorts for supplementing the lack of natural snows is another key factor impacting the environment. The snow is produced through snow propeller cannons which are supplied with water and electricity to shoot out snow all across the air and ground. This process requires huge volume of water that is sourced from rivers and lakes which in turn leads to scarcity of water for utilization in other purposes.
COVID-19 Impact:
The advent of Covid-19 in early 2020 significantly impacted the demand for ski rental services in Austria. The pandemic resulted in a nationwide lockdowns and restrictions in movement of people to curb the spread of the infection. The manufacturing facilities had to either shut down or operate at a lesser workforce owing to rise in the cases and stringent social distancing norms by the government. This led to a major demand-supply gap in the ski rental market. For instance, Intersport International, a major ski rental service company in Austria reported a 13.8% decline in revenues in 2020 owing to the covid-19 pandemic.
Ski Rental Service Report Coverage:
| | |
| --- | --- |
| Report Attributes | Report Details |
| Study Timeline | 2016-2030 |
| Market Size in 2030 (USD Million) | 147.82 |
| CAGR (2022-2030) | 4.1% |
| By Product | Skis or snowboards, Ski boots or snowboard boots, Ski poles, Goggles, Ski and snowboard trousers, Ski & snowboard jackets, Others |
| By Application | Ski Field, Scenic Area, Others |
| By End-User | Male, Female, Kids |
| By Geography | Austria |
| Key Players | INTERSPORT International Corporation GmbH, Skiset, Kindl's Ski and Snowboard Rental, Schiverleih Kurz and Co KG, SkiGala, SPORT FACTORY, Bründl Sports, SNOWELL International AG |
Market Segmentation:
By Product
The product segment is divided into skis or snowboards, ski boots or snowboard boots, ski poles, goggles, ski and snowboard trousers, ski and snowboard jackets and others. The skis or snowboards segment is projected to contribute the largest revenue share of over USD 35.21 million during the forecast period. Skis or snowboards are used to travel over snow. Skis come in pairs and are a narrow board of semi-rigid material attached to boots whereas snowboard is a specially shaped board used for gliding on snow or going downhill over snow. Skis can be navigated on bumps and ice while on the contrary, snowboards navigate better on smooth surfaces. The growing travel and tourism industry in Austria is one of the major key factors driving the market over the forecast period.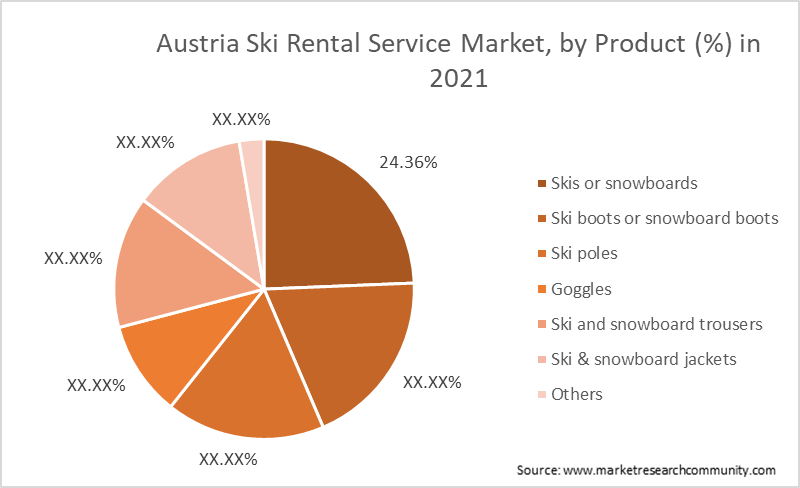 By Application
The application segment is divided into ski field, scenic area and others. The ski field segment is expected to contribute the largest share of over 65.29% in 2021. Ski fields are mountainous areas that are used for snowboarding, skiing, and other winter activities, and snow sports. These fields receive sufficient amount of snow and have marked paths for skiing known as trails, runs, or pistes. Snow skiing is a popular winter recreational activity. Alpine ski areas require maintenance of the infrastructure to assure that reliable snow is appealing to skiers in locations. Further, scenic area is also anticipated to contribute to ski rental service market.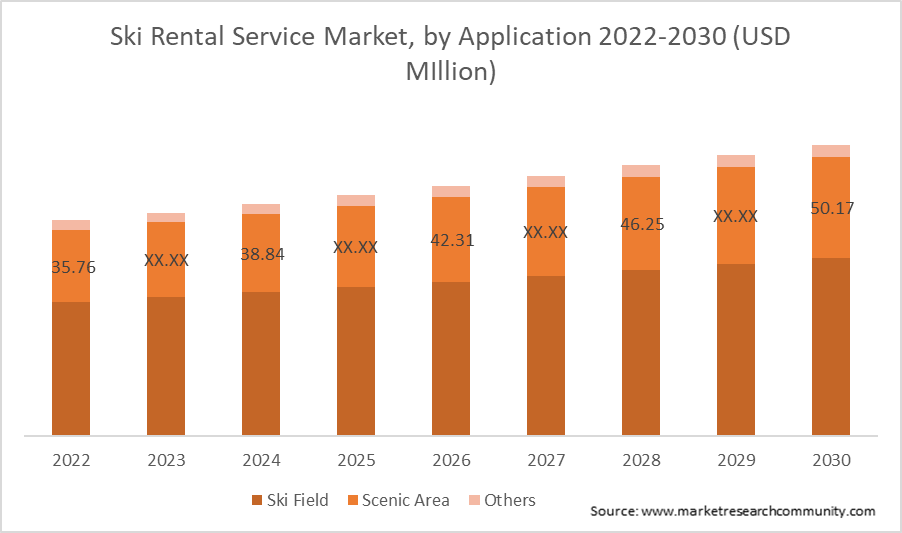 By Region:
The Austria region accounted for a revenue of USD 108.54 million during the year 2021 of the Ski Rental Services Market. This region is expected to grow at a CAGR of 4.1% during the forecast period.
Skiing is referred to as a recreational activity as well as a competitive sport. Alpine skiing refers to a sport in which participants slide down from the snowy hills on skis with fixed-heel bindings. Austria is considered as a real winter paradise for skiing. Austria is regarded as a ski nation, an alpine country, and a snow wonderland. It is multi-faceted when talked about winter sports owing to the presence of alpine villages which radiate rustic charm, and the mountain huts deliver diversity of culinary delights. The ski runs owns extraordinary scenic views in the region which propels the growth of ski rental services in the region. According to Statista, ski equipment imported in Austria in 2019 were recorded as 23,213 as compared to 14,395 in 2016. Also, the rising number of initiatives taken to boost participation in skiing is anticipated to drive the market growth. A surge in recreational activities have been witnessed owing to the busy schedules. Rise in number of ski resorts coupled with government initiatives to encourage participation in skiing is propelling the demand for skiing rental services in the region.
Ski Rental Service Market Competitive Landscape:
The competitive landscape of the market has been analyzed in the report, along with the detailed profiles of the major players operating in the industry. Further, the surge in Research and Development (R&D), product innovation, various business strategies, and Application launches have accelerated the growth of the Sample Preparation market. Key players in the market include-
INTERSPORT International Corporation GmbH,
Skiset
Kindl's Ski and Snowboard Rental
Schiverleih Kurz and Co KG
SkiGala
SPORT FACTORY
Bründl Sports
SNOWELL International AG