Soy Sauce Market Overview:
Soy Sauce Market size was valued at USD 39,025.57 Million in 2021, registering a CAGR of 7.1% during the forecast period (2022-2030), and the market is projected to be worth USD 69,130.97 Million by 2030.
Soy sauce is a liquid condiment that is primarily made from a fermented paste of soybeans, wheat, and salt. Soy sauce provides a blend of sweet, salty, and savory flavors. This balanced flavor profile of soy sauce makes it an excellent condiment to be added as a seasoning ingredient or flavor enhancer during the preparation of food. These features of soy sauce are the key determinants increasing its usage in the household and food processing & food service sectors in Europe.
Factors such as the increasing consumption of soy sauce in European households, owing to its rich and savory flavor are driving the growth of the market. Similarly, the rising use of soy sauce in the food service industry including restaurants, cafeterias, fast-food outlets, and other similar places is a significant factor promoting the market growth.
Market Dynamics:
Driver:
The food service industry consists of restaurants, fast-food outlets, cafeterias, caterers, and other similar places that prepare, serve, and sell food to the public. Additionally, the increasing use of soy sauce in restaurants, cafeterias, and other food service outlets will further boost the growth of the market. Soy sauce is primarily used in hotels, restaurants, and cafes as a flavor enhancer and seasoning ingredient during the preparation of food. Soy sauce has an umami flavor and contains a significant amount of salt which makes it an ideal ingredient for food seasoning. Overall, the use of soy sauce in a food item offers a tint of salt, umami flavor, and a hint of sweetness, making it suitable for various recipes including noodles, rice, soup, meat, and so on. These are the primary factors increasing the adoption of soy sauce in restaurants, cafes, hotels, and other food service outlets.
In June 2022, Doner Shack, a German street food brand, launched its new restaurant in Leicester city in the UK. The restaurant offers a variety of food items including wraps, fries, sausages, salad with multiple choices of sauce, and other similar items. Similarly, Louis Vuitton opened its new restaurant in France in June 2022. It is a multi-cuisine restaurant that serves modern cuisine with African and Japanese influences incorporated with the culinary techniques of France. The restaurant offers a broad menu including dishes such as chirashi, eggplant veggie tacos, fillet, shakshouka, Mediterranean spiny lobster, teriyaki, and other dishes.
Restraint:
Soy sauce has several substitutes including tamari sauce, Worcestershire sauce, fish sauce, oyster sauce, coconut aminos, and so on. These substitutes have similar nutritional value as soy sauce such as high iodine, fiber, protein, and antioxidants. Moreover, some of these substitutes also have a similar texture and taste as that of soy sauce, which is restricting the growth of the market.
For instance, tamari sauce is a common alternative to soy sauce that is close to its taste. Tamari sauce is also made of fermented soybeans. It is relatively darker, richer, and tastes less salty as compared to soy sauce. Similarly, Worcestershire sauce is another ideal alternative to soy sauce. Worcestershire sauce is a British condiment that primarily contains a mix of malt vinegar, spices, anchovies, sugar, garlic, salt, onions, and tamarind extract. Worcestershire sauce has the same umami flavor as soy sauce and is free of gluten.
COVID-19 Impact:
COVID-19 created an impact on the demand for soy sauce across the food processing and food service sector. Moreover, a slight decline in sales was witnessed, owing to the impact on the supply chain management system. Factors including lack of transportation facilities and closure of major ports, owing to unavailability of workers have resulted in declined sales during the first two quarters of the year 2021.
The COVID-19 pandemic and rise in cases had forced the European governments to shut their borders and cancel the trade with neighboring nations. In addition, an internal lockdown within the countries was declared, resulting in restrictions on movements. Meanwhile, a decline in the food service industry, which is the major end-user of soy sauce, was also witnessed during the period. For instance, according to Atradius, the overall output of the food service industry in Germany declined by 4.2% in 2020 as compared to 2019. The primary factors for the decline include the shutdown of hotels, restaurants, cafeterias, and other similar food service outlets across Europe during the COVID-19 period. In relation to the food processing and food service sector, the use of soy sauce had drastically reduced as it was a significant end user of the market.
Further, strict lockdowns and shutdown of manufacturing sites caused significant disruptions in the supply chain, thereby impacting the transportation and procurement of raw materials used in the manufacturing of soy sauce as well. This, in turn, created a negative impact on market demand.
Soy Sauce Report Coverage:
Report Attributes
Report Details
Study Timeline
2016-2030
Market Size in 2030 (USD Million)
69,130.97 Million
CAGR (2022-2030)
7.1%
By Process
Brewed and Blended
By Type
Light Soy Sauce, Dark Soy, and Other
By Distribution
Direct Sales, Supermarkets and Hypermarkets, Convenience Stores, Online Stores, and Others
By Packaging
Glass Jars, Flexible Packs, Plastic Jars, and Others
By Application    
Household and Food Processing & Food Service Industry
By Geography
North America– (U.S., Canada, Mexico)

Europe- (Germany, France, U.K., Russia, Italy, Spain, BENELUX, Rest of Europe)

Asia Pacific- (China, Japan, India, South Korea, Australia, ASEAN, Rest of Asia Pacific)

Latin America- (Brazil, Argentina, Chile, Rest of Latin America)

Middle East and Africa- (GCC, Turkey, South Africa, and the Rest of MEA)

Key Players
Haitian Group, Kikkiman Corp., Nestle S.A., Kraft Heinz Company, McCormick & Co. Inc., Yamasa Corp., Campbell Soup Company, Marunaka-Shoyu, Shoda Sauces Europe Company Limited, Kormel Foods corpp., Halcyon Proteins, Bourbon Barrel Foods
Market Segmentation:
By Process
The process segment is divided into brewed and blended. The blended price segment is projected to contribute the largest revenue share of USD 5,729.53 million in the year 2028 during the forecast period. The chemically produced or blended soy sauce is most commonly made by hydrolyzing defatted soybean paste by making use of hydrochloric acid. This type of soy sauce is harsher in taste, darker and cloudier than the brewed variety. One tablespoon of soy sauce made from blending process comprises of 910 mg of sodium which is considered to be an essential item for regulating blood pressure and nerve transmission. This is one of the key factors fueling the adoption of blended soy sauce. Further, the requirement of less time for producing soy sauce is another factor that is positively impacting the adoption of blending process.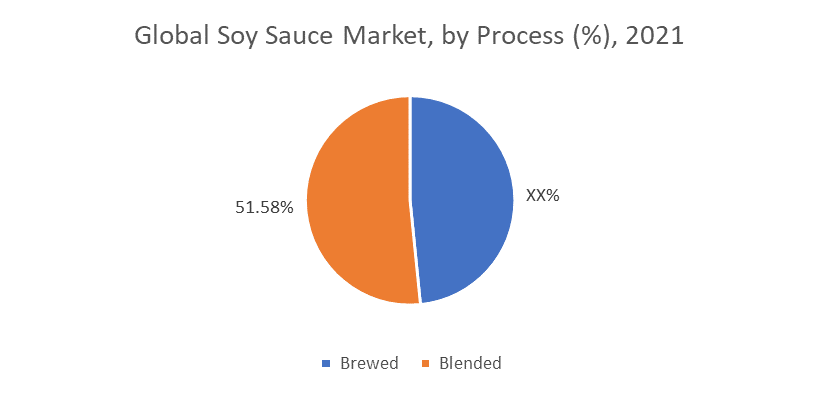 By Packaging
The application segment is divided into glass jars, flexible packs, plastic jars, and others.
The glass jar segment is accounted to have largest share of 39.7% in the year 2021 owing to their availability in various sizes such as 150 ml, 200 ml, and 500 ml. Glass is the key material used in the packaging of soy sauces. Increasing uses of glass jar packaging due to advantages such as easy and robust storage of the product, reusability after product use, and eco-friendliness is spurring the market growth of the glass jar. The jar packaged soy sauces are majorly used by residential consumers for their personal consumption. For instance, soy sauce for residential purposes is used in making soups, fried rice, and stew among others.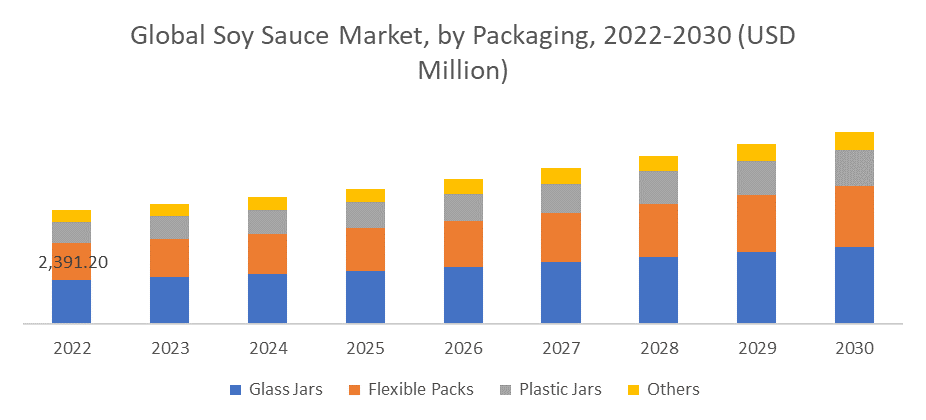 By Region:
The regional segment includes North America, Europe, Asia Pacific, the Middle East, and Africa, Latin America. In 2021, Asia-Pacific is accounted to contribute largest revenue of USD 14,898.30 million. The market is projected to grow in the region, during the forecast period owing to an increasing soy sauce widespread in the region as a famous food ingredient owing to its key qualities such as rich source of protein. The product was widely consumed by individuals those having medical conditions such as diabetes. Due to its low starch content, soy sauce has gradually become famous among the communities and within residential sectors for wide consumption. Moreover, Asia-pacific region seems to have widely accepted the product, and the population of the region has started consuming soy sauce as a therapeutic ingredient along with flour and meat products.
Soy Sauce Market Competitive Landscape:
The competitive landscape of the market has been analyzed in the report, along with the detailed profiles of the major players operating in the industry. Further, the surge in Research and Development (R&D), product innovation, various business strategies, and Packaging launches have accelerated the growth of the soy sauce market. Key players in the market include-
Haitian Group
Kikkiman Corp.
Nestle S.A.
Kraft Heinz Company
McCormick & Co. Inc.
Yamasa Corp.
Campbell Soup Company
Marunaka-Shoyu
Shoda Sauces Europe Company Limited
Kormel Foods corpp.
Halcyon Proteins
Bourbon Barrel Foods
Table of Content
Table of Content
Introduction

Market Introduction
Market Research Methodology

Research Process
Primary Research
Secondary Research
Data Collection Technique
Data Sources

Market Estimation Methodology
Product Picture of Soy Sauce
Global Soy Sauce: Classification
Geographic Scope
Years Considered for the Study
Research Methodology in brief
Parent Market Overview
Overall Soy Sauce Market Regional Demand
Research Programs/Design
Market Breakdown and Data Triangulation Approach
Data Source
Secondary Sources
Primary Sources
Primary Interviews
Average primary breakdown ratio

Market Dynamics

Drivers
Restraints
Opportunity

Impact forces on market dynamics
Impact forces during the forecast years

Industry Value Chain

Upstream analysis
Downstream analysis
Distribution Channel
Direct Channel
Indirect Channel

Potential Customers
Manufacturing/Operational Cost Analysis
Pricing Analysis by Region
Key Technology Landscape
Regulatory Analysis
Porter's Analysis

Supplier Power
Buyer Power
Substitution Threat
Threat from New Entry
Competitive Rivalry

PESTEL Analysis

Political Factors
Economic Factor
Social Factors
Technological Factor
Environmental Factors
Legal Factor

Covid-19 impact on Global Economy
Covid-19 impact on Soy Sauce demand
Post-Covid Impact on Soy Sauce Market Demand

Global Soy Sauce Market Segmentation, by Revenue (USD Million), (2022-2030)

By Process
By Type

Light Soy Sauce
Dark Soy
Other

By Packaging

Glass Jars
Flexible Packs
Plastic Jars
Others

By Distribution

Direct Sales
Supermarkets and Hypermarkets
Convenience Stores
Online Stores
Others

By Application

Household
Food Processing and Food Service Industry
Global Soy Sauce Market Overview, By Region

North America Soy Sauce Market Revenue (USD Million), by Countries, (2022-2030)

U

By Process
By Type
By Packaging
By Distribution Channel
By Application

Canada
Mexico

Europe Soy Sauce Market Revenue (USD Million), by Countries, (2022-2030)

Germany
France
UK
Spain
Russia
Italy
BENELUX

Asia Pacific Soy Sauce Volume (Kilo Tons) & Revenue (USD Million), by Countries, (2022-2030)

China
Japan
Australia
South Korea
India
ASEAN

Latin America Soy Sauce Volume (Kilo Tons) & Revenue (USD Million), by Countries, (2022-2030)

Brazil
Argentina
Middle East and Africa Soy Sauce Volume (Kilo Tons) & Revenue (USD Million), by Countries, (2022-2030)
Global Soy Sauce Market Revenue: Competitive Analysis, 2021

Key strategies by players
Revenue (USD Million and %), By manufacturers, 2021
Player Positioning by Market Players, 2021

Competitive Analysis

Haitian Group

Business Overview
Business Financials (USD Million)
Product Category, Type, and Specification
Main Business/Business Overview
Geographical Analysis
Recent Development
Swot Analysis

Haitian Group
Kikkiman Corp.
Nestle S.A.
Kraft Heinz Company
McCormick & Co. Inc.
Yamasa Corp.
Campbell Soup Company
Marunaka-Shoyu
Shoda Sauces Europe Company Limited
Kormel Foods corpp.
Halcyon Proteins
Bourbon Barrel Foods

Conclusion
Disclaimer
Research Methodology
The Market Research Community offers numerous solutions and its full addition in the research methods to be skilled at each step. We use wide-ranging resources to produce the best outcome for our customers. The achievement of a research development is completely reliant on the research methods implemented by the company. We always faithful to our clients to find opportunities by examining the global market and offering economic insights.

Market Research Community are proud of our widespread coverage that encompasses the understanding of numerous major industry domains. Company offers consistency in our research report, we also offers on the part of the analysis of forecast across a range of coverage geographies and coverage. The research teams carry out primary and secondary research to carry out and design the data collection methods.