Veterinary Diagnostics Market Insights:
Veterinary Diagnostics Market was valued at USD 9.9 Billion in 2021, registering a CAGR of 9.9% during the forecast period (2022-2030), and is projected to be worth USD14.97 Billion by 2030. Increased spending on animal health, an increase in the prevalence of zoonotic diseases and rise in veterinarians, improvements in point-of-care diagnostic technology, and rising disposable income in developing countries are all factors fueling the growth of this market. For instance, AeroCollect A/S, a new company, was founded by FORCE Technology in August 2021. The AeroCollect technique provides a picture of the diseases in a herd using direct air samples. Animal diagnostics have undergone a revolution due to Danish researchers at the GTS institute FORCE Technology.  Hence, growing technological advancement is expected to boost the growth of the market.
Veterinary Diagnostics Market Dynamics:
Diagnostic procedures used in veterinary medicine are used to find illnesses in animals. They are carried out by examining samples of the blood, excrement, and tissues of farm animals, wild animals, and domestic pets.
Driver:
The demand for veterinary diagnostics market is further expected to increase due to the rising prevalence of infectious animal diseases. Additionally, improvements in diagnostics and the increasing adoption of novel procedures in the majority of laboratories are fueling market expansion.
Restraint:
The adoption of veterinary diagnostics is significantly hampered by the high cost of modern diagnostic techniques. The CDC estimates that in 2019, the US spent between USD 245 and USD 510 million yearly on the diagnosis, prevention, and control of the rabies virus. This approximation is based on information that is currently available regarding the price of rabies vaccine for acquaintance animals (Cats and dogs), national rabies diagnostic testing, and biologics for both pre-and post-exposure prophylaxis (prep). However, the whole cost of rabies (including medical expenses and actions to control animals) is substantially higher, which is hampering the growth of the veterinary diagnostics market.
Opportunities:
Animal health authorities have been conducting studies to understand how the virus affects animals during the current COVID-19 outbreak. Research has so far indicated that cats are more vulnerable than other animals. The launch of a PCR panel in April 2020 by IDEXX and Zoetis is the most recent innovation in this industry. Veterinarians and pet owners purchase these commercially available tests to check for the COVID-19 virus in animals. This factor is expected to create opportunities for new molecular diagnostics panels in the industry which is expected to boost the veterinary diagnostics market.
COVID-19 Analysis of Veterinary Diagnostics Market:
The veterinary diagnostics market has been severely impacted since the COVID-19 epidemic in many different parts of the world. Shipments were impacted during the initial lockdown due to a labor shortage and the closure of a manufacturing facility. The pandemic's initial effects on China were tremendous. However, the nation's circumstances have stabilized, and all product and service production rates have increased. As a result, it is determined that COVID-19's overall impact on the veterinary diagnostics market is moderate.
Veterinary Diagnostics Market Report Cover:
Report Attributes
Report Details
Study Timeline
2016-2030
Market Size in 2030 (USD Billion)
14.97 Billion
CAGR (2022-2030)
9.9%
By Product
Consumable, Reagents, & Kits, Instruments, and devices
By Test Type
Analytical Services, Diagnostic Imaging, Bacteriology, Pathology, Molecular Diagnostics, Immunoassays, Parasitology, Serology, Virology
By Diseases Type
Infectious Diseases, Non-Infectious Diseases, Hereditary, Congenital and Acquired Diseases, General Ailments, Structural and Functional Diseases
By Species
Cattle, Canine, Caprine, Equine, Ovine, Porcine, Avian, and others.
By End-use
Laboratories, Veterinary Hospitals and Clinics, Point-Of-Care/In-House Testing, Research Institutes and Universities
By geography
North America– (U.S., Canada, Mexico)

Europe- (Germany, France, U.K., Russia, Italy, Spain, BENELUX, Rest of Europe)

Asia Pacific- (China, Japan, India, South Korea, Australia, ASEAN, Rest of Asia Pacific)

Latin America- (Brazil, Argentina, Chile, Rest of Latin America)

The Middle East and Africa- (GCC, Turkey, Israel, Rest of MEA)

Key Players
Zoetis, Heska Corp., IDEXX Laboratories Inc., Agrolabo S.p.A., IDvet, Virbac, Thermo Fisher Scientific Inc., Neogen Corp., Covetrus, iM3Vet Pty Ltd.
Veterinary Diagnostics Market Segment Analysis:
By Product
Reagents & kits, test consumables, and equipment & devices are the three product segments of the global veterinary diagnostics market. In 2021, consumables, reagents, and kits held the highest market with more than 52% in the product segment. The market is anticipated to grow at the quickest CAGR, maintaining its dominance throughout the forecast period. Additionally, pet owners are demanding point-of-care diagnostics at a higher rate. This factor is expected to boost the growth of the veterinary diagnostics market.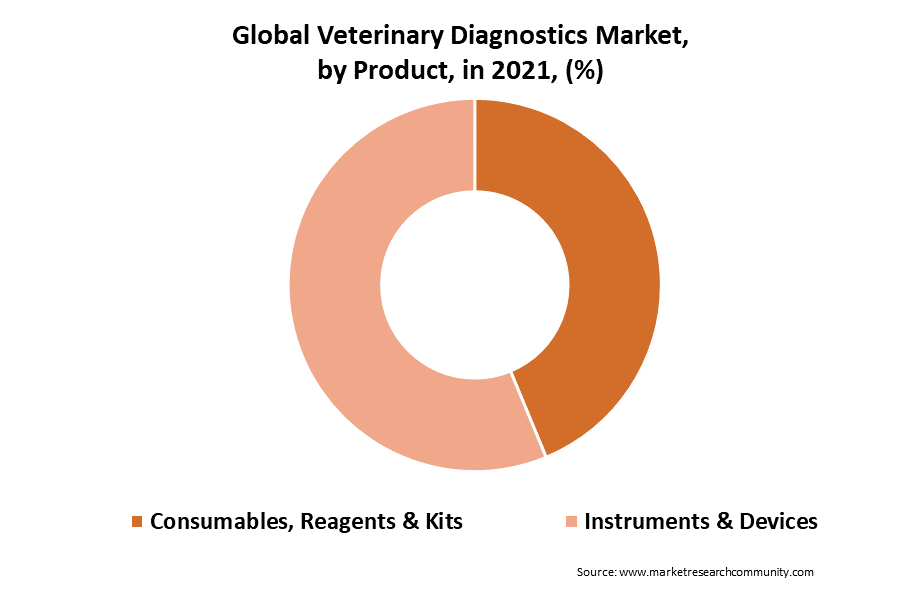 By Species
Over 34.5% of global revenue in 2021 derived from the sector of canine species, which held the greatest market share in the veterinary diagnostics market. Spending on veterinary care for animals has increased, especially in industrialized nations, due to these factor dogs have an excessively large market share. One of the key factors influencing the market is the rising prevalence of serious disorders including obesity, diabetes, cancer, and others. Around 57.1% of dogs in the United States were found to be obese, according to an APOP survey from 2019. The risk of joint problems, diabetes, cancer, and other chronic illnesses is significantly increased by obesity. Hence, above mentioned factors are expected to boost the growth of the veterinary diagnostics market.
By Testing Type
The pathology testing type segment dominated the veterinary diagnostics market in 2021 with a share of more than 13.2%, which includes a wide range of lab tests, imaging, and specialized tests. It includes histopathology and immune histochemistry diagnostics, which are used to find alterations in an animal's tissues brought on by a disease or other ailment. The cells can be extracted from animal biopsy samples, which are processed and given to pathologists for additional assessment using specialized staining Hematoxylin and Eosin (H&Es) with cutting-edge tools. In both small and large animals, such as humans, BVD, and IBR viruses, along with other viruses, immunohistochemistry provides signs for neoplastic and infectious disorders.
By Diseases Type
In 2021, the non-infectious disorders sector accounted for the largest percentage of global revenue more than 27.5%. The number of diagnostics using cutting-edge technologies to find ailments in animals has increased, according to the market. For instance, body fluids including urine, blood, and milk can be examined for electrolytic imbalance using Lab on a Chip technology. Throughout the forecast period, the sector for genetic, congenital, and acquired illnesses is anticipated to increase at the quickest rate. These illnesses are fairly common in modern society.
By End-Use
The global market has been divided into labs, hospitals, clinics, in-house testing, and research institutes & universities based on end uses. In 2021, the category with the highest revenue share more than 37% was laboratories. The second largest end-use segment was veterinary hospitals and clinics, which can offer a wide range of diagnostic choices. Additionally, the market is being driven by an increase in the usage of sophisticated analyzers for diagnostic reasons in veterinary hospitals. Over the projected period, the point of care category is anticipated to have the quickest CAGR.
By Region
In 2021, North America had the highest revenue share of 51.3% in the veterinary diagnostics market. The cost of veterinary treatment has significantly increased in the area, which is predicted to spur market expansion. Additionally, it is projected that the presence of healthcare programs and the development in the number of efforts to enhance animal health would boost this region's growth potential. The North American Pet Health Insurance Association, for instance, is committed to raising public awareness of pet health insurance. The adoption of effective measures by animal welfare organizations in the event of an emergency or sudden illness outbreak is also anticipated to support veterinary diagnostics market expansion in North America.
Veterinary Diagnostics Market Competitive Landscape:
The competitive landscape of the market has been analyzed in the report, along with the detailed profiles of the major players operating in the industry. Further, the surge in Research and Development (R&D), product innovation, various business strategies, and product & Service launches have accelerated the growth of the veterinary diagnostics market. Key players in the market include-
Zoetis
Heska Corp.
IDEXX Laboratories Inc.
Agrolabo S.p.A.
IDvet
Virbac
Thermo Fisher Scientific Inc.
Neogen Corp.
Covetrus
iM3Vet Pty Ltd.
Recent Development
With the acquisition of DMV Imaging in November 2021, FUJIFILM Europe hopes to increase the range of goods and services it offers to veterinary diagnostic clients. The Lyon, France-based DMV Imaging has a focus on providing veterinary POC laboratory diagnostics.
Heska has a signed a contract to purchase Lacuna Diagnostics, Inc. in January 2021. As a result, the business was allowed to enter the market for clinical specialist services.
The first veterinarian sale of TRUFORMA was registered by Zomedica Corp. in March 2021, marking the company's official entry into commercialization. Zomedica Corp. is a veterinary health company that creates point-of-care diagnostics solutions for cats and dogs.
Table of Content
Introduction

Market Introduction
Market Research Methodology

Research Process
Primary Research
Secondary Research
Data Collection Technique
Data Sources

Market Estimation Methodology
Product Picture of Veterinary Diagnostics
Global Veterinary Diagnostics Market: Classification
Geographic Scope
Years Considered for the Study
Research Methodology in brief
Parent Market Overview
Overall Veterinary Diagnostics Market Regional Demand
Research Programs/Design
Market Breakdown and Data Triangulation Approach
Data Source
Secondary Sources
Primary Sources
Primary Interviews
AverTesting Type primary breakdown ratio

Market Dynamics

Drivers
Restraints
Opportunity

Impact forces on market dynamics
Impact forces during the forecast years

Industry Value Chain

Upstream analysis
Downstream analysis
Therapeutic
Direct Channel
Indirect Channel

Potential Customers
Manufacturing/Operational Cost Analysis
Pricing Analysis by Region
Key Product Landscape
Regulatory Analysis
Porter's Analysis

Supplier Power
Buyer Power
Substitution Threat
Threat from New Entry
Competitive Rivalry

PESTEL Analysis
Political Factors
Economic Factor
Social Factors
Technological Factor
Environmental Factors
Legal Factor
Covid-19 impact on Global Economy
Covid-19 impact on Veterinary Diagnostics Market demand      
Post-Covid Impact on Veterinary Diagnostics Market Demand
Impact Analysis of Russia-Ukraine Conflict

Global Veterinary Diagnostics Market Segmentation, Revenue (USD Billion), (2022-2030)

By Product

Consumables, Reagents & Kits
Instruments & Devices

By Species

Cattle
Canine
Feline
Caprine
Equine
Ovine
Porcine
Avian
Others

By Testing Type

Analytical Services
Diagnostic Imaging
Bacteriology
Pathology
Molecular Diagnostics
Immunoassays
Parasitology
Serology
Virology

By Diseases

Infectious Diseases
Non-Infectious Diseases
Hereditary, Congenital, and Acquired Diseases
General Ailments
Structural and Functional Diseases

By End-Use

Laboratories
Veterinary Hospitals and Clinics
Point-Of-Care/In-House Testing
Research Institutes and Universities
By Global Veterinary Diagnostics Market Overview, By Region

North America Veterinary Diagnostics Market Revenue (USD Billion), by Countries, (2022-2030)

US

By Product
By Species
By Testing Type
By Diseases Type
By End-Use

Canada
Mexico

Europe Veterinary Diagnostics Market Revenue (USD Billion), by Countries, (2022-2030)

France
UK
Spain
Russia
Italy
BENELUX

Asia Pacific Veterinary Diagnostics Market Revenue (USD Billion), by Countries, (2022-2030)

China
Japan
Australia
South Korea
India
ASEAN
Latin America Veterinary Diagnostics Market Revenue (USD Billion), by Countries, (2022-2030)
The Middle East and Africa Veterinary Diagnostics Market Revenue (USD Billion), by Countries, (2022-2030)
Global Veterinary Diagnostics Market Revenue: Competitive Analysis, 2021

Key strategies by players
Revenue (USD Billion and %), By manufacturers, 2021
Player Positioning by Market Players, 2021

Competitive Analysis

Zoetis

Business Overview
Business Financials (USD Billion)
Product Category, Source, and Specification
Main Business/Business Overview
Geographical Analysis
Recent Development
Swot Analysis

Heska Corp.
IDEXX Laboratories Inc.
Agrolabo S.p.A.
IDvet
Virbac
Thermo Fisher Scientific Inc.
Neogen Corp.
Covetrus
iM3Vet Pty Ltd

Market Research Findings & Conclusion
Disclaimer
Research Methodology
The Market Research Community offers numerous solutions and its full addition in the research methods to be skilled at each step. We use wide-ranging resources to produce the best outcome for our customers. The achievement of a research development is completely reliant on the research methods implemented by the company. We always faithful to our clients to find opportunities by examining the global market and offering economic insights.

Market Research Community are proud of our widespread coverage that encompasses the understanding of numerous major industry domains. Company offers consistency in our research report, we also offers on the part of the analysis of forecast across a range of coverage geographies and coverage. The research teams carry out primary and secondary research to carry out and design the data collection methods.