Key Market Overview:
Bioelectronics Market size was valued at USD 5,738.27 Million in 2021, registering a CAGR of 11.3% during the forecast period (2022-2030), and the market is projected to be worth USD 14,301.08 Million by 2030.
The application of principles of electronics in biology is referred to as bioelectronic. Various sensors, pacemakers, humanoids, blood glucose meters, and artificial limbs that are attached to the body are some of the applications of bioelectronics. The technological advancement in bioelectronics in recent decades has changed the medical industry. Bioelectronics successfully addresses spinal cord injuries, Parkinson's disease, immunological conditions, and cardiovascular diseases. Continuous efforts are being used for the implementation of bioelectronics in retina implants and brain implants.
Market Dynamics:
Driver:
Bioelectronics is used for tracking the record of every minute details of the body. The Nanotechnology combined with the medical science is boosting up the bioelectronics market. The electrical signaling pattern modulation and detection technology in the nervous system is the major driving factor for the growth of bioelectronics market. Also, one of the major factors for cause of death are the heart diseases. The cardiovascular diseases causing to death is up to 17.9 million lives each year, claims WHO. These diseases include disorder of heart and blood vessels and also include rheumatic heart disease like cerebrovascular disease (CVD), coronary heart disease and other health conditions.
The heart diseases can be traced as well as treated with the help of bioelectronics. Pacemaker, an incredible innovation in the bioelectronics world. A small device is transplanted near chest to control the heartbeat and to avoid the heart from beating slowly. The latest updates and developments in Echocardiogram, Holter monitoring and Stress test which are essential in pacemakers are helping to grow the bioelectronics market.
Restraint:
The bioelectronics serves many applications regarding the betterment of the mankind in various ways. The products starting right from basic smart watches to critical pacemakers and deep brain stimulators, bioelectronics industry has given the access to analyze and treat the particular organ of the body. Though this industry gives the user a better treatment, the price factor for the surgeries and the devices are quite considerable to be the higher. The usual cost for the systems such as Pacemakers ranges around USD 4200 and the implantation costs ranges between USD 9000 and USD 30,000. For DBS, the costs ranges around USD 39,000. Therefore, these treatments may look beneficial, the price which the customer has to pay for is much more.
COVID-19 Impact:
Rapid diagnosis played a vital role controlling spread of the COVID-19. With rising requirements for rapid and accurate testing technologies, the point-of-care devices experienced huge demands. Electrochemical biosensors are one of the key components in producing point-of-care devices, attributing to their specificity, high sensitivity, and rapid analysis ability. Therefore, there was a surge in demand for electrochemical biosensors during the pandemic period. Furthermore, checking oxygen levels of patients was also crucial, resulting in rise in adoption of oximeters, which gradually led to increase in demand for optical biosensors.  Therefore, owing to the mentioned factors, the global bioelectronics market was positive impacted due to the Covid-19, as the bioelectronics medicine and devices experienced a rapid growth during the pandemic.
Bioelectronics Report Coverage:
Report Attributes
Report Details
Study Timeline
2016-2030
Market Size in 2030 (USD Million)
14,301.08 Million
CAGR (2022-2030)
11.3%
By Type
Bio-Electronic Devices, Bio-Electronic Medicine
By Product Type
Electrochemical Biosensors, Piezoelectric Biosensors, Thermal Biosensors, Optical Biosensors
By Application
Fabrication Templates, Artificial Organs, Molecular Motors, Biochips, Implantable Devices, Surgical, Others
By End User
Hospitals and Clinics, Laboratories and Diagnostic Centres, ASC (Ambulatory Surgical Centers
By Geography
North America– (U.S., Canada, Mexico)

Europe- (Germany, France, U.K., Russia, Italy, Spain, BENELUX, Rest of Europe)

Asia Pacific- (China, Japan, India, South Korea, Australia, ASEAN, Rest of Asia Pacific)

Latin America- (Brazil, Argentina, Chile, Rest of Latin America)

Middle East and Africa- (GCC, Turkey, South Africa, and the Rest of MEA)

Key Players
Cala Health, Bioelectronics Corporation, Bioelectronics Corporation, Honeywell International, Neuroelectrics, Biotronik SE & Co KG, Medtronic, Abbott, Boston Scientific Corporation, Sotera Wireless, Universal Biosensors, LivaNova PLC, Sonova Holding AG (Advanced Bionics AG), Oticon Medical, MEDICO S.P.A., SetPoint Medical, AgaMatrix Inc., electroCore, Inc., Nova Biomedical Corp.
Market Segmentation:
By Type
By type, the Global Bioelectronics Market is classified into bio-electronic devices and bio-electronic medicine. Bio-electronic devices accounted for the largest market share with a revenue of USD 3,304.33 million in 2021 whereas bio-electronic medicine is the fastest growing segment with a CAGR of 13.7% for the forecast period of 2022-28. Rising demand for cardiac pacemakers and artificial organs is driving the growth of bio-electronic device segment. Further, the rising trend toward treating cancer and neurological diseases using bio-electronic medicine is expected to spur the market demand in the forecast period of 2022-2028.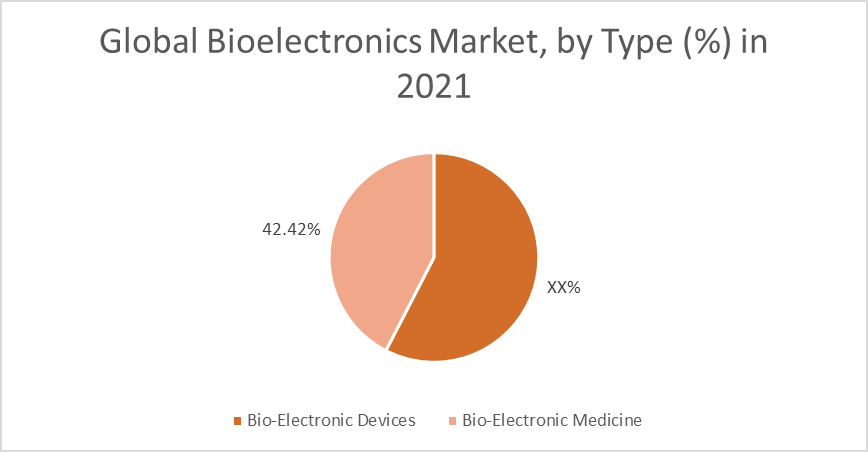 By End User
By end-user, the Global Bioelectronics Market is classified into hospitals and clinics laboratories and diagnostic centers, and ASC (Ambulatory Surgical Centers). Hospitals and clinics accounted for the largest market share with a revenue of USD 2,318.86 million in 2021 and it is also the fastest growing segment with a CAGR of 12.2% for the forecast period of 2022-28. Hospitals and clinics are the first point of reference in case of a disease and hospitals have tied up with manufacturers of bioelectronics to procure biosensors and improve the testing services.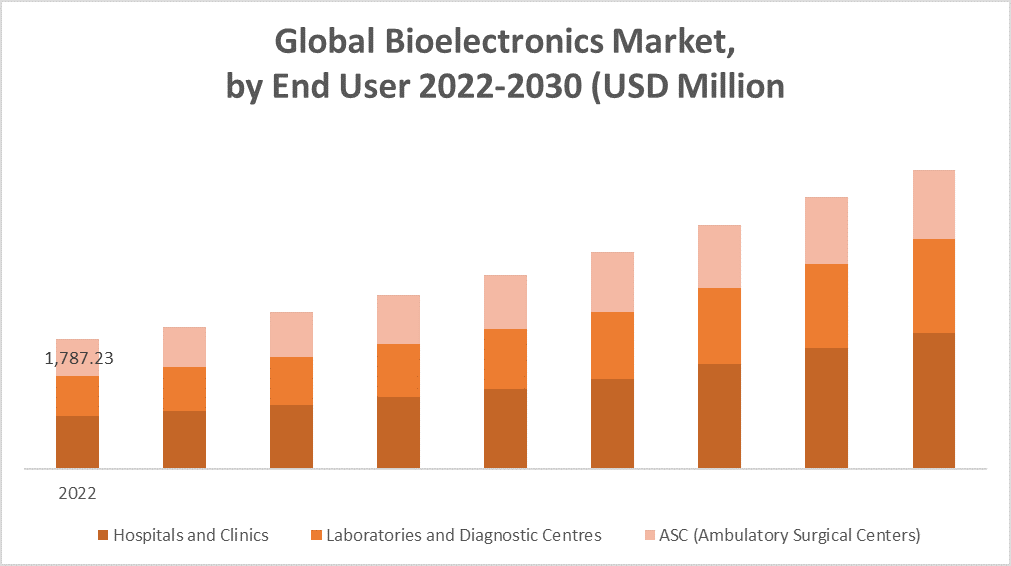 By Region:
The regional segment includes North America, Europe, Asia Pacific, the Middle East, and Africa, Latin America. The North America region accounted for largest market share of 42.83% for 2021, whereas Asia Pacific is the fastest growing region with a CAGR of 12.9% in the Global Bioelectronics Market. The surge in number of heart surgeries and organ implants is the key factor driving the growth of bioelectronics in the North American region. Further, presence of high number of chronic diseases in the region is fueling the demand for rapid diagnosis, which is gradually boosting the growth of bioelectronics market in the region. Increasing awareness in developing countries in the Asia-Pacific is anticipated to drive the market growth for bioelectronics in the Asia Pacific region during the forecast period.
 Bioelectronics Market Competitive Landscape:
The competitive landscape of the market has been analyzed in the report, along with the detailed profiles of the major players operating in the industry. Further, the surge in Research and Development (R&D), product innovation, various business strategies, and Application launches have accelerated the growth of the Bioelectronics market. Key players in the market include-
Cala Health
Bioelectronics Corporation
Honeywell International
Neuroelectrics
Biotronik SE & Co KG
Medtronic
Abbott
Boston Scientific Corporation
Sotera Wireless
Universal Biosensors
LivaNova PLC
Oticon Medical
MEDICO S.P.A.
SetPoint Medical
AgaMatrix Inc.
electroCore, Inc.
Nova Biomedical Corp.
Table of Content
Introduction

Market Introduction
Market Research Methodology

Research Process
Primary Research
Secondary Research
Data Collection Technique
Data Sources

Market Estimation Methodology
Product Picture of Bioelectronics
Global Bioelectronics: Classification
Geographic Scope
Years Considered for the Study
Research Methodology in brief
Parent Market Overview
Overall Bioelectronics Market Regional Demand
Research Programs/Design
Market Breakdown and Data Triangulation Approach
Data Source
Secondary Sources
Primary Sources
Primary Interviews
Average primary breakdown ratio

Market Dynamics

Drivers
Restraints
Opportunity

Impact forces on market dynamics
Impact forces during the forecast years

Industry Value Chain

Upstream analysis
Downstream analysis
Distribution Channel
Direct Channel
Indirect Channel

Potential Customers
Manufacturing/Operational Cost Analysis
Pricing Analysis by Region
Key Technology Landscape
Regulatory Analysis
Porter's Analysis

Supplier Power
Buyer Power
Substitution Threat
Threat from New Entry
Competitive Rivalry

PESTEL Analysis

Political Factors
Economic Factor
Social Factors
Technological Factor
Environmental Factors
Legal Factor

Covid-19 impact on Global Economy
Covid-19 impact on Bioelectronics demand
Post-Covid Impact on Bioelectronics Market Demand

Global Bioelectronics Market Segmentation, by Volume (Tons) & Revenue (USD Million), (2022-2030)

By Type

Bio-Electronic Devices
Bio-Electronic Medicine

By Product Type

Electrochemical Biosensors
Piezoelectric Biosensors
Thermal Biosensors
Optical Biosensors

By Application

Fabrication Templates
Artificial Organs
Molecular Motors
Biochips
Implantable Devices
Surgical
Others

By End User

Hospitals and Clinics
Laboratories and Diagnostic Centres
ASC (Ambulatory Surgical Centers

Global Bioelectronics Market Overview, By Region

North America Bioelectronics Market Revenue (USD Million), by Countries, (2022-2030)

US

By Type
By Product Type
By Application
By End User

Canada
Mexico

Europe Bioelectronics Market Revenue (USD Million), by Countries, (2022-2030)

Germany
France
UK
Spain
Russia
Italy
BENELUX

Asia Pacific Bioelectronics Market Revenue (USD Million), by Countries, (2022-2030)

China
Japan
Australia
South Korea
India
ASEAN

Latin America Bioelectronics Market Revenue (USD Million), by Countries, (2022-2030)

Brazil
Argentina
Middle East and Africa Bioelectronics Market Revenue (USD Million), by Countries, (2022-2030)
Global Bioelectronics Market Revenue: Competitive Analysis, 2021

Key strategies by players
Revenue (USD Million and %), By manufacturers, 2021
Player Positioning by Market Players, 2021

Competitive Analysis

Cala Health

Business Overview
Business Financials (USD Million)
Product Category, Type, and Specification
Main Business/Business Overview
Geographical Analysis
Recent Development
Swot Analysis

Bioelectronics Corporation
Honeywell International
Neuroelectrics
Biotronik SE & Co KG
Medtronic
Abbott
Boston Scientific Corporation
Sotera Wireless
Universal Biosensors
LivaNova PLC
Sonova Holding AG
Oticon Medical
MEDICO S.P.A.
SetPoint Medical
AgaMatrix Inc.
electroCore, Inc.
Nova Biomedical Corp.

Competitive Analysis
Disclaimer
Research Methodology
The Market Research Community offers numerous solutions and its full addition in the research methods to be skilled at each step. We use wide-ranging resources to produce the best outcome for our customers. The achievement of a research development is completely reliant on the research methods implemented by the company. We always faithful to our clients to find opportunities by examining the global market and offering economic insights.

Market Research Community are proud of our widespread coverage that encompasses the understanding of numerous major industry domains. Company offers consistency in our research report, we also offers on the part of the analysis of forecast across a range of coverage geographies and coverage. The research teams carry out primary and secondary research to carry out and design the data collection methods.