Online Pharmacy Market Insights
Online Pharmacy Market is projected to be worth USD 240.2 Billion by 2028, registering a CAGR of 18.4% CAGR during the forecast period (2022-2028), the market was valued at USD 56.15 Billion in 2021. App-based platforms have the largest market share in the platform segment due to the significant rise in mobile usage and internet penetration. North American online pharmacy market dominated the global pharmacy industry due to rapid adoption of digital technologies.
An online pharmacy is a vendor that sells medicines over the internet. Independent internet-only sites, online branches of retail pharmacy stores, and sites representing pharmacy collaboration are all included in online pharmacies. This includes the sale of both prescription and nonprescription medications. The ease of purchasing, quality services, availability of a wide range of medications, and increased internet accessibility has shifted customer preferences towards online pharmacy platforms. Furthermore, a significant hike in the number of smartphone users is expected to propel the global market. This also allows e-pharmacy players to capture a diverse customer base across developed and developing economies.
Online Pharmacy Market Dynamics
Driver:
The market is being driven by the surge in the number of internet users and improved access to web-based and online services. Furthermore, an increase in the number of older people who find it difficult to go to the pharmacy every time and require medical assistance is also driving the market growth.
Restraints:
The rise in fraud activities is slightly restraining the demand of the online pharmacy market. Concerns regarding security and privacy among consumers are also challenging factors.
Opportunity:
The increasing penetration of smartphones is providing the opportunity to market growth. The rising prevalence of chronic diseases is also increasing the demand for various healthcare products, including drugs, and providing new opportunities. This reflects the growing global adoption of online drug purchasing channels. As certain medications are not available in retail pharmacy stores, a large patient population worldwide prefers to order them online and have them delivered to their home. Thus providing opportunities in the online pharmacy market.
COVID-19 Analysis of Online Pharmacy Market
The pandemic has changed the priorities of healthcare systems all over the world. It has prompted developing economies to reconsider their urban infrastructure priorities. Many countries faced the challenge of combating the pandemic while also advancing other healthcare goals. Countries such as India are turning the urgency of combating COVID-19's spread into opportunities to build more resilient health systems. Increased government emphasis on advancement and improvement in the overall healthcare system will help to drive market growth.
Online Pharmacy Market Report Coverage
Report Attributes
Report Details
Study Timeline
2016-2028
Market Size in 2028 (USD Billion)
240.2
CAGR (2022-2028)
18.4%
By Platform
Apps, Websites
By Drug Type
OTC Medicines, Prescribed Medicines
By geography
North America: U.S., Canada, Mexico

Europe: Germany, France, U.K., Russia, Italy, Spain, BENELUX, Rest of Europe

Asia Pacific: China, Japan, India, South Korea, Australia, ASEAN, Rest of Asia Pacific

Latin America: Brazil, Argentina, Chile, Rest of Latin America

The Middle East and Africa: GCC, Turkey, Israel, Rest of MEA
Online Pharmacy Market Segment Analysis
By Platforms
The segment includes is bifurcated into apps and websites. In 2021, the value of online pharmacy products sold through app-based platforms was estimated to be around USD 40 billion. In recent years, the rise in mobile usage and internet penetration has increased the demand for online drugs via app-based platforms. Mobile health (mHealth) has recently changed the paradigm of the online pharmacy market by providing highly efficient assistance to both healthcare professionals and patients. Furthermore, the use of mobile applications is enhancing the role of mHealth in market growth. As it provides several benefits such as adequate assistance to pharmacists, tracking of patient disease history, and the calculation of individual drug doses. Moreover, mHealth transforms smartphones into point-of-care diagnostic tools for monitoring blood pressure, which is gaining popularity among consumers.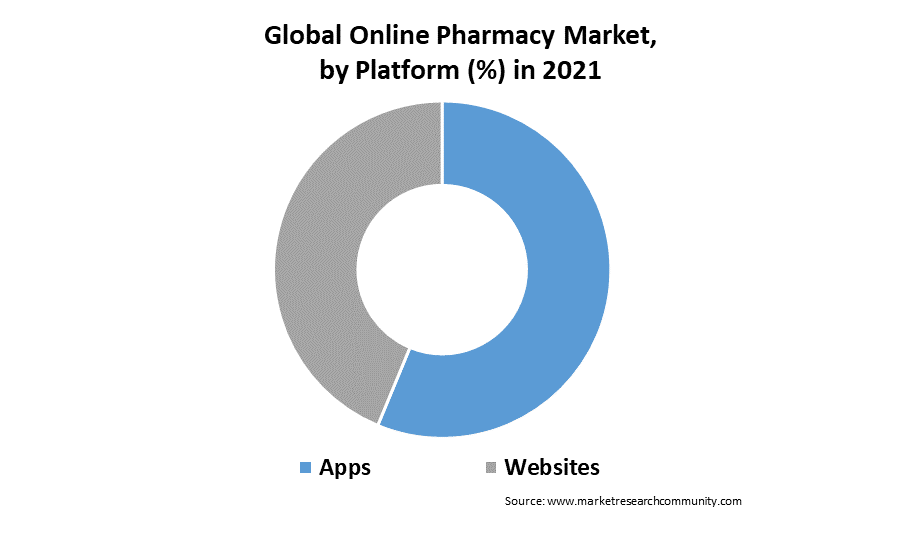 By Drug Type
The drug type segment is divided into OTC medicines and prescribed medicines. The OTC products sub-segment held more than 70% of the market in 2021 and is expected to grow significantly during the forecast period. Population awareness and education about primary medication for common diseases will benefit OTC sub-segment demand. The availability of a wide range of drugs for several common diseases such as colds and flu will surge the online pharmacy market. According to the Consumer Healthcare Products Association, consumers are switching from prescription drugs to OTC drugs due to improved accessibility and cost-effectiveness. As a result of the mentioned factors, there will be more growth in OTC medicines market.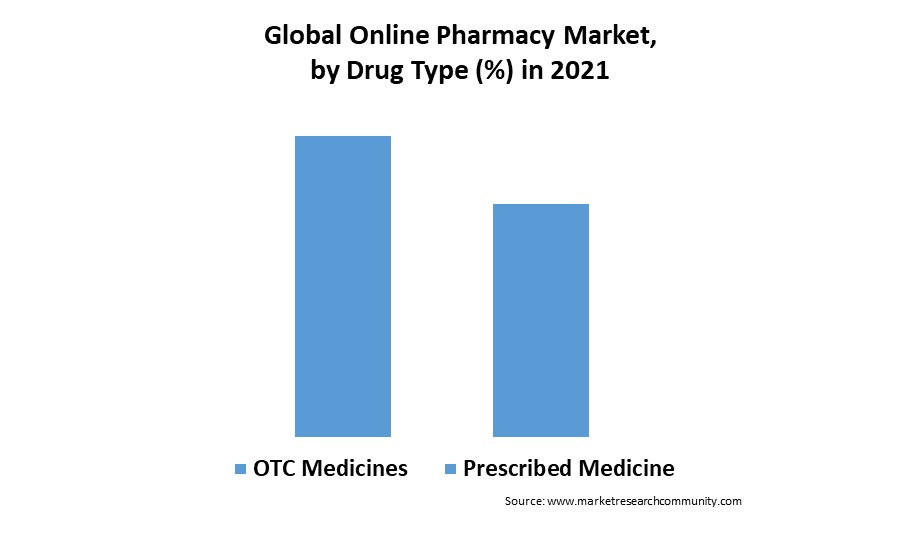 By Region
The region segment is divided into Asia Pacific, Europe, North America, Middle East, and Africa, Latin America. North American online pharmacy market dominated the global pharmacy industry due to higher internet penetration and rapid adoption of digital technologies. The North American online pharmacy market had a significant revenue share in 2021, and the market is expected to grow at a modest CAGR. This can be attributed to the fact that people now understand how to use the internet and related services and rely heavily on online delivery of OTC. Such growth is seen in North America as the United States has the largest online pharmacy market. In the coming years, the Asia Pacific and Europe will experience significant growth.
Online Pharmacy Market Competitive Landscape
The competitive landscape of the market has been analyzed in the report, along with the detailed profiles of the major players operating in the industry. Further, surge in Research and Development (R&D), product innovation, and various business strategies have accelerated the growth of the market. Some of these players in Online Pharmacy Market are as follows.
Key Players
1mg
Optum Rx. Inc
Netmeds Marketplace Ltd.
Express Scripts
Medlife International Pvt. Ltd.
Walmart stores
CVS health corporation
co
Rowlands Phamacy
DocMorris
Recent Development:
June 2021, Tata Digital purchased a majority stake in 1mg, an Indian epharama firm. This acquisition will allow Tata Digital to enter the epharamacy market and provide customers with high-quality health care products and services.
August 2020, MedLife and PharmEasy announced a merger in which MedLife will sell its operations to PharmEasy in exchange for a nearly 20% stake in the latter. This merger will allow the company to expand its operations in emerging markets.
Table of Content
Introduction

Market Introduction
Market Research Methodology

Research Process
Primary Research
Secondary Research
Data Collection Technique
Data Sources

Market Estimation Methodology
Product Picture of Online Pharmacy
Global Online Pharmacy Market: Classification
Geographic Scope
Years Considered for the Study
Research Methodology in brief
Parent Market Overview
Overall Online Pharmacy Market Regional Demand
Research Programs/Design
Market Breakdown and Data Triangulation Approach
Data Source
Secondary Sources
Primary Sources
Primary Interviews
Average primary breakdown ratio

Market Dynamics

Drivers
Restraints
Opportunity

Impact forces on market dynamics
Impact forces during the forecast years

Industry Value Chain

Upstream analysis
Downstream analysis
Distribution Channel
Direct Channel
Indirect Channel

Potential Customers
Manufacturing/Operational Cost Analysis
Pricing Analysis by Region
Key Technology Landscape
Regulatory Analysis
Porter's Analysis

Supplier Power
Buyer Power
Substitution Threat
Threat from New Entry
Competitive Rivalry

PESTEL Analysis
Political Factors
Economic Factor
Social Factors
Technological Factor
Environmental Factors
Legal Factor
Covid-19 impact on Global Economy
Covid-19 impact on Online Pharmacy demand
Post-Covid Impact on Online Pharmacy Market Demand
Impact Analysis of Russia-Ukraine Conflict

Global Online Pharmacy Market Segmentation, by Revenue (USD Billion), (2022-2030)

By Platform
By Drug Type

OTC Medicines
Prescribed Medicines

By Product Type

Beauty and personal care
Cold and Flu
Vitamins
Weight Loss
Others
Global Online Pharmacy Market Overview, By Region

North America Online Pharmacy Market Revenue (USD Billion), by Countries, (2022-2030)

US

By Platform
By Drug Type
By Product Type

Canada
Mexico

Europe Online Pharmacy Market Revenue (USD Billion), by Countries, (2022-2030)

France
UK
Spain
Russia
Italy
BENELUX

Asia Pacific Online Pharmacy Market Revenue (USD Billion), by Countries, (2022-2030)

China
Japan
Australia
South Korea
India
ASEAN
Latin America Online Pharmacy Market Revenue (USD Billion), by Countries, (2022-2030)
Middle East and Africa Online Pharmacy Market Revenue (USD Billion), by Countries, (2022-2030)
Global Online Pharmacy Market Revenue: Competitive Analysis, 2021

Key strategies by players
Revenue (USD Billion and %), By manufacturers, 2021
Player Positioning by Market Players, 2021

Competitive Analysis

1mg

Business Overview
Business Financials (USD Million)
Product Category, Type, and Specification
Main Business/Business Overview
Geographical Analysis
Recent Development
Swot Analysis

Optum Rx. Inc
Netmeds Marketplace Ltd.
Express Scripts
Medlife International Pvt. Ltd.
Walmart stores
CVS health corporation
co
Rowlands Phamacy
DocMorris
Market Research Findings & Conclusion
Disclaimer 
Research Methodology
The Market Research Community offers numerous solutions and its full addition in the research methods to be skilled at each step. We use wide-ranging resources to produce the best outcome for our customers. The achievement of a research development is completely reliant on the research methods implemented by the company. We always faithful to our clients to find opportunities by examining the global market and offering economic insights.

Market Research Community are proud of our widespread coverage that encompasses the understanding of numerous major industry domains. Company offers consistency in our research report, we also offers on the part of the analysis of forecast across a range of coverage geographies and coverage. The research teams carry out primary and secondary research to carry out and design the data collection methods.