Preclinical Imaging market was valued at USD 3.56 Billion in 2021, registering a CAGR of 3.7% during the forecast period (2022-2030), and is projected to be worth USD 4.94 Billion by 2030. The market is expanding primarily as a result of an increase in investments and financing for R&D as well as the rapid pace of technological improvements that have led to the creation of hybrid imaging systems. Preclinical research is changing the way that modern medicine is practiced and how health issues are addressed. Preclinical imaging methods fully adhere to 3R (Replacement, Reduction, and Refinement) policies by reducing biological variability, acquiring a remarkable amount of distinctive information in various forms, and drastically reducing animals needed for a studies and research.
Additionally, rising number of pharmaceutical companies, and Clinical Research Organizations (CROs), the demand for lab imaging systems and its use is increasing in preclinical research, which is predicted to speed up the market's expansion. For instance, the USF Health Morsani College of Medicine is expected to install new PET-CT and 7T-3T MR/PET systems by MR solutions in July 2020 to create their first complete preclinical imaging suite. Further, the main barriers to the market's expansion are the limitations on animal testing imposed by laws that are enforced by groups that defend animal rights.
Preclinical Imaging Market Dynamics:
An interdisciplinary field called preclinical imaging includes molecular chemistry, biology, engineering, medicine, and computer science. It is adept at non-invasive recognition, real-time, and observing pathological or physiological processes occurring at the cellular or molecular level in living things. Multimodal preclinical imaging improves doctors' abilities to undertake surveillance, screening, staging, prognosis, monitoring therapy efficacy, planning and therapy directing, and assessing recurrence in the clinical management of numerous diseases.
Driver:
The market is expanding primarily as a result of an increase in investments and financing for R&D along with the rapid pace of technological improvements that have led to the creation of hybrid imaging systems.
Restraint:
High installation costs and operational costs of sophisticated machinery are expected to hamper the growth of the preclinical imaging market. Further, stringent regulation in preclinical research is expected to hinder the growth of the preclinical imaging market.
Opportunities:
According to estimates, the market is expected to experience profitable growth opportunities due to the rapid development of hybrid imaging systems, the rise in clinical research organizations (CROs), and the increasing adoption of in-vivo imaging systems in preclinical research. Numerous market expansion prospects are anticipated to be provided by technological developments in molecular imaging.
COVID-19 Analysis of Preclinical Imaging Market:
The delay of non-essential medical services, the scarcity of medical facilities and treatment centers, trade restrictions, the suspension of various activities, the drop in demand, and the interruptions to the supply chain brought on by the COVID-19 outbreak all had a significant impact on healthcare. However, the pandemic had a positive impact on the preclinical imaging market because of the huge opportunity that the global spread of this disease has provided for businesses in the preclinical imaging industry. Research on the virus and its effects on animals is gaining more and more attention. Several different study avenues are being used to examine the coronavirus, which is believed to have originated in bats and other mammals. For those who work in the global preclinical imaging market, this has created new prospects.
Preclinical Imaging Market Report Cover:
Report Attributes
Report Details
Study Timeline
2016-2030
Market Size in 2030 (USD Billion)
4.94 Billion
CAGR (2022-2030)
3.7%
By Product
CT Imaging, MRI Imaging, PET/SPECT Imaging, Multi-modal Imaging, Optical Imaging, Ultrasound Imaging, Photoacoustic Imaging, Reagents, Services
By geography
North America– (U.S., Canada, Mexico)

Europe- (Germany, France, U.K., Russia, Italy, Spain, BENELUX, Rest of Europe)

Asia Pacific- (China, Japan, India, South Korea, Australia, ASEAN, Rest of Asia Pacific)

Latin America- (Brazil, Argentina, Chile, Rest of Latin America)

The Middle East and Africa- (GCC, Turkey, Israel, Rest of MEA)

Key Players
Bruker Corporation, Siemens A.G., General Electric(GE), TriFoil Imaging, PerkinElmer, Inc., VisualSonics Inc. (Fujifilm), Inc., Mediso Ltd., Agilent Technologies, MILabs B.V., MR Solutions, Molecules
Preclinical Imaging Market Segment Analysis:
By Product
The market was dominated by optical imaging devices, which had the highest revenue share of 13.7% in 2021. This is due to their widespread use in studies to identify novel drugs and image small animals. During the projected period, the multi-modal imaging devices segment is expected to register a considerable growth rate. New generation devices with integrated imaging technologies are expected to accelerate the growth of the multi-modal imaging devices market in preclinical studies. Technology advancements have led to the development of integrated systems that include molecular and anatomical digital imaging systems and enable multiple screenings in a single unit.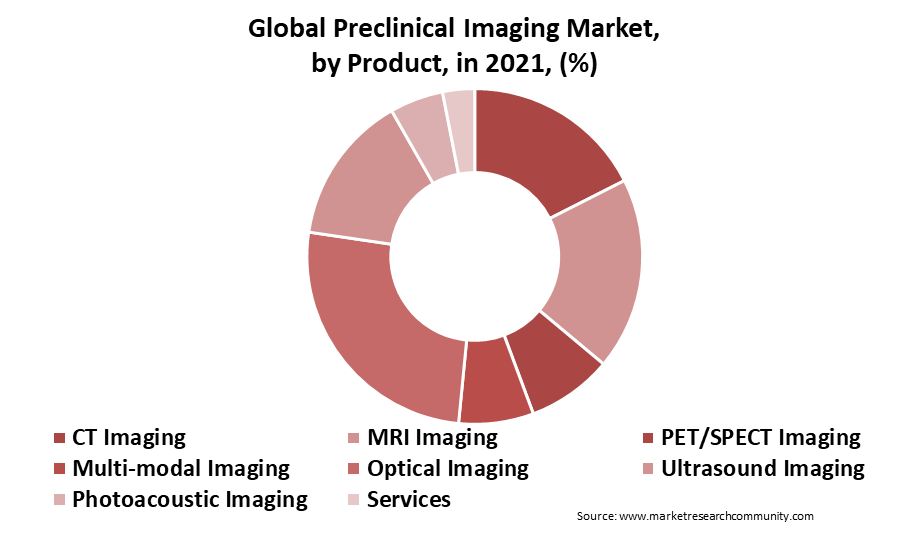 By Region
The preclinical imaging market was dominated by North America in 2021, with a revenue share of about 290%. The presence of qualified specialists, a sizable number of preclinical projects, and greater acceptance rates of technologically advanced equipment in the region are some of the key market factors in North America. Additionally, regional clinical research and development programs are being encouraged by government initiatives. One such government program promoting the R&D efforts in the nation is the Canadian R&D tax credit scheme. The market is benefiting from government support in the form of money and tax breaks. The aforementioned variables suggest that North America will continue to dominate during the projection period.
Preclinical Imaging Market Competitive Landscape:
The competitive landscape of the market has been analyzed in the report, along with the detailed profiles of the major players operating in the industry. The majority of manufacturers are concentrating on new product launches, improvements to the current product, and mergers and acquisitions. The key player in the market include
Bruker Corporation
MILabs B.V.
VisualSonics Inc. (Fujifilm)
Mediso Ltd.
Agilent Technologies
MR Solutions
Molecubes
Siemens A.G.
General Electric (GE)
TriFoil Imaging
PerkinElmer, Inc.
Table of Content
Introduction

Market Introduction
Market Research Methodology

Research Process
Primary Research
Secondary Research
Data Collection Technique
Data Sources

Market Estimation Methodology
Product Picture of Preclinical Imaging
Global Preclinical Imaging Market: Classification
Geographic Scope
Years Considered for the Study
Research Methodology in brief
Parent Market Overview
Overall Preclinical Imaging Market Regional Demand
Research Programs/Design
Market Breakdown and Data Triangulation Approach
Data Source
Secondary Sources
Primary Sources
Primary Interviews
Average Product primary breakdown ratio

Market Dynamics

Drivers
Restraints
Opportunity

Impact forces on market dynamics
Impact forces during the forecast years

Industry Value Chain

Upstream analysis
Downstream analysis
Therapeutic
Direct Channel
Indirect Channel

Potential Customers
Manufacturing/Operational Cost Analysis
Pricing Analysis by Region
Key Product Landscape
Regulatory Analysis
Porter's Analysis

Supplier Power
Buyer Power
Substitution Threat
Threat from New Entry
Competitive Rivalry

PESTEL Analysis
Political Factors
Economic Factor
Social Factors
Technological Factor
Environmental Factors
Legal Factor
Covid-19 impact on Global Economy
Covid-19 impact on Preclinical Imaging Market demand  
Post-Covid Impact on Preclinical Imaging Market Demand
Impact Analysis of Russia-Ukraine Conflict

Global Preclinical Imaging Market Segmentation, Revenue (USD Billion), (2022-2030)

By Product

CT Imaging
MRI Imaging
PET/SPECT Imaging
Multi-modal Imaging
Optical Imaging
Ultrasound Imaging
Photoacoustic Imaging
Reagents
Services
By Global Preclinical Imaging Market Overview, By Region

North America Preclinical Imaging Market Revenue (USD Billion), by Countries, (2022-2030)
Europe Preclinical Imaging Market Revenue (USD Billion), by Countries, (2022-2030)

France
UK
Spain
Russia
Italy
BENELUX

Asia Pacific Preclinical Imaging Market Revenue (USD Billion), by Countries, (2022-2030)

China
Japan
Australia
South Korea
India
ASEAN
Latin America Preclinical Imaging Market Revenue (USD Billion), by Countries, (2022-2030)
The Middle East and Africa Preclinical Imaging Market Revenue (USD Billion), by Countries, (2022-2030)
Global Preclinical Imaging Market Revenue: Competitive Analysis, 2021

Key strategies by players
Revenue (USD Billion and %), By manufacturers, 2021
Player Positioning by Market Players, 2021

Competitive Analysis

Bruker Corporation

Business Overview
Business Financials (USD Billion)
Product Category, Source, and Specification
Main Business/Business Overview
Geographical Analysis
Recent Development
Swot Analysis

Siemens A.G.
General Electric (GE)
TriFoil Imaging
PerkinElmer, Inc.
VisualSonics Inc. (Fujifilm)
Mediso Ltd.
Agilent Technologies
MILabs B.V.
MR Solutions
Molecubes

Market Research Findings & Conclusion
Disclaimer 
Research Methodology
The Market Research Community offers numerous solutions and its full addition in the research methods to be skilled at each step. We use wide-ranging resources to produce the best outcome for our customers. The achievement of a research development is completely reliant on the research methods implemented by the company. We always faithful to our clients to find opportunities by examining the global market and offering economic insights.

Market Research Community are proud of our widespread coverage that encompasses the understanding of numerous major industry domains. Company offers consistency in our research report, we also offers on the part of the analysis of forecast across a range of coverage geographies and coverage. The research teams carry out primary and secondary research to carry out and design the data collection methods.