South America Agricultural Adjuvants Market Insights
South America Agricultural Adjuvants Market was estimated to be USD 12,101.6 million in 2021 and is forecasted to grow at a CAGR of 4.58% during the forecast period of, 2021 – 2028. The primary factor driving the agricultural adjuvants market size is the rising demand for agriculture adjuvants in major crops, as well as the rising investment in South American agriculture sector. For instance, in the year 2019, Colombia farm investment project and one expansion project have been launched, with a projected employment generation of more than 2,500 jobs. Various multinational companies participated in the project such as Faber Castell.
The materials which are added to agrochemicals to enhance the efficiency of active ingredients are known as adjuvants. Adjuvants are used to improve overall performance of the product. Fungicides when used with adjuvants, it may improve disease control by improving the fungicide's penetration or by enhancing fungicides spread.
In the U.S., agricultural tank adjuvants are necessarily deregulated except in some isolated cases. There is a need of registration in states of Washington and California for selling adjuvants. Additionally, the federal order is not there for tank mix adjuvants. The majority of Peru agricultural commodities get exported to the U.S.; Peru is bound to follow these regulations to meet the export standards of the U.S. The WSDA (Washington State Department of Agriculture) explains the criteria for adjuvant approval. The adjuvant must fulfill all requirements for registration of a food/feed use spray adjuvant in Washington and the adjuvant formulation must contain less than 10% alkyl phenol ethoxylates (including alkyl phenol ethoxylate phosphate esters). Such criteria will hamper the exports of agricultural adjuvants from South America to U.S. which in turn restraints the growth of South America agricultural adjuvants market.
Colombian government-initiated program to promote organic agriculture and sustainable practices. The private organization partnered with the government initiative "Organic Agriculture Production Chain" to develop sustainable agriculture practice in Colombia. For instance, the "Federacíon Orgánicos de Colombia" is a cooperative firm of commodity producers, exporters, certification specialists and logistics providers whose target is to support growth with agricultural production and organic farming. The partnership between private industries and government is formerly removing illicit crops and replacing them with profitable organic yields. For instance, now, Colombian farmers have planted the Amazonian Cayenne pepper for sale in place of illegal crops. Farmers in Colombia met 60 percent of the organization's replacement goal by the summer of 2018. This replacement goal is utilizing various organic techniques and high-tech technologies to increases the organic production of crops where green adjuvants are considered to play important role.
COVID-19 Impact on South America Agricultural Adjuvants Market
Advent of coronavirus pandemic resulted in stoppage of work sites and production plants. Existing digital technologies provided advantage to some extent but were not adequate for the level of remote working.
The pandemic related shutdown and the March 2020 oil price collapse significantly impacted the supply chain. In 2020, as government closed businesses and imposed restrictions on travel, the demand for oil fell rapidly. Due to improper supply at few locations, there is a slight disruption in the supply of raw materials such as vegetable oil and petrochemicals which are used for the production of agricultural adjuvants. The agricultural inputs such as adjuvants are considered as necessity similar to food products. Also, the manufacturers have facilities in different regions which will lead to continuous production of adjuvants. Considering all above-mentioned factors, the Covid impact on agricultural market is minimal.
Post-Covid, manufacturers are focusing on organically produced foods. This impact is due to the increase in awareness related to health. The increasing concern toward hygienic, healthy, and nutritious food in the markets, with people concerned about health amid the virus outbreak is driving green and organic adjuvants demand.
South America Agricultural Adjuvants Market Report Coverage
South America Agricultural Adjuvants Market is segmented by Crop type and Crop Protection. by crop type the market is segmented into Cereals & Grains, Oil seeds & Pulses, Fruits & Vegetables and Others. By crop protection, the market is segmented into Herbicides, Fungicides and Insecticides. The report also covers the market size and forecasts for the South America Agricultural Adjuvants Market in 6 countries across major regions.
| | |
| --- | --- |
| Report Attributes | Report Details |
| Study Timeline | 2016-2028 |
| Market Size in 2028 (USD Million) | USD 16,595.70 Million |
| Market Size in 2028 (Kilo Tons) | 957.26 Kilo Tons |
| CAGR (2021-2028) | 4.58% |
| By Crop Type | Cereals & Grains, Oil seeds & Pulses, Fruits & Vegetables, Others |
| By Crop Protection | Herbicides, Fungicides, Insecticides |
| By Geography | South America: Colombia, Peru, Ecuador, Chile, Rest of South America |
South America Agricultural Adjuvants Market Segment Analysis
Market Research Community provides extensive analysis of the size, share , major trends in each sub-segment of the South America Agricultural Adjuvants Market, along with forecasts at the global, regional and country level from 2022-2028.
Cereals & Grains Agricultural Adjuvants type to Holds the Largest Market Share in Agricultural Adjuvants market
Cereals & Grains accounted for 30.50% share of the global Agricultural Adjuvants market in 2021 and is anticipated to grow at a CAGR of 3.70% during the forecast period of, 2021-2028. As the world's population grows, so does demand for staple foods, such as grains and pulses, which have become the necessity for people.
Cereals and pulses production totalled 4.6 million metric tonnes in 2019, more than double what it was in 2014. This will increase the production of cereals in the forecast period due to which the demand for the adjuvants which are used for the cereal production will rise significantly.
The adjuvants used for the cereals are Oil adjuvant Rootbooster, Oil adjuvant Allzymes, Blendex Vhc, Uptake™ and other adjuvants. Such adjuvants demand will increase in the Colombia in the forecast period.
South America Agricultural Adjuvants Market Volume (Kilo Tons) & Revenue (USD Million), By Cereals & Grains, 2016-2028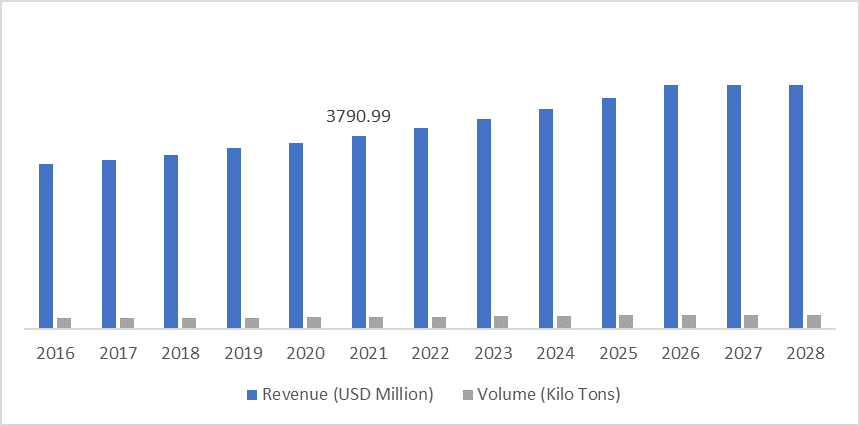 Herbicides has Accounted for the Dominating Product Type in South America Agricultural Adjuvants Market
Oil based adjuvants are used to slow the drying of the herbicide's droplets on the leaf surface. This increases the potential for herbicide absorption. Oil based adjuvants are mainly utilised to improve penetration into the leaf by modifying (solubilizing) leaf surface waxes.
The herbicides accounts for one of the largest markets for agricultural adjuvants due to the changing climatic condition and the diminishing arable land and increasing food demand.
South America Agricultural Adjuvants Market Volume (Kilo Tons) & Revenue (USD Million), By Herbicides 2016-2028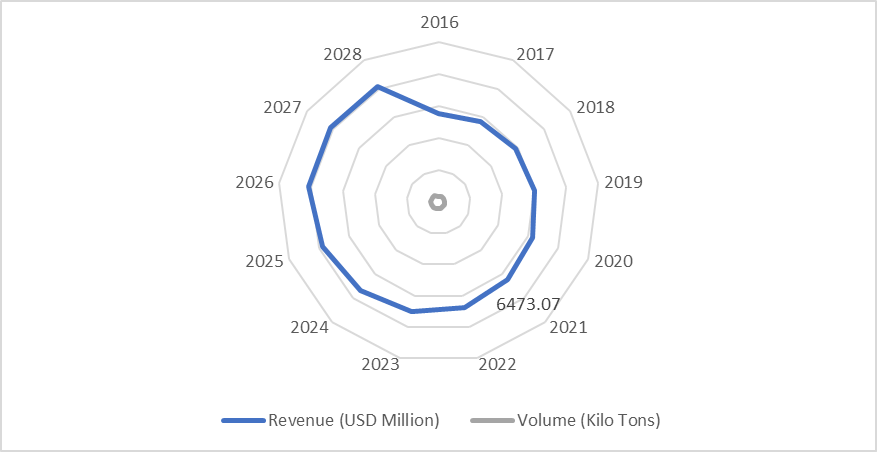 Colombia is the Leading and Fastest Growing Country in South America Agricultural Adjuvants market
In 2018, Colombia's agricultural output grew about 2.8 percent, and is expected to grow significantly in future. Furthermore, to enhance the agricultural sector of Colombia, Government is offering subsidies to import new agricultural equipment. Thus, significant growth and government subsidies driving the agricultural sector of the country will potentially increase the demand for agriculture adjuvants.
Colombia Agricultural Adjuvants Market Research Volume (Kilo Tons) & Revenue (USD Million), 2016 – 2028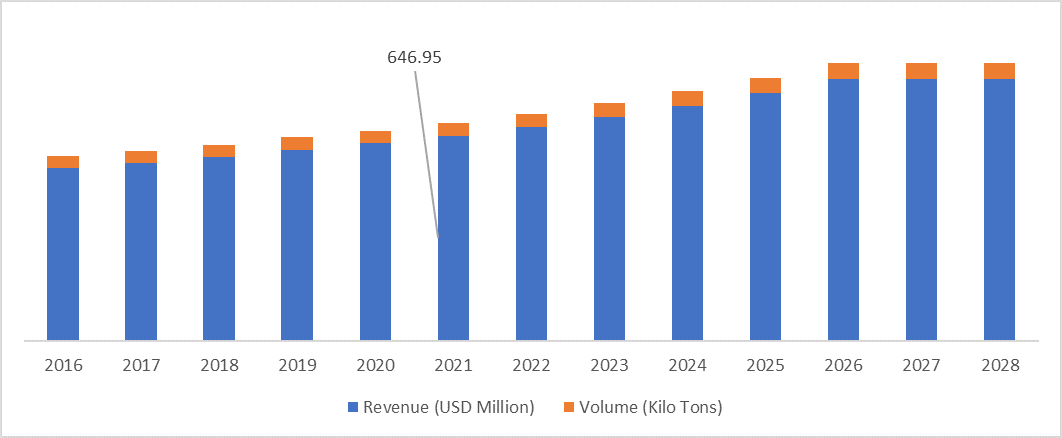 Eastern Plains, cocoa, and agroforestry crops are the more interesting sector for investors in Colombia. These investors planned to invest in nearly 800 hectares of cocoa in Casanare and 4000 hectares in Meta. They are using quality seeds and high technology irrigation.
In agroforestry, one of the projects promoted by the NGO Climate Focus channels resources to develop forages that allow livestock to be fed sustainably and in smaller spaces. Such investments made in the agricultural sector has not only revitalized Colombia but also, impacting the country's economic prosperity. Thus, the investment made in recent years will shape the agricultural adjuvants market as it will be one of the vital tools for making Colombia the next global hub of agriculture commodity.
South America Agricultural Adjuvants Market Competitive Landscape
The South America Agricultural Adjuvants market studied is highly competitive, with many regional and global players. The primary strategies adopted by these firms include expansions, product innovations, and mergers and acquisitions.
Key players :
Tecnología Química y Comercio SA (TQC)
DROKASA PERÚ SA
DVA PERU
Ashland Global Specialty Chemicals Inc.
BRANDT
COAGRA S.A.
Copeval
Martinez & Valdivieso
Brenntag
YARA Colombia
SEIPASA
Pilarquim
AGROREPRAIN S.A.
Crystal Chemical
Seppic
Colonial Chemical
The market players are involved in adopting various strategies such as new product launches with enhancement as per regulations, partnerships, expansions, and research & development to grow their business and survive in the long run.
Recent Developments
Aug 2020 – DVA acquired DBI's agrochemicals, foliar fertilizers, green line products and bio-stimulants. Through this acquisition the company is expanding their growth in South America.
2017 – Crystal Chemical expanded its production capacity in 2017. The company inaugurate a modern and ecological plant where the synthesis of 4 active ingredients is carried out and more than 50 different products are formulated. Due to this development, the company will become main producer of agrochemicals in Ecuador.
Research Methodology
The Market Research Community offers numerous solutions and its full addition in the research methods to be skilled at each step. We use wide-ranging resources to produce the best outcome for our customers. The achievement of a research development is completely reliant on the research methods implemented by the company. We always faithful to our clients to find opportunities by examining the global market and offering economic insights.

Market Research Community are proud of our widespread coverage that encompasses the understanding of numerous major industry domains. Company offers consistency in our research report, we also offers on the part of the analysis of forecast across a range of coverage geographies and coverage. The research teams carry out primary and secondary research to carry out and design the data collection methods.